Melania Trump Allegedly Snubbed Husband Donald In Public To Create A 'Distraction'
KEY POINTS
Stephanie Winston Wolkoff thought Melania Trump was different from the rest of the Trumps
Melania is Trump's first call after a rally as he wants her approval, according to Wolkoff
Melania gives feedback to Trump and makes sure she elevates him and embraces what he is doing
Melania Trump's marriage to former President Donald Trump is perfectly fine even if she snubbed him in public because the ex-FLOTUS only did it to distract the people, according to her former aide, Stephanie Winston Wolkoff.
Wolkoff appeared in the Hollywood Life podcast and commented on Melania's behavior when the Trumps arrived in Florida after leaving the White House. The former first lady made headlines for allegedly snubbing her husband because when they descended the plane, Melania kept walking and left Trump alone in front of the cameras.
Melania's ex-BFF called the move "distractions" to "shine the light over here so you don't see what's going on over there." Wolkoff added that Melania has been enjoying playing games with the press. While many felt that Melania was a hostage of the president because they thought she was unhappy with their marriage, Wolkoff, who closely worked with the ex-FLOTUS, realized that Melania is still a Trump.
"I thought Melania [Trump] was different than the rest," she said. "She's not, but I believed, just as these people believe Donald when he tells them something over and over… I had to learn the hard way that she is a Trump."
Also, it's not true that their marriage is on the rocks. In fact, Melania is Trump's go-to person. He wants her approval and he would often call her, Wolkoff said.
"I believe their way of showing affection towards one another is her telling him how wonderful and great he is. She was always his first phone call [after a rally], always, no matter where she was. And the first thing he'd say was 'Hey Baby, how'd I do?' Like he wants her approval," Wolkoff continued.
"She tells him how it is, but she also makes sure to elevate him and embrace what he's doing, because that is who she is. And I didn't realize that, but when you see their eye contact and the seduction through that gaze, it's more about that than I think anything else."
Others might disagree with Wolkoff because for them, Melania didn't really leave Trump alone. Many of those who watched the video noticed that she kept walking because her husband subtly pushed her away.
Meanwhile, a panel of psychics predicted that Melania would divorce Trump this summer. However, those who know the couple personally are not convinced of the separation rumors.
"I don't think Melania leaves Donald. She's very willingly complicit in his schemes and holds his beliefs as her own. Those two deserve each other," Trump's former lawyer Michael Cohen said.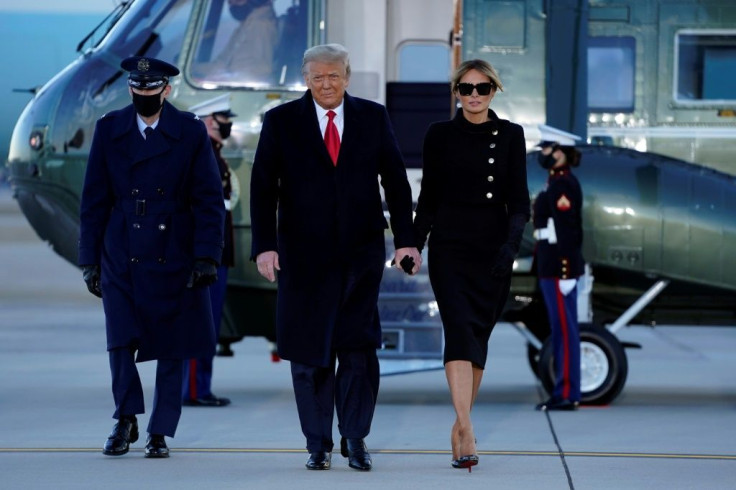 © Copyright IBTimes 2023. All rights reserved.