Melania Trump Will Divorce Donald Before Summer And Date Business Figure, Psychics Predict
KEY POINTS
Psychics predict that Melania Trump will divorce Donald Trump this summer
Melania will be dating a prominent business figure before the year ends
Trump will go silent after leaving the White House and return with a huge driving force
A divorce could be looming between Melania Trump and President Donald Trump, according to psychics.
A panel of psychics from PsychicWorld.com predicted that the FLOTUS will divorce the POTUS this summer and date a new man after leaving the White House. PsychicWorld.com offers people the opportunity to talk to online psychics and claims to have over 120,000 satisfied users due to its honest, specific and helpful readings.
"Melania will divorce Donald Trump before the summer. Although she will be dating another prominent business figure before the end of the year she will be private about the matter," the prediction read.
As for her spouse, Trump will leave the Presidential Office and go silent for two months. He will return more influential than he was as the president and with a huge driving force.
"He will spearhead a campaign that will be unique and new to the world and global media attention will be on him as much as the new President Biden," the prediction continued.
"Personally he has taken the Presidential defeat quite heavily but like anyone who experiences the dark night of the soul he will rise better and stronger than ever before. Despite all the negative press about him, Trump is considered by many Spiritual Healers to be a Lighhtworker int his world and he will become a powerful humanitarian and business leader."
The fortunetellers believe that Trump will not fear calling out certain individuals for corruption after being targeted by a media hate campaign. Trump's revelations are "going to shock and scare the political and business world."
In addition, Trump is expected to work on a tell-all book about his life in the White House and share some "behind-the-scenes dirty secrets." He will also be dragged in front of courts by his Democratic opponents and news agencies.
Omarosa Manigault Newman, a former political aide to the POTUS, claimed in her 2018 book "Unhinged: An Insider's Account of the Trump White House" that Melania wanted to be separated from her husband. However, the FLOTUS couldn't allegedly do it while he is still the president.
"If Melania were to try to pull the ultimate humiliation and leave him while he's in office, he would find a way to punish her," Newman wrote. "In my opinion, Melania is counting every minute until he is out of the office and she can divorce him."
However, Melania's chief of staff Stephanie Grisham made it clear that Melania has no plans of divorcing Trump. The first couple will remain together even after they leave the White House and several individuals who personally know them agreed.
"I don't think Melania leaves Donald. She's very willingly complicit in his schemes and holds his beliefs as her own. Those two deserve each other," Trump's former lawyer Michael Cohen said.
"A lot of people want her to leave him as some kind of a payback, but I don't see Melania Trump to be that type of a person," said Elizabeth J. Natalle, an associate professor of communications at the University of North Carolina at Greensboro who has written books about Jacqueline Kennedy and Michelle Obama.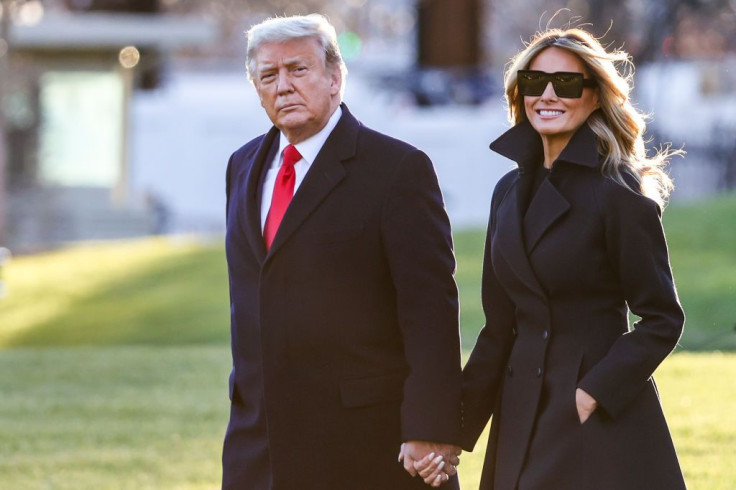 © Copyright IBTimes 2023. All rights reserved.
FOLLOW MORE IBT NEWS ON THE BELOW CHANNELS