Melania Trump Not Divorcing Husband Donald After He Lost The Election, Report Claims
KEY POINTS
Melania Trump will not divorce Donald Trump after the election
The first lady will not leave her husband because she agrees with his beliefs
The POTUS and FLOTUS deserve each other, according to Michael Cohen
Melania Trump will stay with her husband Donald Trump even after his presidency, sources said in a new report.
The president and the first lady said their marriage was doing well in various interviews in the past despite various rumors that it was not because Melania looked unhappy whenever they were together. When Trump lost his re-election bid, rumors that Melania would leave him spread online. But that is unlikely to happen, according to Melania's chief of staff, Stephanie Grisham.
"This question is pathetic and exactly why people no longer trust the mainstream media. No legitimate journalist would ask this," she was quoted by The Washington Post, as saying when asked about the divorce speculations.
Trump's former lawyer Michael Cohen does not believe the rumors as well. For him, it is unlikely for Melania to leave her husband.
"I don't think Melania leaves Donald. She's very willingly complicit in his schemes and holds his beliefs as her own," he said. "Those two deserve each other."
Omarosa Manigault Newman, a former political aide to the president, shared her opinions about the couple in her 2018 book "Unhinged: An Insider's Account of the Trump White House," claiming that Melania wanted to break up with Trump but couldn't do so while they're in the White House. Melania was allegedly planning to divorce Trump after his presidency.
"If Melania were to try to pull the ultimate humiliation and leave him while he's in office, he would find a way to punish her," Newman wrote. "In my opinion, Melania is counting every minute until he is out of the office and she can divorce him,"
Meanwhile, Dave Mason, an oddsmaker at BetOnline.ag, a poular offshore betting company, said gamblers have been making bets about Melania and Trump's marriage. Many believe that she's divorcing Trump that's why the potential payout has been shrinking.
Elizabeth J. Natalle, an associate professor of communications at the University of North Carolina at Greensboro who has written books about Jacqueline Kennedy and Michelle Obama, said that a divorce is unlikely to happen. She does not think Melania would ever file for it even if many wanted her to do it.
"A lot of people want her to leave him as some kind of a payback, but I don't see Melania Trump to be that type of a person," Natalle said.
"She's consistently said in her interviews that she's a big girl. She knows what she's doing."
Meanwhile, body language expert Bruce Durham noticed changes in Melania's gestures toward her husband after the election. He felt that the FLOTUS could become the alpha in their relationship.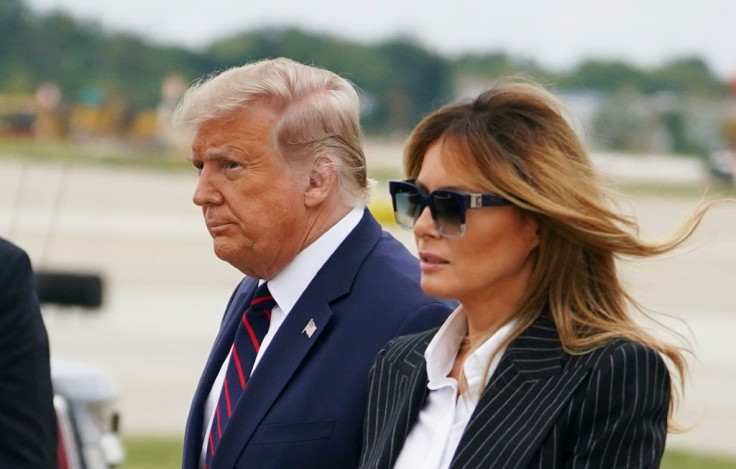 © Copyright IBTimes 2023. All rights reserved.
FOLLOW MORE IBT NEWS ON THE BELOW CHANNELS