Melania Trump Breaks Silence On POTUS' Mockery Of Greta Thunberg, Barron Trump Defense
KEY POINTS
Melania Trump's Be Best Campaign
Donald Trump's tweet against Greta Thunberg
Melania Trump's secretary's statement about Donald, Greta Thunberg
Melania Trump has finally spoken up about her husband Donald Trump's mockery of teenager Greta Thunberg and the backlash that soon followed.
The president stirred his critics when he once again targeted the 16-year-old activist on social media after she was named as Time Magazine's Person of the Year. The POTUS commented that Thunberg should work on her anger management problems and just "chill."
Following his tweet, Melania was urged by the netizens to defend Thunberg after she reacted at the mere mention of her son's name. Many even questioned the first lady's "Be Best" campaign, saying she should have spoken out against cyberbullying in this case.
Melania's press secretary, Stephanie Grisham, has finally released a statement about the issue to CNN correspondent Kate Bennett. In the statement, Grisham said that it's not a secret that the president and first lady "communicate differently." Grisham also stressed that Melania and President Trump's son Barron "is not an activist who travels the globe giving speeches" but only a 13-year-old who "wants and deserves privacy."
"The latter part of this statement is particularly interesting/telling as it is clear @FLOTUS does not feel her tweet addressing the use of her son's name last week is equatable to Trump's tweet directed at Thunberg. As in Thunberg is an activist, thus she is fair game, though 16," Bennett added.
In another tweet, Bennett added that Melania is sticking to her cyberbullying prevention initiatives despite the criticism she received and in spite of her husband's behavior.
A number of social media users shared their thoughts after Bennett released the statement from Melania's press secretary. One sarcastically noted that Melania was right that Donald's action was not "equitable."
The same netizen stressed that Barron's name was just mentioned and he was not attacked. Meanwhile, the POTUS attacked Thunberg and it was not the first time he did it. The Twitter user stressed that Melania has no right to claim that she cares about the children if she finds it that the most courages one are "fair game."
Another user said that if Melania's logic would be use for someone who choses to run for a government office, then it would mean that it is their choice to expose their family and be ridiculed. The same netizen concluded, "Ergo Barron would be fair game."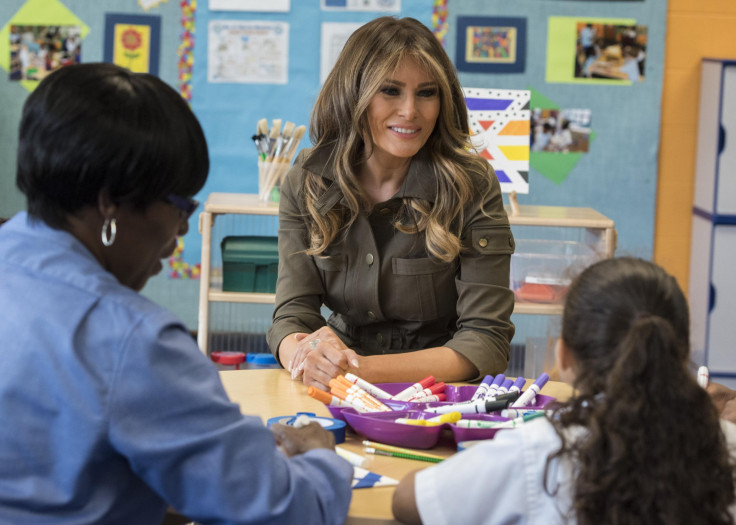 © Copyright IBTimes 2023. All rights reserved.