Melania Trump 'Dominates' In Her Relationship With Husband Donald, Couple Has Well-Established Bond
KEY POINTS
Melania Trump was a popular asset when Donald Trump was the president
The former first lady is there for her husband to fulfill his needy affection
Melania is happy to correct Trump even when they are in public
Melania Trump and Donald Trump's relationship has fascinated many, with some believing that she's trapped in an unhappy marriage, but a body language expert thinks otherwise.
Many think the idea of Trump being an alpha male is too much for his wife. However, body language expert Judi James has a surprising observation based on their gestures — Melania is actually the one who dominates in their relationship especially when they were in the White House
"Interestingly, yes I think she might be! I wouldn't see her wielding much power in Trump's business career but I think she really did seem to step up once they were in the White House, especially near the election when they saw she was such a popular asset," James told Daily Star when asked if Melania dominates in her marriage to Trump. "She seemed happy to correct him openly when he made mistakes in public, which is rarely a sign of a shrinking violet in a relationship."
She also noted that the former first lady has always been there for Trump to remind him of the rules. The former first couple also share a tight bond that's why Melania is not afraid to enforce those rules even in public. That's not all, the ex-FLOTUS is also there for Trump to comfort and fulfill his "needy affection."
"Everyone thought Melania was some sort of victim or complete walkover for her alpha male husband but this swatting gesture suggested she was anything but Melania was possibly the one in the relationship who understood all the protocols of the job of President and it was clear from this body language that she took a very dominant stance when it came to enforcing them and reminding her husband of the rules when they were on a visit," she explained.
"The remarkable thing was the way in which she enforced those rules. For a couple as well-established in a long relationship like these two are a very subtle nudge that would have been invisible to the public should have been enough but Melania really swats Donald's hand away in what looks like a rather dominant and unfriendly gesture that would be easily visible to the cameras," she added.
Melania's former aide and BFF Stephanie Winston Wolkoff also said that Melania and Trump have a strong marriage. She believed that Melania left Trump in front of the cameras alone to distract the people and to "shine the light over here so you don't see what's going on over there." Also, Trump always seeks for his wife's approval in whatever he does.
"She was always his first phone call [after a rally], always, no matter where she was. And the first thing he'd say was 'Hey Baby, how'd I do?' Like he wants her approval," she said.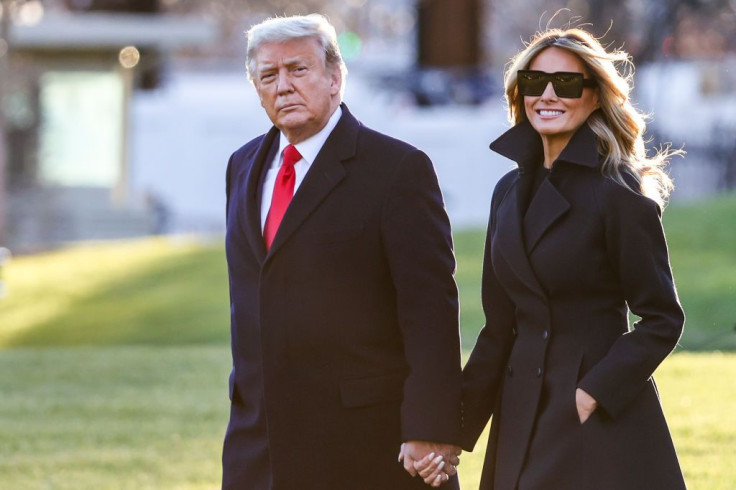 © Copyright IBTimes 2023. All rights reserved.