Melania Trump May Be Advised To 'Move Fast' And Divorce Husband Donald For This Reason: Report
KEY POINTS
A brand and reputation management expert weighed in on Donald and Melania Trump's marriage
The expert said an indictment could "trigger" a divorce for Melania as it will no longer be "fashionable" to stay married
Melania may be told by her advisers to "move fast" or risk not getting money out of their divorce, the expert claimed
Melania Trump will likely be advised to divorce her husband, Donald Trump, soon if charges are filed against the former president, a report claims.
Rumors that Melania may divorce Trump once they are out of the White House have been circulating online for a while now. Now, Eric Schiffer, a brand and reputation management expert, has shared his thoughts on the potential future of the couple's marriage.
He told Daily Star that he believes an indictment for Trump could "trigger" a divorce for Melania because it will no longer be "cool nor fashionable" to remain married to the former president. He also expects Melania's advisers to suggest pushing through with the divorce soon while Trump still has millions to provide as a settlement.
"Charges against the former President of the United States of America will be the final act in her Trumpian saga that triggers a clear and present danger to their union," Schiffer told the outlet.
"Melania's advisers' calculus will be to move fast because Donald's divorce will cost Trump over 150 million that, in the end, if she doesn't move quickly, he won't have the cold cash to pay out," he continued.
Schiffer is not the first to speculate about Melania and Trump's marriage. Former White House official Omarosa Manigault Newman claimed in her 2018 book, "Unhinged," that the former first lady plans to end their marriage as soon as his stint as president ends.
"Melania is counting every minute until he is out of office and she can divorce," Newman wrote.
"If Melania were to try to pull the ultimate humiliation and leave while he's in office, he would find a way to punish her," she continued.
A panel of psychics from PsychicWorld.com also predicted that Melania will divorce Trump this summer. They claimed to see the ex-FLOTUS allegedly dating a prominent business figure before the year ends.
However, there are also experts and people who were close to the Trumps who don't think that divorce is in the cards. Elizabeth J. Natalle, an associate professor of communications at the University of North Carolina at Greensboro, who has written books about Jacqueline Kennedy and Michelle Obama, understands that many want Melania to leave Trump, but she believes this is unlikely, The Washington Post reported.
"A lot of people want her to leave him as some kind of a payback, but I don't see Melania Trump to be that type of a person," Natalle said. "She's consistently said in her interviews that she's a big girl. She knows what she's doing."
Trump's former lawyer, Michael Cohen, also shares the same opinion when it comes to the couple's relationship. "I don't think Melania leaves Donald," he said. "She's very willingly complicit in his schemes and holds his beliefs as her own. Those two deserve each other."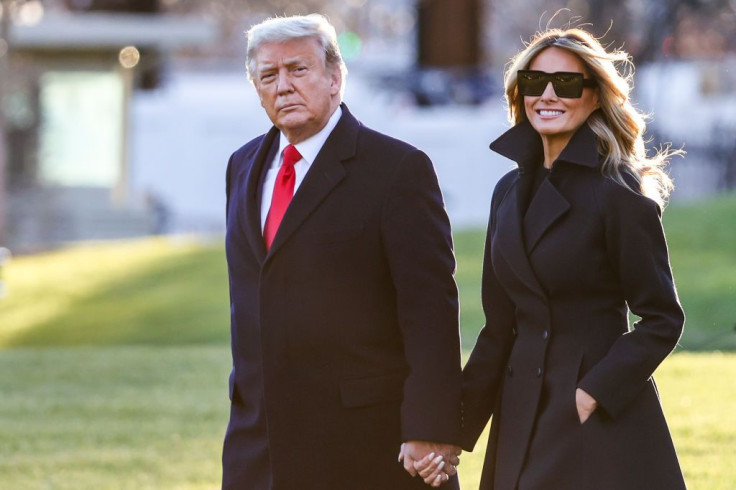 © Copyright IBTimes 2023. All rights reserved.