Melania Trump Heads Back To New York City Alone After Moving To White House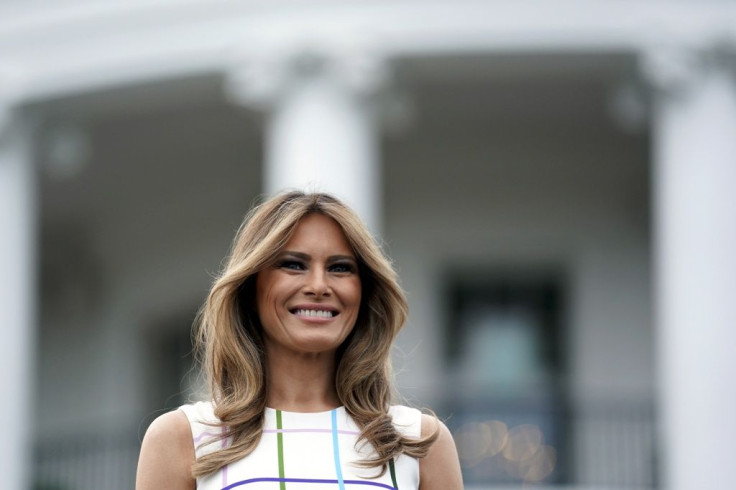 Just over two weeks after moving into the White House, Melania Trump headed back to New York City on Wednesday, according to Daily Mail. The first lady traveled alone and was not accompanied by her son Barron Trump, who also moved to Washington, D.C., after completing his academic year at a New York City school.
During her trip to the city, Melania appeared to keep a low profile. According to Daily Mail that also shared pictures of the first lady, she covered her face with over-sized sunglasses after noticing paparazzi. She was seen walking out of Trump Tower in the afternoon and then getting into an SUV while Secret Service members escorted her.
Read: 5 Facts To Know About Melania Trump's Relocation To Washington, DC
Melania, 47, and Barron, 11, moved into the White House on June 11 ahead of President Donald Trump's 71st birthday June 14. After Trump assumed office Jan. 20, his wife had stayed back in New York City to oversee Barron's academic year. While the first lady accompanied her husband on several occasions and his first foreign trip, she was missing in action in Washington, D.C.
In New York City, Melania kept her son's routine as normal as possible. According to a March 30 report by E! News, she cooked breakfast for Barron every day, prepareed his lunch and took him to his private school in the city's Upper West Side neighborhood.
"I tell him: Take it day by day, enjoy your life, live your meaningful life as I like to do," the first lady told Us Weekly magazine last November about the family moving into the White House. "Of course, at that age, every child would worry, especially if they love school, if they love friends, they don't want to lose that. Everything is a new opportunity, and it brings new friends and a new school. You never know, you never know what happens. Enjoy it day by day, live your life and don't stress yourself. "
A March report by Daily News said the first lady was confident about the role she would be playing in the White House.
"She really cares about entertaining," a source close to the first lady told Daily News at the time. "She didn't want people talking business," sources told Daily News. "She had a theme for the Governors dinner — 'Spring Renewal.' And she'll be in full bloom when she moves into the White House."
Apart from this, Melania and Trump have been plagued by reports of marital troubles after recent videos indicated the first lady did not want to hold her husband's hand in public during the foreign trip last month. Despite this, Melania was reportedly praised for keeping Trump away from social media during the entire trip.
Read: Melania's Star Power On Display During Donald Trump's First Foreign Trip
"I'm very happy she's moving here," Sam Nunberg, a former Trump campaign aide told Politico on June 8, before Melania moved in to the White House. "She's a strong influence and personality, and I think she comforts him."
© Copyright IBTimes 2022. All rights reserved.
FOLLOW MORE IBT NEWS ON THE BELOW CHANNELS