Melania Trump Reportedly 'Loathes' Publicity; Donald's Wife Allegedly Not Close To Karen Pence
CNN reporter Kate Bennett revealed some interesting details about Melania Trump in her new book titled "Free, Melania: The Unauthorized Biography." The new tome tackled the life of the First Lady of the United States, including her activities in and outside the White House.
Veteran journalist Malcolm Jones, recently, shared his thoughts about Melania's "unauthorized" biography. In his own words, Malcolm likened the current FLOTUS to former First Lady Laura Bush. He said both women do not like attention and, often, prefer a life away from the limelight.
The Daily Beast reporter, however, noted that Laura and Melania Trump have big difference in terms of experience. Malcolm said that the better half of former President George W. Bush had significant years of experience as a politician's wife. Melania, on the other hand, lacks familiarity in politics and was mostly exposed to runways and red carpets, being a former model and a reality TV star.
Malcolm Jones added that Melania thinks before she speaks. He added that, unlike other members of the Trump clan, the FLOTUS "loathes" publicity. Malcolm claimed that Melania has been exerting a lot of efforts to protect her and Barron's privacy since she assumed the role from Michelle Obama. However, with her husband being the most powerful man in America and her being a public figure, it seems impossible for her to totally shun the public eye.
"Melania Trump is impossible to ignore," Malcom quoted Kate Bennett as saying. "Say what you will about her, what is clear is that Melania Trump is unlike any other first lady," the CNN reporter went on.
Meanwhile, the new book also detailed Melania Trump's "distant" relationship with second lady Karen Pence. Though the two women were spotted in some public engagements and political events together, Kate claimed they are not that close in real life. She even claimed that Karen was not invited to Melania's private cabin aboard a military jet headed to Corpus Christi, Texas in the aftermath of Hurricane Harvey.
Kate Bennett claimed the wife of Vice President Mike Pence was seated beside the aides. She added that Melania Trump refused to remove her four-inch heels when she and Karen landed. At the time, the FLOTUS, allegedly, towered "almost comically" over the second lady. Melania and Karen have yet to comment on these claims.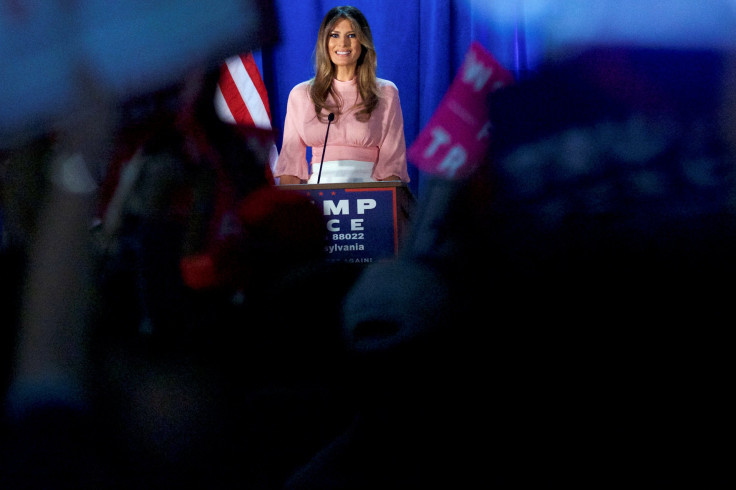 © Copyright IBTimes 2023. All rights reserved.