Melania Trump Rocks $3,200 Gucci Dress Ahead Of Husband Donald Trump's Birthday Bash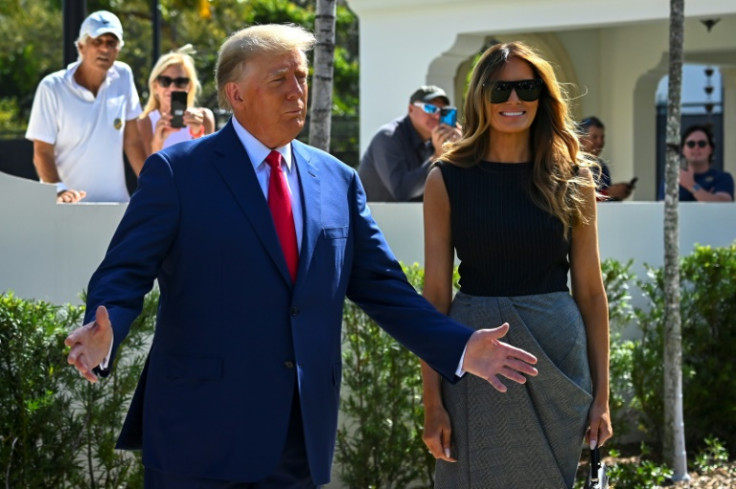 KEY POINTS
Melania Trump stepped out with her son, Barron, in New York City Wednesday
She wore an off-white Gucci flared shirt dress and carried a matching white Hermès handbag
Donald Trump celebrated his 77th birthday on the same day
Melania Trump looked radiant when she stepped out in New York City Wednesday sans her husband Donald Trump, who was celebrating his birthday in New Jersey that day.
The former first lady was photographed leaving Trump Tower in Manhattan alongside her and the former president's 17-year-old son, Barron, ahead of Donald's birthday bash, Page Six reported.
Melania, 53, rocked a $3,200 off-white Gucci flared shirt dress for the outing. She paired her outfit with a matching white Hermès handbag and towering heels. She styled her hair in her signature soft waves and accessorized her look with a pair of sunglasses.
Barron, for his part, was dressed in a white button-down shirt and blue blazer.
In a video obtained by the Daily Mail, Melania smiled and waved at photographers, showing off her sparkling wedding ring as she got into an armored car.
Their Louis Vuitton luggage and suit bags were loaded into separate vehicles, according to the outlet.
The mother and son headed to Bedminster, New Jersey, to join the former president in celebrating his 77th birthday at his golf course, the New York Post reported. International Business Times could not independently verify the information.
The Wednesday outing was the first time Melania was spotted since her husband's Tuesday arraignment in federal court in Miami, Florida, for allegedly mishandling classified documents.
Before the ex-POTUS' arraignment, the former first lady was spotted leaving Trump Tower Monday to visit a building where a John Frieda hair salon is located, the Daily Mail reported.
Photos obtained by the outlet showed Melania rocking a trench coat, sunglasses and black ballet flats as she was escorted by her Secret Service agents and driven in a large, black SUV.
She also reportedly went to a dentist and spent two hours inside the clinic.
Over the past few years, Melania has kept a low profile in Palm Beach, Florida, where her family moved after the end of her husband's term in office in 2021.
The former model has long been known to be very private, with reports claiming she would rather spend her time with her family than rub elbows in social circles or give interviews.
"I remember a group of us were chatting and a high-profile gossip columnist was with us who said, 'Oh, Melania is over there. We should all go talk to her because she is probably going to marry Donald,'" an anonymous socialite who knew Melania before she married Donald told People in March. "Melania was just one of the girls then, and we all knew her as that. But none of us really knew her then or now."
Melania isn't known to have a close group of friends, and her first priority "has always been" her son, Barron, according to the outlet.
"Melania's friends are her family members," an unnamed Palm Beach source told People. "Many Mar-a-Lago Club members and others know and see Melania. But they aren't friends. They don't get together and gab or socialize. She has always surrounded herself with family. She is a doting mother to Barron and very protective of him. This is nothing new."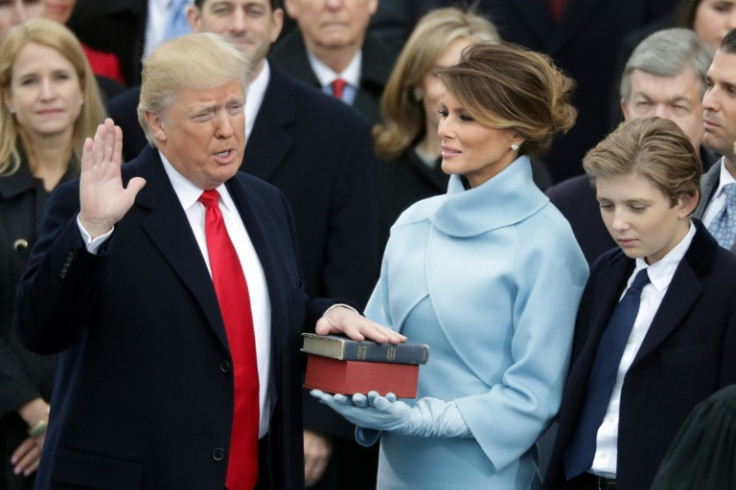 © Copyright IBTimes 2023. All rights reserved.