Memorial Day 2019: 13 Facts To Know About History And Origin Of Holiday
Memorial Day marks the unofficial start of the summer for most Americans. However, with the excitement over warm temperatures and trips to the water park, it is easy to overlook why we celebrate the federal holiday.
The last Monday in May is dedicated to remembering the fallen American soldiers who gave their lives to defend their country. The celebration of the holiday began in the 1800s, but its history and traditions have changed over the years.
Check out a few Memorial Day facts compiled from National Geographic, CNN and the US Department of Veterans Affairs below:
-Memorial Day was initially called Decoration Day. During that time, the holiday allowed participants to decorate the graves of fallen servicemen with flags, wreaths and flowers. Its name was eventually changed, and Memorial Day became an official federal holiday in 1971.
-In 1868, Major General John Alexander Logan declared Decoration Day would take place every May 30. After the Uniform Monday Holiday Act was passed in 1971, Memorial Day was moved to the last Monday in May to guarantee long weekends for those celebrating the day.
-On Memorial Day, the president or vice president typically lays a wreath on the grave of an unknown soldier.
-The holiday originally honored soldiers who died in the Civil War. After World War I, Memorial Day was adjusted to recognize all members of the American armed forces, who were killed in action.
-Approximately 620,000 Americans died in the Civil war. The Confederacy lost around 260,000 soldiers, and the Union lost nearly 365,000 troops.
-There were 116,516 American soldier casualties during World War I and 405,399 in World War II.
-Americans are legally required to pause for a minute of silence to remember fallen soldiers at 3 p.m. local time on Memorial Day. In 2000, Congress passed the National Moment of Remembrance act into law, but many Americans are unaware of the legal requirement.
-In 1966 Congress passed a resolution to have Waterloo, New York recognized as the birthplace of Memorial Day.
-The first large Decoration Day observation was held in 1868 at Arlington National Cemetery in Virginia, where 5,000 participants decorated the graves of 20,000 Union and Confederate soldiers.
-Virginia recognizes the last Monday in May as Confederate Memorial Day. However, states like Georgia, Mississippi, Louisiana, North Carolina, South Carolina and Alabama honor Confederate soldiers by celebrating the holiday on different dates. Meanwhile, Tennessee calls the holiday Confederate Decoration Day and celebrates on Jan. 19.
-The "TAPS" call is typically played at US military funerals and during flag ceremonies.
-During Memorial Day weekend, more than 135,000 people visit Arlington Cemetery.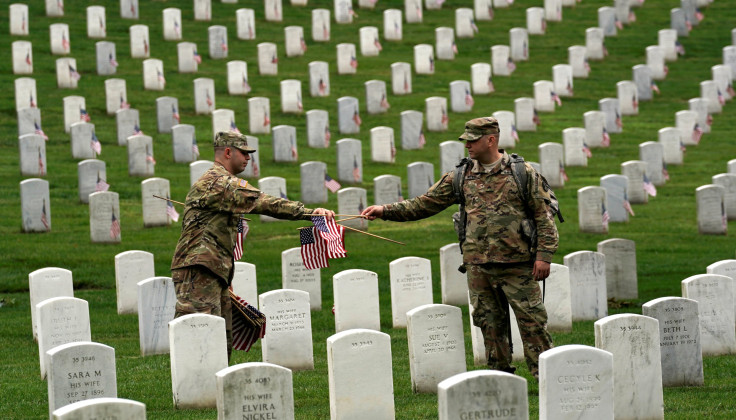 © Copyright IBTimes 2023. All rights reserved.