Memorial Day Weekend Weather 2015: Here's Your Forecast For the Holiday Break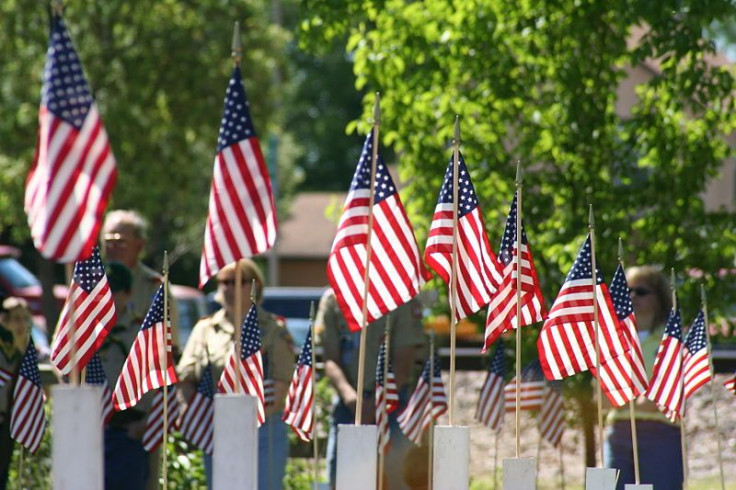 Summer unofficially kicks off this weekend with Memorial Day 2015, but will it be a sunny welcoming or a drizzly affair? Here's the Memorial Day weekend weather forecast for the U.S. and how it will impact your holiday plans.
For the most part, Americans can look forward to their barbecues and outdoor soirees for Memorial Day, as there's nothing out of the ordinary on the horizon for Monday. However, there are some regions that should expect a bit of rain.
Friday will be the coolest day of the long weekend, with temperatures steadily rising across the country through Monday. Americans can assume average temperatures on Memorial Day, ranging from 69 degrees Fahrenheit in Seattle to 90 degrees Fahrenheit in Atlanta, according to The Weather Channel. New York can expect a high of 80 degrees Fahrenheit on Monday.
Officials foresee Memorial weekend travel to hit a 10-year high this year, with an estimated 37.2 million Americans hitting the roads. If you'll be traveling, here are some tips: Try to leave during off-peak hours (anytime other than Friday or Monday evening.) Also, get the best gas price available by downloading GasBuddy app on your smartphone.
And now, your Memorial Day weekend weather forecast:
Northeast Cool and dry is the outlook for the holiday weekend, with highs ranging from the 50s and 60s near the Great Lakes to the 60s and 70s in New England. The Tri-state area can expect temperatures to warm leading into Monday, with Memorial Day highs at around 80 degrees Fahrenheit. A few isolated showers could arise in northern New England on Sunday, according to AccuWeather.
"The best chance of a dry, comfortable Memorial Day will be across northeastern New York state and much of New England," meteorologists Dave Dombek told AccuWeather.
Southeast South of Charlotte, North Carolina, things begin to heat up, especially on Memorial Day. Atlanta and Miami will see temperatures well into the 80s and maybe even the low-90s. At least it'll be dry, except for the usual thunderstorms in southern Florida, according to the Weather Channel.
Midwest Near the Great Lakes, temperatures will hover in the 60s and low-70s. There is a chance of rain on Sunday in some areas, including Michigan.
"For your planning of the weekend, I'd definitely plan outside activities for Saturday and Sunday," Mark Torregrossa of MLive.com wrote. "If you are going to put your boat in the water, you won't fight a lot of wind Saturday. Sunday may turn out to be a decent boating day also."
The Mississippi Valley also might get drenched over the weekend.
Northwest Cloudy skies but little rain for much of the region. Seattle could see some morning showers on Saturday and Sunday, with heavy cloud cover on Monday. Portland may get some rain early Saturday morning. Meteorologists say temperatures in the region will range from lows in the 50s to highs in the 70s.
Southwest It'll be a wet start to the weekend in the central and southern Plains, which can expect scattered showers and thunderstorms, with the possibility of severe storms on Saturday. The weather could continue into Monday.
Southern California, which can expect its usual sunshine, won't have the ideal beach weather as coastal temperatures are expected to linger in the 60s. Los Angeles will see temperatures in the 70s on Memorial Day, according to AccuWeather. Conditions will be dry throughout Arizona and New Mexico.
© Copyright IBTimes 2023. All rights reserved.
FOLLOW MORE IBT NEWS ON THE BELOW CHANNELS