Memorial Day Weekend 2015 Events Washington DC: 10 Free, Fun Things To Do In Nation's Capital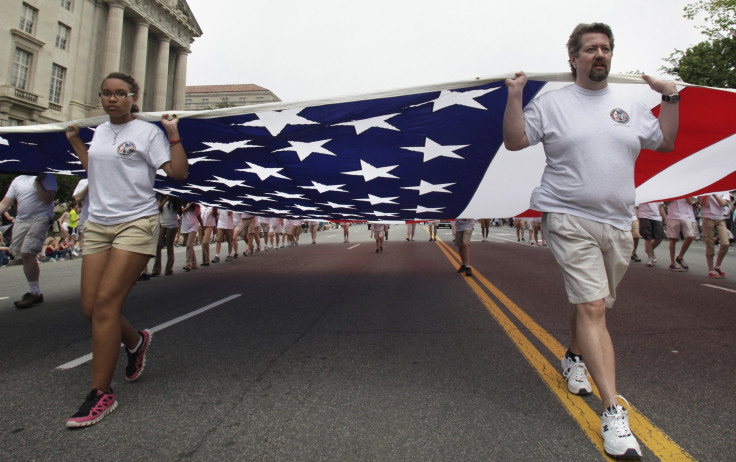 Across the nation, people will pay tribute to service members past and present with wreath layings, parades, speeches and candlelight vigils this weekend. The patriotic fervor particularly runs high in Washington, D.C., where memorials and tribute services honor the nation's fallen troops year-round and President Barack Obama is expected to pay his respects to the military. For those celebrating Memorial Day weekend in the nation's capital, below are 10 free, fun things to do from Friday through Monday.
1. National Memorial Day Concert starts at 8 p.m. on Sunday. The free concert sponsored by PBS is held on the West Lawn of the U.S. Capitol and features the National Symphony Orchestra.
2. The National Memorial Day Parade will be held Monday at 2 p.m. along Constitution Avenue and 7th Street, NW. It continues past the White House. The National Memorial Day Parade is sponsored by the World War II Veterans Committee and includes patriotic floats, helium-filled balloons and the parade of Marching Bands and Veterans units from all 50 states.
3. The Rolling Thunder Motorcycle Rally will be held Sunday. The route starts at the Pentagon at 12 p.m. and continues with a musical tribute at 1:30 p.m. at The Lincoln Memorial. The annual motorcycle ride seeks to raise awareness for veterans' issues.
4. The World War II Memorial will hold a wreath-laying ceremony Monday at 9 a.m. The 2015 theme is "Honoring our Fallen Warriors." Many surviving WWII veterans are expected to attend.
5. The National Gallery of Art's Sculpture Garden on Friday night will host guitarist Tom Lagana for a free concert. It starts at 5 p.m.
6. The Wolf Trap National Park for the Performing Arts - Filene Center will feature the "The President's Own" United States Marine Band Sunday for a free concert and a fireworks display beginning at 8 p.m.
7. DC Outdoor Movie will show "Empire Records" at Farragut Square. The free, outdoor movie screenings are an annual event and usually start at sunset.
8. The National Park Service hosts "Architecture of the National Mall," a free walking tour Saturday at 2 p.m.
9. Liaison Capitol Hill Hotel offers free swimming after 5 p.m. on Monday.
10. The Reading Room Comedy Show at 829 Upshur Street has a free comedy show every Sunday at 7:30 p.m.
© Copyright IBTimes 2023. All rights reserved.