Men In Skirts, Women In Suits: Fashion Goes Genderqueer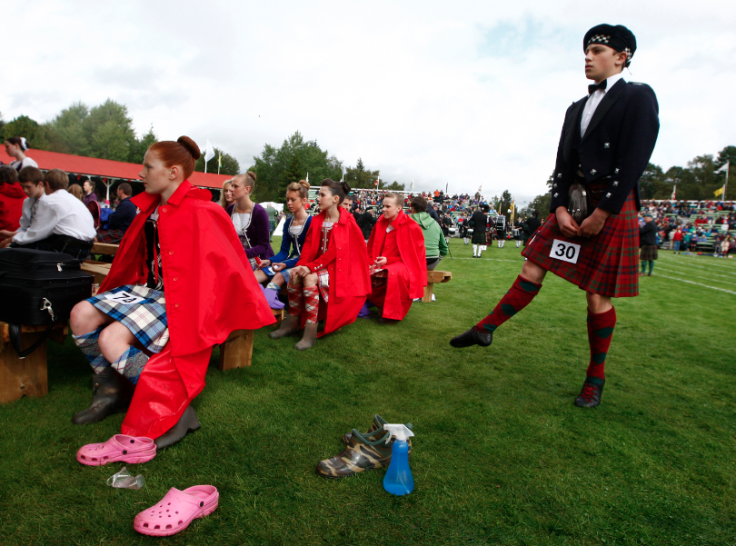 Celebrity teen Jaden Smith ("Karate Kid") recently went to the prom with Amandla Stenberg ("The Hunger Games"), and he was wearing a skirt. Bindle & Keep, a tailor shop in Brooklyn, New York, that specializes in making bespoke suits for all gender identities will be featured in an HBO documentary directed by Lena Dunham. And New York Fashion Week this year was teeming with men in skirts and pussy bow blouses.
What's going on with all the sartorial gender-bending?
"There are a growing number of people who don't want to identify as male or female," Valerie Steele, fashion historian, curator and director of the Museum at the Fashion Institute of Technology in New York, told International Business Times. Steele is co-author of "A Queer History of Fashion: From the Closet to the Catwalk" (Yale University Press, 2013). "This is expressed sartorially as well as in terms of names and pronouns. Some fashion designers are asking, do we really need male versus female dress? More designers are showing clothes on the runway that are androgynous or with similar or the same looks [for men and women]."
Androgynous, unisex and "gender f---" fashions have cycled through the 20th century, said Steele.
"Women perceive pants as superior in some respect because symbolically pants signify power in patriarchy," said Steele. "So there were various dress reform movements from the 19th century on in western Europe and America to allow women to wear trousers. You see that in the '20s and '30s, and in the '70s is a very big movement forward toward women wearing trousers even for formal or work occasions rather than private, beach or sporting events."
For Rae Tutera, The Handsome Butch blogger and LGBTQ liaison for Bindle & Keep, having a first custom made suit after years of ill-fitting clothes, Tutera told PBS, was revelatory. "Having something custom made for my body, reitroduced me to my body," Tutera said. "I think people see me in a way that aligns with how I see myself."
The motto of The Handsome Butch? "In case you ever forget I'm here to remind you you have the right to be handsome."
In the 1960s, non-Western clothes were appropriated in an attempt to create unisex designs both women and men could wear.
"Especially in the 1960s, young men wore caftans, which were taken from Middle Eastern culture and there seen as masculine but seen as long dresses on the part of Western perspective," said Steele. "A few designers, like Rudi Gernreich, specifically brought in caftans as an attempt to create unisex clothing where men and women would wear the same kinds of clothing, and he was trying to do that as an egalitarian statement."
In the 1980s and onward, designers such as Jean-Paul Gaultier and most recently, the designer for Givenchy, experimented with kilts and kilt-like skirts of the kind Smith wore to the prom.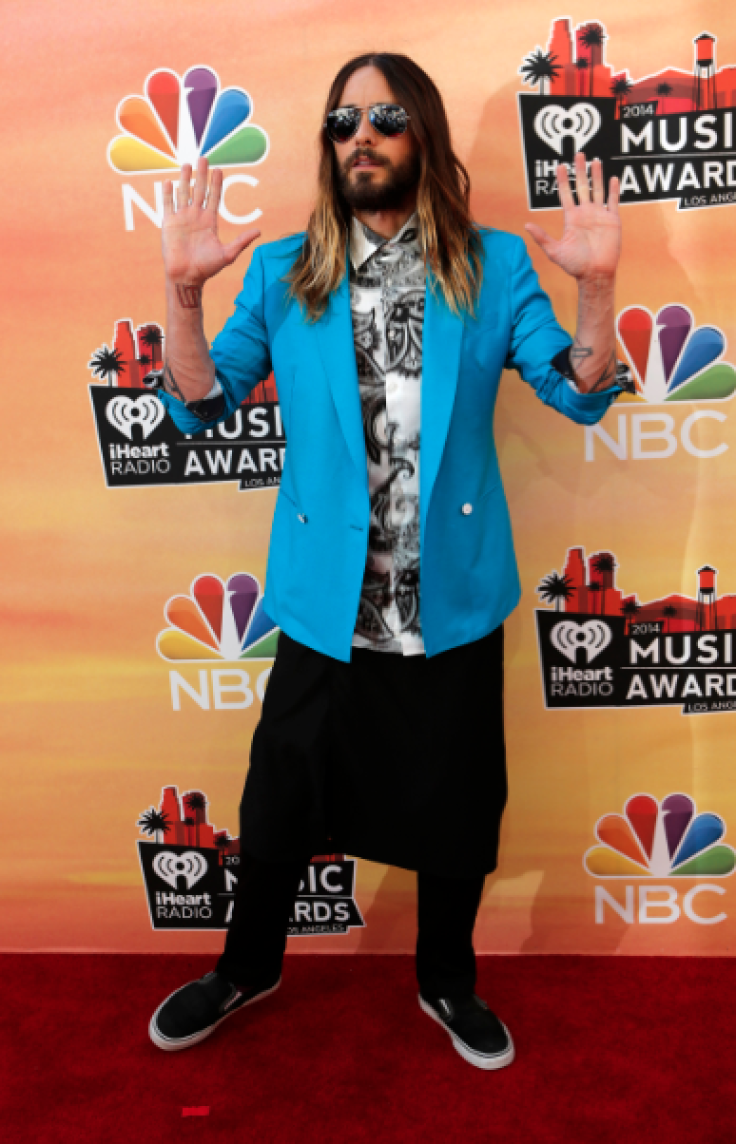 "Kilts were a kind of masculine dress in Scotland and another kind of ethnic dress which becomes appropriated," said Steele. "And people say, wait, that's not feminine -- that's masculine. There's been more pushback in terms of bringing in sarongs, but you do see that some men started wearing sarongs, like [artist] Julian Schnable and David Beckham."
The kilt is ambiguous from a gender perspective -- it's a masculine, even macho garment in Scotland, Steele says, but it resembles a skirt. It's a garment a man could wear without fear of being assaulted in public for wearing women's clothes. "It's the ambiguity of the kilt which makes it so versatile," said Steele.
In an interesting irony, rock and roll acts like 1970s punk band The New York Dolls, Mick Jagger and David Bowie, when going full-on glamazon -- with makeup, dresses, and jewelry -- seemed even tougher and more masculine. Steele suggests it's as if they're saying, "No this isn't feminine, it's masculine. Or at least, masculine when I'm doing it." It could also be seens as an expression of straight male privilege: "I'm so masculine I get to do this."
Steele said whereas campaigns to have women wearing pants in the 20th century were well-received, there had not really been a comparable campaign for men to wear women's clothes. "If men are the ones who are in power, there's always going to be a limit to people who want to look like the powerless," said Steele.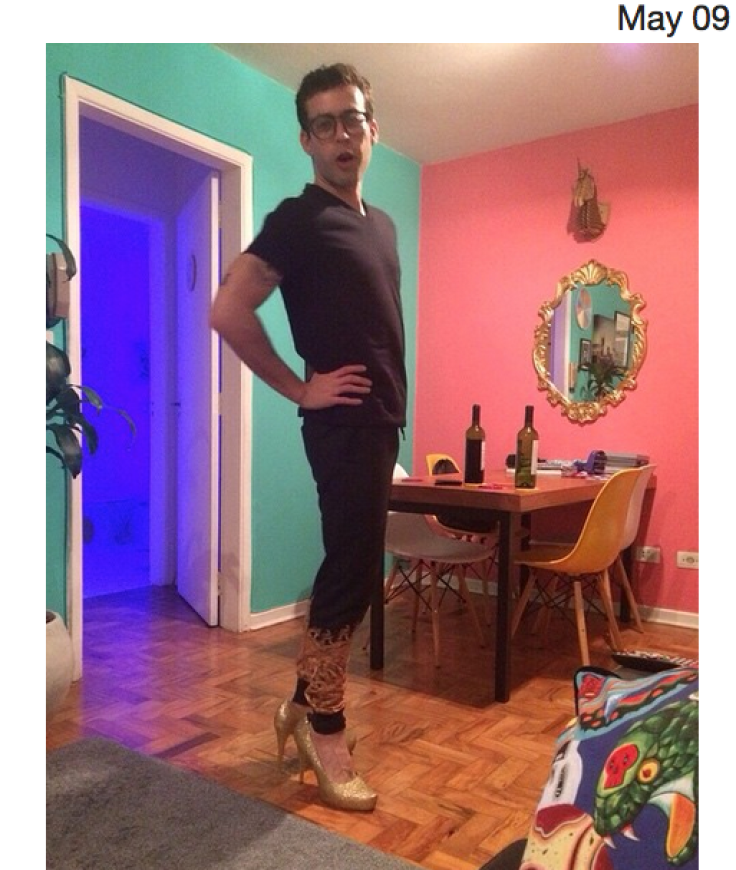 But for São Paulo, Brazil, blogger Gabriel Cadete, 27, who works in advertising, "feminine" clothes like skirts on men are appealing to him, and he hopes we'll see more of it. Since 2011, he's maintained a blog called DressedBoys, where he posts vintage and contemporary images of men in traditionally feminine clothes – skirts, dresses, high heels, makeup, jewelry. He was inspired by a famous Brazilian cartoonist named Laerte, who began being photographed in feminine clothes, makeup and fingernail polish, and who now identifies as a woman.
"She changed my perception of gender, and the more I researched the subject, the more great images I found," Cadete told International Business Times. "I wanted to collect all those inspiring images on a website, so I created DressedBoys."
What is it about a man in a skirt?
"I think it's beautiful, daring and sexy in an uncommon way," Cadete said. " It shows you are in touch not only with your feminine side, but also with yourself. The duality appeals to me." Cadete says that we dress the way we're taught to dress, and that what was once deemed socially acceptable, for example, what looks like a skirt on a man in ancient Roman -- is now considered unusual.
"But we can bring it back," he says. "I like the exercise of always asking myself if I'm doing something because I want or because others want me to. And I think the skirts for men fall into that category: I know lots of guys who have tried skirts and loved it, and think they're more comfortable than, for instance, skinny jeans."
Cadete acknowledges that homophobia keeps a lot of men from experimenting, and that a pink shirt might incite a gay slur, while wearing black makeup and black nail polish at a rock concert might be fine. He also says that most of the images his readers send him of themselves in feminine dress are not taken in public -- but in the privacy of their homes.
"I do wear some accessories, I've put on lipstick once or twice for a party and I'm always shopping at the girl's department in stores - things just fit better and there are more interesting prints!" said Cadete. "Men's clothes can be so plain."
© Copyright IBTimes 2022. All rights reserved.
FOLLOW MORE IBT NEWS ON THE BELOW CHANNELS