The Mental Exam Trump Took Is 'Supposed To Be Easy' Says Doctor Who Developed It
KEY POINTS
Dr. Ziad Nasreddine, the expert that created the Montreal Cognitive Assessment (MoCA), asserts his test is "supposed to be easy" for anyone without any cognitive decline
Trump bragged he aced MoCA when he took the test at Walter Reed
He claimed doctors at Walter Reed told him, "That's an unbelievable thing. Rarely does anybody do what you just did"
"Fox News Sunday" host Chris Wallace was right when he told President Donald Trump the Montreal Cognitive Assessment (MoCA) he bragged about acing, and which Wallace also took, isn't hard at all.
The man that developed MoCA and copyrighted the test in 1996, Dr. Ziad Nasreddine, emphasized the test "is supposed to be easy for someone who has no cognitive impairment." Only persons with some form of cognitive dysfunction such as Alzheimer's Disease will find MoCA challenging. It's these people that will fail the 10 minute-long, pen-and-paper test with 30 questions administered by a psychologist.
Dr. Nasreddine, who created the test in Montreal, Canada, pointed out to MarketWatch MoCA isn't an IQ test that measures intelligence. He said MoCA measures short-term memory, spatial awareness and executive functioning, among others. These cognitive domains are controlled by different areas of the human brain.
"This is not an IQ test or the level of how a person is extremely skilled or not," Dr. Nasreddine told MarketWatch. "The test is supposed to help physicians detect early signs of Alzheimer's, and it became very popular because it was a short test, and very sensitive for early impairment."
A normal MoCA score is 27 correct out of 30 questions but Trump raised eyebrows by stating he was given a test with 35 questions, all of which he "aced." Trump told Fox News last week the medical staff at the Walter Reed National Military Medical Center where he took MoCA were "very surprised" by how well he did. "They said, 'That's an unbelievable thing. Rarely does anybody do what you just did.'"
One study about MoCA showed people without cognitive impairment scoring an average of 27.4. On the other hand, examinees with mild cognitive impairment (MCI) scored an average of 22.1. Examinees with Alzheimer's disease scored an average of 16.2.
Dr. Nasreddine said one of the more difficult questions will see an examinee being asked to remember five words at the beginning of the exam. The examinee will then be asked to recall these worlds five or 10 minutes later when they finish the rest of the test.
"That's the most difficult part of the test for someone who has cognitive impairment," said Dr. Nasreddine.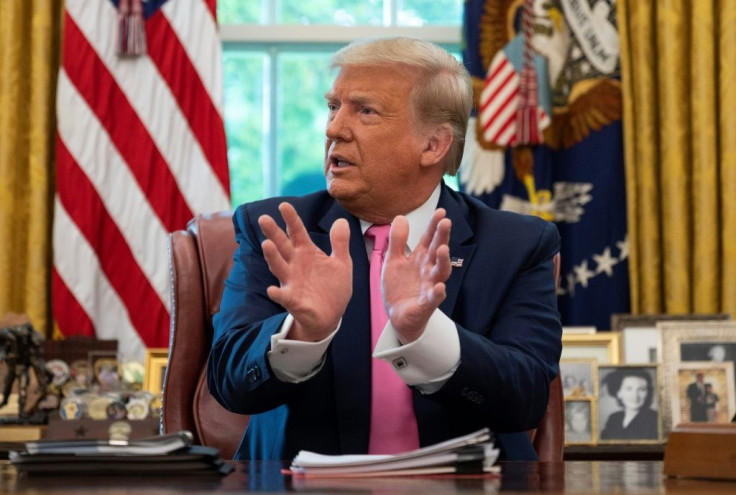 He also noted performing poorly on MoCA doesn't automatically mean someone has early onset Alzheimer's or another form of dementia.
"A certified doctor has to interpret the results, according to the pattern of impairment, the age of the patient, what medications they are taking, sleep difficulty, anxiety and pain that can affect their concentration and their performance on the test," according to Dr. Nasreddine. "Someone who doesn't have the expertise can come up with the wrong conclusion."
During Sunday's interview on Fox News, Trump took issue with Wallace describing MoCA as an easy test.
"No, no, no," said Trump, calling Wallace's description "a misrepresentation."
"It's all misrepresentation," said Trump in an effort to debunk Wallace's claim the test they both took was that easy. "Because, yes, the first few questions are easy. But I'll bet you couldn't even answer the last five questions. I'll bet you couldn't. They get very hard, the last five questions."
Trump added he believes Joe Biden will not be able to answer MoCA.
"I'll get you the test, I'd like to give it. I'll guarantee you that Joe Biden could not answer those questions," claimed Trump.
Dr. Nasreddine and his peers are dismayed Trump's interview almost two weeks ago with Sean Hannity (where Trump claimed to have aced MoCA) might make MoCA irrelevant. This interview led to thousands of people taking the online test without clinical supervision.
Doctors are concerned MoCA might now not be as accurate because too many elements have been shared online and people might be practicing to make perfect.
© Copyright IBTimes 2023. All rights reserved.
FOLLOW MORE IBT NEWS ON THE BELOW CHANNELS