The Mental Exam Trump Took Isn't An IQ Test, But A Test On Cognitive Decline
KEY POINTS
Fox News' Chris Wallace had President Donald Trump scrambling to prove the Montreal Cognitive Assessment they both took is a tough one
The host said the test, which determines cognitive decline, is "not that hardest test"
"It's all misrepresentation," said Trump, in an effort to debunk Wallace's claim the test was easy
Chris Wallace, host of "Fox News Sunday," took the online cognitive test President Donald Trump said he aced and wasn't impressed with its difficulty.
Wallace interviewed Trump on his show Sunday. The wide ranging discussion mostly covered COVID-19. It also touched on the bestselling book by his niece, Dr. Mary L. Trump; his late father, Fred; the economy; Joe Biden; Biden's alleged vow to defund the police; and Biden's alleged cognitive problems.
During the interview, Trump said he wanted Joe Biden to take the "Montreal Cognitive Assessment" (MoCA) test he took in 2018 and which his doctors said he "aced."
"Let's take a test right now. Let's go down, Joe and I will take a test. Let him take the same test that I took," Trump said.
Wallace noted he took the same test when he heard Trump had passed it and revealed "it's not that hardest test."
"Yeah, how did you do?" asked Trump.
"It's not -- well it's not that hardest test," replied Wallace. For one, the host said the test asked him to identify the picture of a huge animal (it was an elephant). Another question was "tougher," it asked him to count backwards from 100 by seven.
For some context, the MoCA test isn't an IQ test. It intends to assist trained health professionals to evaluate forms of cognitive decline such as Alzheimer's, Mashable noted. It's a test a president takes as part of his annual physical exam.
Doing well on MoCA doesn't mean a person is smart. MoCa only shows if an examinee is experiencing some form of cognitive dysfunction. The total possible score in this test is 30 points, and a score of 26 or above is considered normal. This test, which comes in various iterations, is available online.
Despite Wallace saying the test was no big deal, Trump demurred and disagreed.
"No, no, no," Trump objected. He said Wallace's description was "a misrepresentation."
"It's all misrepresentation," said Trump again, in an effort to debunk Wallace's claim. "Because, yes, the first few questions are easy. But I'll bet you couldn't even answer the last five questions. I'll bet you couldn't. They get very hard, the last five questions."
Trump again tried to sell the test's toughness.
"You couldn't answer -- you couldn't answer many of the questions," adding he answered all 35 questions correctly.
Wallace asked what the difficult question was, but Trump refused to say.
"I'll get you the test. I'd like to give it. I'll guarantee you that Joe Biden could not answer those questions," claimed Trump.
During the interview filmed at the White House on Friday, Wallace also asked Trump if he thinks Biden is senile.
"I don't want to say that," said Trump. "I'd say he's not competent to be president. To be president, you have to be sharp and tough and so many other things ... Joe doesn't know he's alive, OK? He doesn't know he's alive."
Biden responded after the interview with a statement that took aim at Trump's failed response to the pandemic, which Americans blame him for.
Biden said "it's long past due for President Trump to listen to somebody other than himself in how to fight this virus, because after six straight months of deadly mismanagement it is spiraling even more out of control.
"Mr. President, your ignorance isn't a virtue or a sign of your strength — it's undercutting our response to this unprecedented crisis at every turn."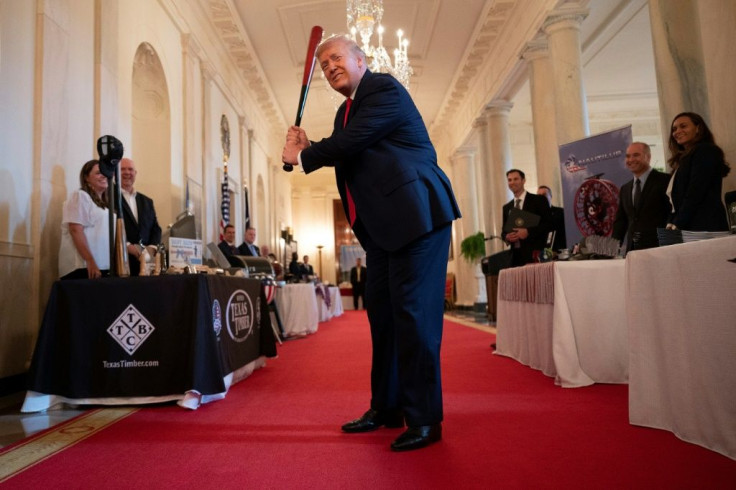 © Copyright IBTimes 2023. All rights reserved.
FOLLOW MORE IBT NEWS ON THE BELOW CHANNELS