Mexico vs. Jamaica: Gold Cup Final 2015 Date, Time, Prediction, Preview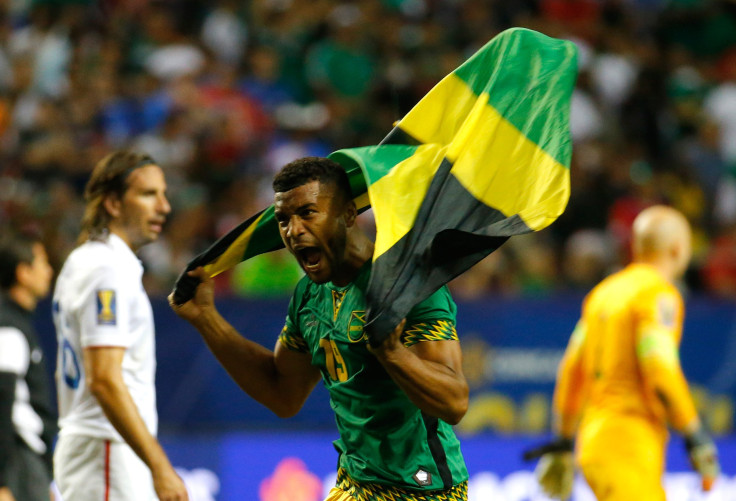 After two semifinals that could hardly have contained more drama, both for the right and very wrong reasons, Mexico will take on Jamaica in the 2015 Gold Cup final in Philadelphia on Sunday. For Mexico it will be a chance to become the first country to reach double figures in Concacaf crowns, while Jamaica will play to lift its maiden Gold Cup title in its first ever final.
Although Jamaica caused the tournament's biggest upset in defeating holders the United States to progress, it was Mexico that will undoubtedly feel the more fortunate of the two to have a chance to play for the trophy.
Just days after getting the benefit of a highly questionable refereeing decision to beat Costa Rica in the quarterfinals, Mexico saw two more go in their favor on Wednesday. Already the beneficiaries of a debatable red card dished out to Panama's Luis Tejada, Mexico needed another helping hand after putting in a desperately listless performance against 10 men. A dubious 89th-minute penalty award kept Mexico alive into extra time before referee Mark Geiger pointed to the spot in less dubious circumstances to give Andrés Guardado to again play savior from the spot. Even a leading Mexican sports newspaper felt the need to apologize to Panama for the result.
It was a result that saved Miguel Herrera's job for another day, yet it was a performance that showed exactly why he has quickly come under so much pressure. Gone was the verve with which his team played early in his reign and in its place was the lethargy and predictability that characterized performances in 2013 before Herrera's appointment.
With his charisma no longer enough, Herrera is now struggling to show that he has the nous to maximize his team's talents. Having called winning the Gold Cup an "obligation," only doing so and then going on to beat the United States in an October playoff for a place in the 2017 Confederations Cup will be acceptable.
But, while luck has smiled on Herrera to keep his hopes alive, it has also deserted him when it comes to the number of players now unavailable for selection. Having already lost key figures Héctor Moreno and Javier "Chicharito" Hernández in the buildup to the Gold Cup, Giovani dos Santos suffered an injury in the final match of the group stage before defender Yasser Corona did likewise in the quarterfinals. While Dos Santos could still feature in the final, Carlos Vela now definitely won't, having picked up a foolish yellow card against Panama to leave him with a suspension.
There will surely be a sigh of relief, though, that rather than a U.S. side they haven't beat in their last six attempts, Mexico will be taking on final debutantes. But, if there is any complacency, Jamaica will certainly be looking to exploit it. Experienced coach Winfried Schäfer colorfully stated that his Jamaica side would play "David" to the Americans' "Goliath" and look to "hit the giant where it hurts most" in the semifinals, and Mexico's performances so far will provide plenty of reason to think they can do likewise in the final.
Jamaica were opportunistic in scoring off a long throw and a free-kick before producing a superbly organized and resilient defensive display to limit the Gold Cup holders to just one goal in response. But it was more than just an all-out defensive effort, almost throughout Jamaica maintained a threat through its athleticism on the counter attack.
It has been the approach Jamaica has used throughout a long summer, in which they have developed into a well-honed outfit. In the Copa America there were three defeats, but all came by just a 1-0 margin, which was by no means a disgrace against Argentina, Uruguay and Paraguay. With a very similar squad, those performances have been built upon at the Gold Cup. After an opening 2-2 draw with Costa Rica, the Reggae Boyz beat Canada, El Salvador and Haiti 1-0 before its win over the U.S.
It has set Jamaica up for the chance to win its first trophy outside of the Caribbean Cup and rival the achievements of the famed squad that went to the country's only ever World Cup in 1998.
Prediction: If Jamaica can repeat its performance against the United States, there is every reason to think they can get their hands on the trophy. If anything, Mexico will be more susceptible to Jamaica's approach. El Tri struggles to break down well-manned defenses and, as they showed in a 4-4 draw against Trinidad and Tobago, are also vulnerable to a team that plays with pace and physicality on the break. In particular, forwards Darren Mattocks and Giles Barnes can have plenty of joy against a shaky Mexico defense.
Herrera's men will surely have to play better than in their semifinal. But having ridden their luck to an extraordinary degree so far, they may just again get over the line in the final, although likely not without a fair degree of drama and quite possible extra time or even penalties.
Predicted score: Mexico over Jamaica, 2-1
Where: Lincoln Financial Field, Philadelphia
Date: Sunday, July 26
Time: 7:30 p.m. EDT
© Copyright IBTimes 2022. All rights reserved.
FOLLOW MORE IBT NEWS ON THE BELOW CHANNELS