Mia Khalifa Slams Op-Ed Claiming She 'Owes' Fandom To Brief Porn Career
KEY POINTS
Mia Khalifa called out an outlet, accusing it of using her for clickbait
The op-ed said the former porn star owes her fandom to her brief adult film career
This came as the petition to take down her porn videos garnered over 1.5 million signatures
Mia Khalifa came after an op-ed article that said the retired adult performer "owes" her fandom to her brief stint in the porn industry.
Khalifa, who once topped Pornhub's most-viewed charts, took offense to an op-ed on RT.com titled: "Campaign to have Mia Khalifa's porn videos taken offline does a disservice to the true meaning of 'justice.'"
"Ex-porn star Mia Khalifa has racked up 1.5 million signatures petitioning to have her movies deleted, claiming they will haunt her for life. But she owes her fandom to that career and should own the mistakes of her past," RT journalist and political commentator Helen Buyniski wrote in the op-ed, which was shared by the outlet on Twitter.
However, Khalifa was not having any of it and took to Twitter to give her two cents on the article. The rising TikTok star accused the outlet of using her name to gain clicks.
"Go f--- yourselves, don't f---ing use my name for clickbait, especially if you're going to be lazy and redundant in your writing," she replied to the outlet's post.
The op-ed noted that the "Justice for Mia Khalifa" petition to take down Khalifa's porn videos have reached over 1.5 million signatures, which it said "echoes the many Black Lives Matter petitions doing the rounds, each one demanding 'justice' for a victim of police violence."
The writer compared the call for justice for Breonna Taylor, who died at the hands of police, to that of Khalifa's.
"But there's not much comparison between, say, Breonna Taylor – an emergency medical technician fatally shot in her bed by police who were supposedly looking for a drug dealer already in prison, who had lived 10 miles away – and Khalifa, who, as the petition says, 'has stated her regret for her decisions in the porn industry multiple times' and 'attends therapy on a consistent basis for trauma, emotional distress, and the consequences of bullying,'" the journalist wrote.
While the op-ed acknowledged that the porn industry is known to exploit women who are emotionally unstable and that Khalifa's case is a "familiar one," the writer asserted that the word "justice" should not be used for her situation.
"'[J]ustice' is the wrong word here, especially since the former porn star seems determined to have her cake and eat it too," Buyniski wrote.
Khalifa had added the link to her massive fan-started petition on her social media accounts and reportedly even invited those who will sign to her "birthday party." But according to the op-ed, Khalifa has her porn career to thank for the massive following she now has.
"Whether she [Khalifa] likes it or not, she owes that fan base, all those followers now seeking 'justice' for her, to that three-month porn career," the op-ed stated.
Buyniski also cited the story of Rose Kalemba, who was raped when she was 14 and whose video was uploaded to Pornhub. The victim pleaded for the site to remove the clip of her sexual assault but was denied. Pornhub only took it down after Kalemba threatened to take legal action.
However, the journalist asserted that unlike victims such as Kalemba who were "forced" and "tricked," Khalifa only made "poor business decisions" since the latter allegedly knew she was shooting porn when she made her first video. The ex-porn star has alleged that she was "intimidated" into making the hijab video that catapulted her to worldwide popularity, but Buyniski argued that "no one was holding a gun to her head."
"Why should Khalifa get to wipe her indiscretions from the internet when so many other women don't have that option, including women who were forced into sex work by economic necessity or an abusive partner?" Buyniski wrote, before adding that not everyone's mistake can make them famous as it allegedly did Khalifa.
The journalist concluded the op-ed by stating that if Khalifa wanted to have her clips deleted from internet history, she should also consider giving up her social media empire.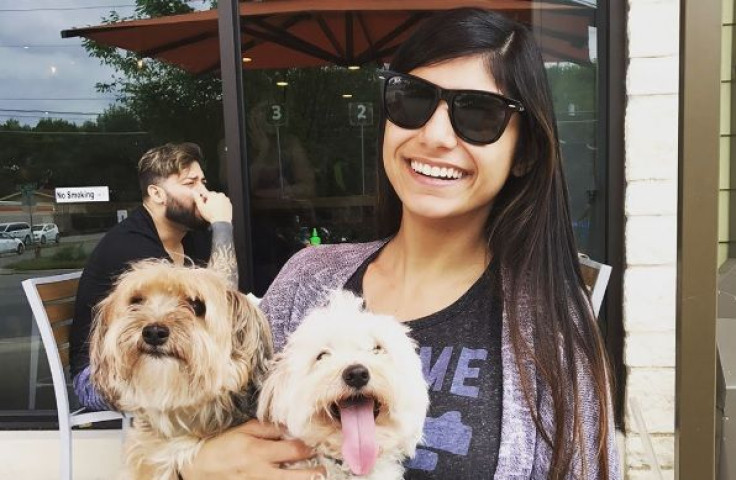 © Copyright IBTimes 2023. All rights reserved.