Miami Police Arrest 7 For Vandalizing Christopher Columbus Statue
KEY POINTS
Seven people who vandalized the monument of Christopher Columbus have been arrested by Miami Police
Authorities used surveillance cameras to identify the protesters and made the arrests
A man was also charged after smashing the windshield of a patrol vehicle with his skateboard
Police in Miami have arrested seven people after vandalizing the statues of Christopher Colombus and Juan Ponce de Leon at the wake of nationwide protests following the death of African-American George Floyd in the hands of a white Minneapolis police officer on Memorial Day.
The protesters were arrested Wednesday (June 10) after around five dozen demonstrators took to the streets of Miami and clashed with the police. CBS News reported that the Miami Police Department shared several photos of the statue where red paint was sprayed over its plaque.
Activists also vandalized the landmark with a hammer and sickle, "BLM" for Black Lives Matter, black power fists and the name of George Floyd in white paint.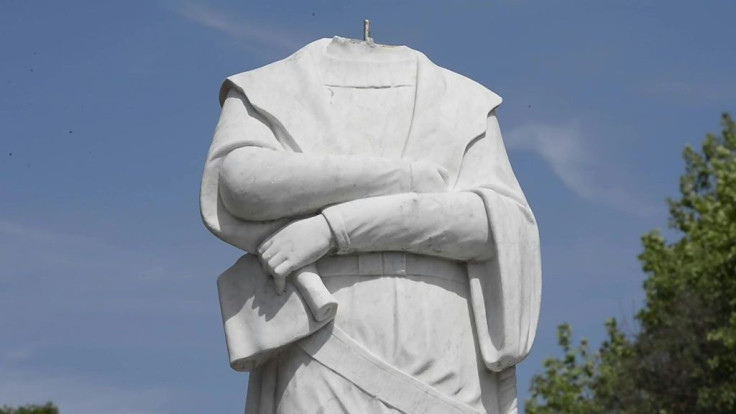 "Miami police officers identified the suspects via surveillance cameras, and after giving an exact description of the suspects, our ground officers moved in and arrested the suspects who committed the vandalism," added the outlet, citing a statement from a news release.
The news release pointed out that, while the city supports peaceful protests, the Department will enforce "zero tolerance" to those that incite "riots, damage property and hurt members of the public" or their officers.
One man was also charged after he smashed the windshield of a patrol car with his skateboard, while at the same time, convincing others to attack a vehicle, said ABC News.
The network also posted a video on Twitter where Miami Police tackled one protester to the ground after exiting their vehicle. Several officers tried to contain the man, while others "push the crowd away from the scene."
Protest organizer Richard Dombroff said the march was peaceful until the police arrived to "violently arrest a bunch of peaceful protesters." Fellow demonstrator Louis Hernandez on the other hand claimed that officers "started brutally slamming protesters" before the chaos erupted.
The Wednesday rally was organized to pay tribute to 18-year-old Israel "Rafa" Hernandez who died after the police used a stun gun on him in 2013, said the Miami Herald, through ABC News.
The statue of Columbus in Miami is one of several monuments to be vandalized amid ongoing protests over Floyd's death. Demonstrators toppled, burned and threw Columbus' statue in Richmond, Virginia, while protesters beheaded the Italian explorer's statue in Boston.
© Copyright IBTimes 2023. All rights reserved.