Is Michael B. Jordan Dating His 'Black Panther' Cast Mate Lupita Nyong'o?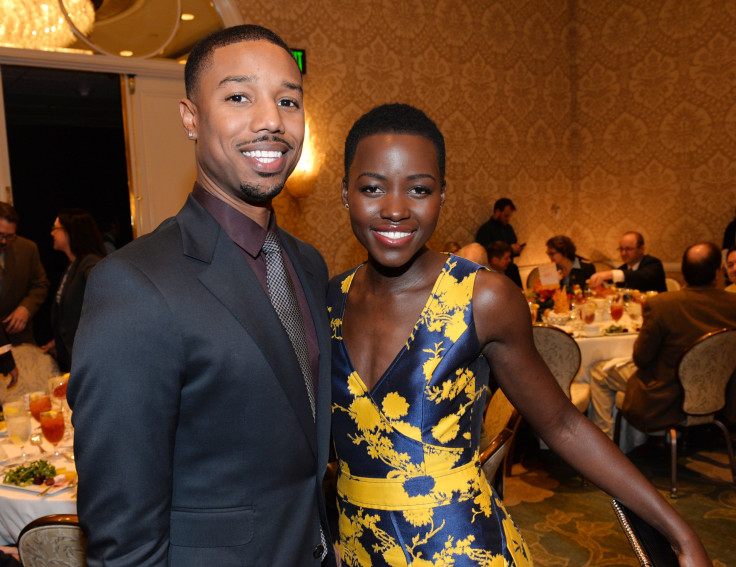 "Black Panther" has been on a red hot streak in the box office and it appears the love lives of the movie's stars are also heating up off screen. While the actors have been on a press tour promoting the Marvel film, fans have noticed stars Michael B. Jordan and Lupita Nyong'o have been getting close.
After losing a bet to Nyong'o, Jordan must now drop down and do push-ups whenever the actress commands. However, her random pop-ups during the actor's television appearances have resulted in flirty encounters that have been caught on camera.
During an appearance on "The View," Nyong'o found Jordan backstage and demanded he follow through on their bet. However, before he positioned himself on the floor to complete his task, he and the actress shared a long embrace, and she caressed his face.
Prior to that, Nyong'o requested the actor entertain her with a push up while attending the Calvin Klein show during New York Fashion Week. Even though Jordan didn't seem thrilled about submitting to her request, the two shared hugs before and after the push-up.
Although fans have been getting their hopes up, believing the stars are becoming more than just friends, sources told TMZ the flirtatious banter going on between the two is more about promoting the movie rather than having a romantic relationship.
On Monday, Jordan seemed to deny he and Nyong'o were in a romantic relationship after he shared a provocative tweet. "Bring them chocolate cakes back. You ready for round 2?" For some extra spice, he added the hashtag #youknowyouwantthis," he wrote.
Jordan later followed up explaining his random post. "Aight y'all know wassup lmao playing #safeword with @SteeloBrim who doesn't care about life and took the L hahaa," the actor explained.
The tweet was created during Jordan's appearance on the MTV show "SafeWord." The show is described as "famous friends become frenemies through a series of fun and daring games."
Both Jordan and Nyong'o tend to remain relatively quiet about their love lives. Most recently, the actor has been romantically linked to Instagram star Ashlyn Castro and Nyong'o appears to be single.
© Copyright IBTimes 2023. All rights reserved.