Michael Douglas Thanks Catherine Zeta-Jones In Memorable Emmy Speech, Slams US Prison System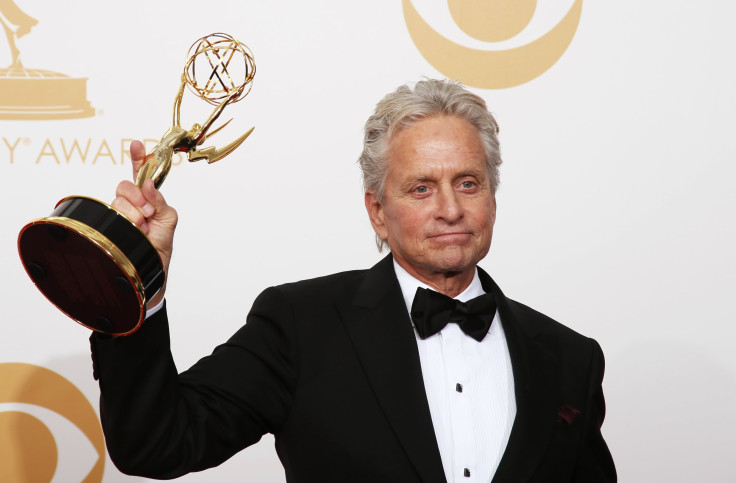 Michael Douglas, who won the Emmy in the Lead actor in a miniseries or movie category for his portrayal of Liberace in "Behind the Candelabra" on Sunday night, thanked his estranged wife Catherine Zeta-Jones for her support during his acceptance speech.
This shout-out to his wife comes just weeks after Douglas announced that he and Zeta-Jones are getting separated, but only temporarily, to evaluate their marriage. Zeta-Jones did not accompany Douglas on the red carpet, and the 68-year-old was seen wearing his wedding ring at the event.
"I want to thank my wife, Catherine, for her support," Douglas said, according to USA Today, before noting his gratitude to his children. "My kids Dylan and Carys and my oldest son, Cameron. I'm hoping I'll be able and they'll allow me to see him soon."
Cameron Douglas is currently serving time as part of a 10-year-long prison sentence in Pennsylvania for non-violent drug offenses. Backstage, Douglas explained that was told by prison officials that he would not be able to meet his son for two years, and added that he was disappointed with the whole U.S. prison system.
"My son is in federal prison. He's been a drug addict for a large part of his life. Part of the punishments — if you happen to have a slip, and this is for a prisoner who is nonviolent, as about a half-million of our drug-addicted prisoners are — he's spent almost two years in solitary confinement. Right now I've been told that I can't see him for two years. It's been over a year now. And I'm questioning the system," Douglas was quoted as saying by Entertainment Weekly.
"Obviously at first, I was certainly disappointed in my son. But I've reached a point now where I'm very disappointed with the system," he added.
It was earlier reported that Cameron's arrest might have caused friction in his father's marriage to Zeta-Jones, causing the split.
© Copyright IBTimes 2023. All rights reserved.