'Michael Jackson and the Doctor' Documentary Will Air as Scheduled: Was Conrad Murray Paid?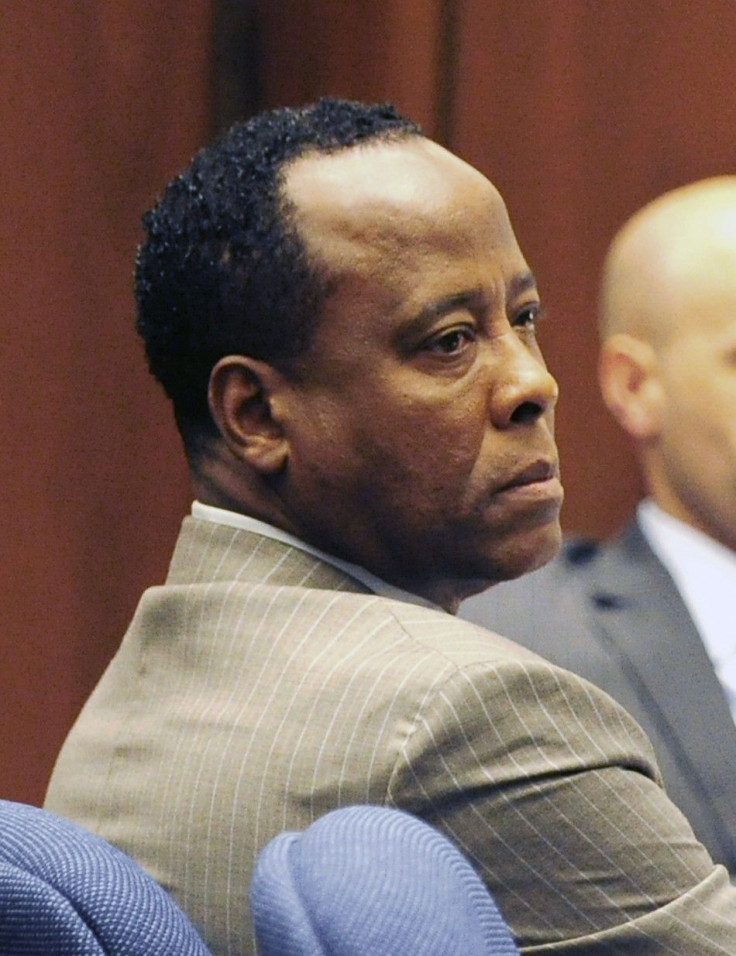 MSBNC will go forward with the scheduled broadcast of Michael Jackson and the Doctor: A Fatal Friendship despite objections from Michael Jackson's family, and claims that Conrad Murray may have benefited financially for his participation in the hourlong documentary and related television interviews.
The details of who might have been paid, by whom, and for what purpose have become increasingly convoluted as the broadcast of the documentary approaches. British production company October Films reportedly began following Conrad Murray two years ago, not long after Michael Jackson died, and continued to film until he was convicted and remanded into police custody on Monday.
Murray's involuntary manslaughter conviction has ethical and possibly legal implications for the production's financial activities, raising the question of whether Murray profited from his crime.
MSNBC bought the rights to the film and will air Michael Jackson and the Doctor Friday night. (The film was broadcast in the UK on Thursday, under the title The Man Who Killed Michael Jackson.)
MSNBC has fielded multiple complaints about the documentary -- both Michael Jackson's estate executors and his sister La Toya Jackson wrote letters to MSNBC urging the cable news network to remove the documentary from the broadcast schedule (La Toya requested as a concession that the family be permitted to screen the program in advance.)
Criticism directed at MSNBC is largely based on a presumption that Murray was compensated in some way for his participation. Multiple production companies and distributors appear to be involved in the documentary project, making it difficult to get a clear picture of related financial transactions. Additionally, Murray has given promotional interviews to both the BBC and NBC.
RadarOnline, a celebrity tabloid Web site, reported that a six-figure licensing fee will be used to pay Murray's defense lawyers.
NBC Universal paid the production company approximately $300k for the right to air the documentary, an anonymous insider reportedly told RadarOnline. Much of that money will go to pay Dr. Murray's lawyers, Ed Chernoff, Michael Flanagan, and Nareg Gourjian. If there is any money left over, it will go to Dr. Murray's current girlfriend and mother of their son, Nicole Alvarez. Dr. Murray will not directly profit from the sale of the documentary.
A representative for October Films told the Los Angeles Times Murray was paid $1 for his participation.
NBC made the following statement on Friday: NBCUniversal licensed the documentary from Zodiak Rights. In connection with the documentary, NBCUniversal had the opportunity to conduct a promotional interview with Dr. Murray. Neither Dr. Murray nor his legal defense were compensated in any way.
A two-part interview with Conrad Murray connected to the documentary aired on Today on Thursday and Friday.
Multiple media outlets have reported unsuccessful attempts to elicit further information from Zodiak Rights.
As a convicted felon, he is not permitted to profit from his crime, Brian Oxman, the lawyer representing Michael Jackson's father, Joe Jackson, in a civil suit against Murray, told USA Today.
IBTimes does not yet have a conclusive answer on the status of the Son of Sam law in California - which bars a convicted felon from profiting from books, films, interviews and other expressive material concerned with the crime. We have found documents indicating California's Son of Sam law was invalidated in 2002 because it was said to violate First Amendment rights, as well as a report that a new, somewhat similar law was enacted later that year.
Louis Perry, who was Conrad Murray's security guard and driver during filming, told the Los Angeles Times that Murray enjoyed lavish perks, paid for by a producer with what's it all about? productions, who reportedly purchased the rights to Murray's story in 2009, before he was charged with involuntary manslaughter. The relationship between what's it all about? productions, October Films, and Zodiak Rights remains unclear.
Perry told the Los Angeles Times that Leon Lecash paid for daily lunches and covered the $560 weekly cost of a 12-passenger van to transport Murray, his entourage, and some cameras. The security guard told the Associated Press that Murray also enjoyed lavish dinners on Lecash's dime, and that the producer may have bought Murray tailored suits.
They paid to have full access, Perry told The AP. They were shadowing his every move.
You can tell when somebody's owned, he added. They owned him. It was obvious.
Lecash described the meal and transportation expenses as legitimate production costs in an email to the Los Angeles Times.
Michael Jackson and the Doctor: A Fatal Friendship will air on MSNBC at 10 p.m. EST Friday, Nov. 11.
© Copyright IBTimes 2023. All rights reserved.