Michael Saylor Forecast BTC At $5M — 2 Of His 3 Conditions Are Nearly Met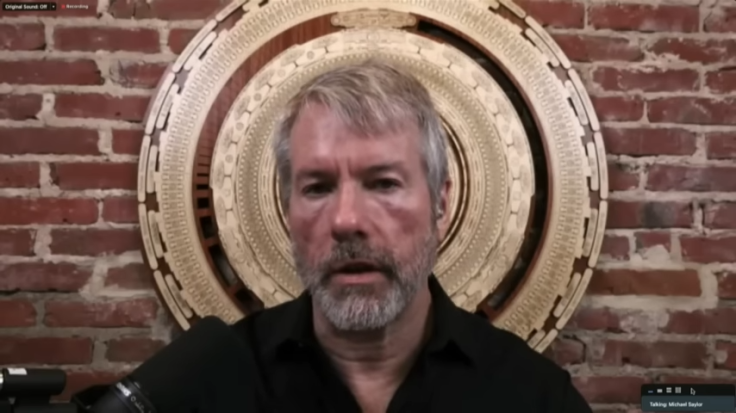 KEY POINTS
Last month, Saylor's Microstrategy announced that it has made the biggest Bitcoin purchase since 2021
Microstrategy plans to sell $750 million worth of stocks, the proceeds of which will presumably be used to buy more BTC
As of 7:06 a.m. ET Monday, Bitcoin was trading at $25,702.46
Microstrategy co-founder and chairman Michael Saylor, a known Bitcoin maximalist, predicted last year that the crypto can hit a whopping $5 million -- if three conditions are met. And here is the good news for for those waiting for the crypto slump to be over: two of the conditions that Saylor listed are on the verge of happening.
Saylor made the forecast about Bitcoin's price surge during his guesting at the On The Tape podcast. He then listed out the three catalysts (see tweet below).
Of the three, spot ETF approval seems nearing reality, with the applicants including investment giant BlackRock waiting for the U.S. Securities and Exchange Commission (SEC) to approve the filings.
The FASB, a non-governmental standard-setting board overseen by the SEC, has already proposed a fair-value approach in March and this month has given staff permission to draft the final version of the new accounting standard set to take effect after Dec. 15, 2024.
Only the one condition about banks lending using Bitcoin as collateral and custody has not reached fruition. But it is expected to kick off very soon, perhaps following the SEC's approval of the spot Bitcoin ETF applications.
At around the same time he made those forecasts, Saylor also said during the MarketWatch Best New Ideas in Money Festival that Bitcoin would return to its November high of almost $69,000 within the next four years and mentioned that the crypto asset could trade at $500,000 sometime in the coming decade.
"I think this is stable," the MicroStrategy chairman said at the time, adding, "The next logical stop for Bitcoin is to replace gold as a non-sovereign store of value asset."
Last month, MicroStrategy announced that it had made the biggest Bitcoin purchase since 2021 in the second quarter of 2023 and revealed its bullish plan to sell $750 million worth of stocks, the proceeds of which will presumably be used to purchase more BTC.
"Our objective is to find ways to generate incremental Bitcoin for our shareholders and do that with either cash flow from the business or do it through intelligent accretive financings of equity or debt or other intelligent operations," Saylor told investors in August.
As of 7:06 a.m. ET Monday, Bitcoin was trading at $25,702.46, with its 24-hour trading volume down 0.39% at about $9.6 billion, based on data from CoinMarketCap.
© Copyright IBTimes 2023. All rights reserved.