Michelle Branch Is Pregnant Again After Suffering Miscarriage, Reveals Due Date
KEY POINTS
Michelle Branch and Patrick Carney are expecting their second child together after her miscarriage in December last year
Branch shared that she has been craving scones amid her pregnancy
The "All You Wanted" singer and the Black Keys drummer's second child will arrive in early 2022
Michelle Branch has announced that she is pregnant with her third child, just over seven months after revealing that she had suffered a miscarriage.
The "All You Wanted" singer shared the happy news on Instagram Sunday. Alongside photos of freshly baked scones with jam and clotted cream, Branch wrote that she and her husband, Black Keys drummer Patrick Carney, will welcome their second child together next year.
"You know you're pregnant when..." Branch captioned the snaps. "Woke up to a picture my friend Sonya sent of scones she was eating in England and I immediately had to hop out of bed and make a batch myself. @officerpatrickcarney was my hero (as usual) and went to the market in search of double cream."
She continued, "Couldn't be more excited (and nervous! Hello, pregnancy after miscarriage anyone?!) to announce baby Carney is coming early 2022!"
Along with photos of the scones, baked from a recipe from Nigella Lawson, Branch also included a snap of her and her husband's son Rhys James Carney, who will turn 3 later this month, staring longingly at the oven.
Branch is also mother to 16-year-old Owen with ex-husband Teddy Landau.
Branch received congratulatory messages from fans and celebrity pals.
"AaaaaaHHH SO HAPPY for you & your beautiful growing family," Juliette Lewis commented. "Congratulations," Kimberly Perry wrote, adding several red heart emojis.
"Eek!! So excited for you! Sending so much love and can't wait to meet baby Carney!" Edei wrote. "All the 'buns are in the oven'!" Jennifer Nettles commented.
"Congraaaaaats you guys!!! [clapping hands emoji] so thrilled for you!" Kate Voegele wrote.
In December 2020, Branch shared a series of photos featuring her with her husband, their 2-year-old son Rhys, her teenage daughter Owen and her sister on Instagram. In the caption, she shared how the year hit her and revealed that she had suffered a miscarriage.
"Just when we were rounding third and heading home (A baseball metaphor?! I know.) 2020 was like, 'Nah, I ain't done yet,'" she wrote. "December decided to really finish us off with a bang! No, literally. A bomb went off in downtown Nashville yesterday. And to further twist a dagger in my heart, I experienced my first miscarriage (ugh! Motherf----r!)."
The singer added that she has been crying and binge eating Christmas cookies but decided to still put on lipstick and a dress. They drank champagne to celebrate and sang Christmas songs, but she's "limping to the finish line." Amid her loss, Branch was thankful that her family was there for her during the lockdown.
"These people, my precious family, my husband, sister, and kids have been the MVPs. I couldn't imagine spending a year isolated with anyone else. Happy Christmas, everyone," she concluded.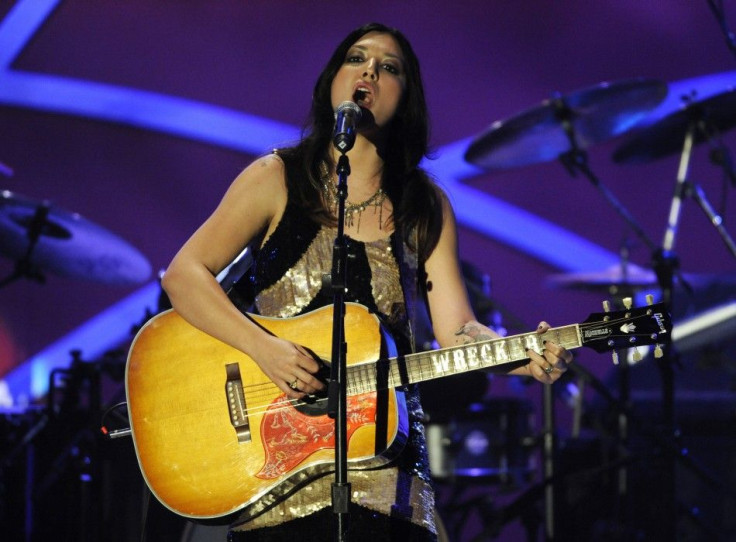 © Copyright IBTimes 2023. All rights reserved.