Michigan Lawmakers Get Armed Escort To Capitol In Wake Of Lockdown Protests
KEY POINTS
The volunteer security detail made up of black and Latino residents escorted Rep. Sarah Anthony and other lawmakers to the Capitol in Lansing, Michigan
One of the organizers said he was inspired to do so after seeing a visibly shaken Anthony in a video on Facebook showing the protesters waving Nazi and Confederate imagery and images inside the Capitol April 30
Gov. Gretchen Whitmer said there have been talks about possibly changing the right to openly carry firearms within the Capitol after the protests
A Michigan representative was greeted with an armed escort into the state's Capitol a week after armed protesters filled the building, demanding the state reopen. Images and videos of Rep. Sarah Anthony flanked by her escort subsequently appeared online Thursday and Friday.
Anthony's guards appeared in Lansing, Michigan, on Wednesday armed with handguns and rifles to offer safe escort to her and any other lawmakers rattled by the protests.
"We were all just appalled by the lack of support and lack of security that I had, that other legislators had, and the fact that a lot of the demonstrators last week were adorning many racist, anti-Semitic signage," Anthony told Lansing City Pulse. "I think it just triggered a lot of folks, especially African Americans."
Anthony was one of several lawmakers shaken by armed demonstrators protesting Gov. Gretchen Whitmer's coronavirus lockdown April 30. The order was extended Thursday to May 28. The protesters, mostly white, were seen waving Nazi and Confederate imagery on the Capitol lawn for most of the day. Several protesters armed with handguns and rifles then made their way into the building to greet lawmakers.
"The majority of the protesters were white," Anthony said. "I'm still not exactly sure on the connection between Confederate flags and Nazi symbolism. They just had no connection to the stay-at-home orders. The fact they were carrying guns openly while we voted was unnerving."
Michael Lynn Jr., a firefighter and community activist, was one of the people who helped organize the security detail that greeted several lawmakers as they arrived for work on Wednesday. He said he was inspired to organize the security detail after seeing a video of Anthony posted on Facebook of the protests.
"We want to change the narrative, first of all," Lynn said. "We want people to understand that people of color can come out here with guns just the same as anybody else can."
The escort consisted of black and Latino Lansing residents. No problems with police were reported. Lynn said the action showed Second Amendment rights were not based on race. However, he also made it clear he opposed the idea being able to openly carry firearms in the Capitol.
"There are certain things that are just inappropriate," Lynn said. "We don't take guns in the courthouse. We don't take guns into city hall. Why would we take guns of this caliber into the Capitol? I have 150 rounds on me right now. I could make terror. This could wreak havoc."
Lynn's sentiment was echoed by Whitmer, who spoke about a possible weapons ban on Wednesday.
"There are legislators who are wearing bulletproof vests to go to work," Whitmer told reporters. "No one should be intimidated by someone who's bringing in an assault rifle into their workplace. And so there is conversation about changing that law. I think it's long overdue, and I absolutely support that change. You shouldn't be intimidated going to be the voice of the people who elected you."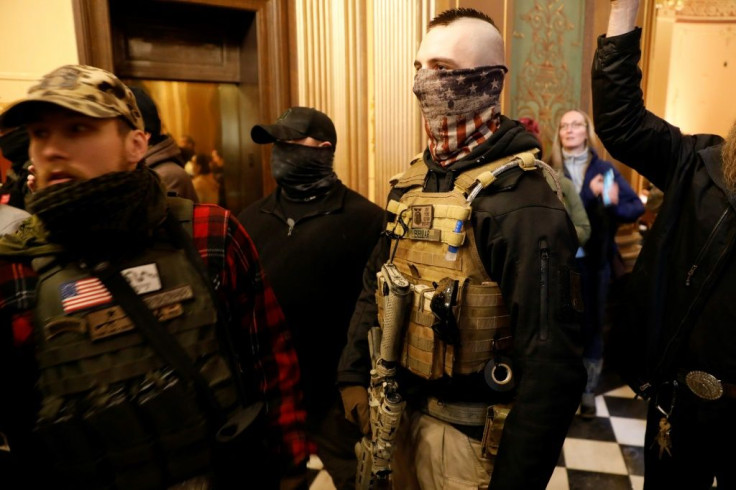 G
© Copyright IBTimes 2023. All rights reserved.