Mick Jagger Had Sex With Over 4,000 Women…And David Bowie, Biographer Chris Andersen Says In New Book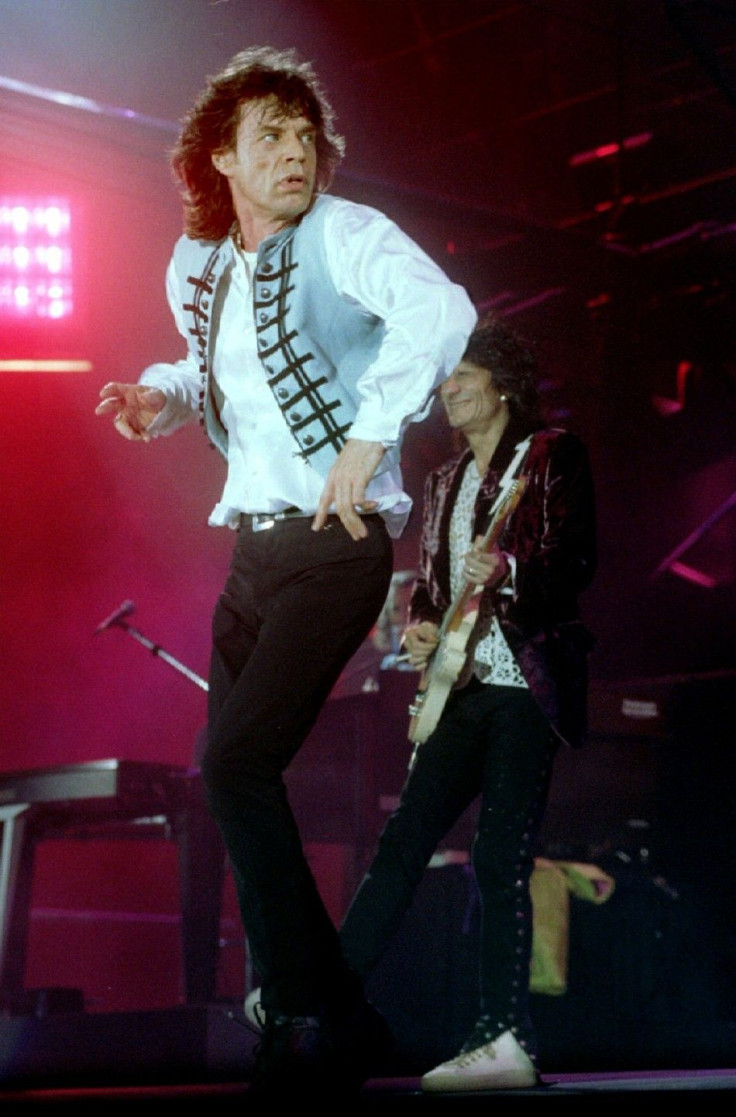 Biographer Chris Anderson said that Rolling Stones front man Mick Jagger has had sex with over 4,000 women, one of which was Angelina Jolie, during his career. But that's just a low estimate.
Mick Jagger has slept with 4,000 women over the course of his life, and in retrospect, I think that might be kind of a low figure, Anderson told Extra.
Known for being a notorious sexual icon, Jagger is said to have conquered women like Carla Bruni, Angelina Jolie, Uma Thurman and Farrah Fawcett, and that's just one percent of the women Anderson said he had sex with since his rise to fame in the 1960's.
And he still couldn't get no satisfaction???
Anderson, who recently penned Mick: The Wild Life and Mad Genius of Jagger, said 68-year-old Jagger has even slept with David Bowie, whom he had an ongoing affair with and was attached to the hip often times.
Mick himself said at one point, 'Everyone is basically bisexual, Anderson said.
Jagger and Bowie were likely a sexual tag team, Anderson said, who were really sexually obsessed with each other.
Anderson explained the men's relationship, which began during the height of a bisexual revolution in America, in an except for the New York Daily News.
Where Jagger was still coy about his own sexual preferences, Bowie made no effort to conceal the fact that both he and his wife were bisexual and often shared partners. 'Mick looked at David and wondered if maybe this was the wave of the future,' said Leee Black Childers, former executive vice president of MainMan, the management firm that handled Bowie. 'Mick was very conscious of doing whatever it takes to stay hot; David was the hottest thing around at the time.'
Singer Chuckie Starr said, It was the glitter era, and everybody wanted to be part of the bisexual revolution. Mick was no different. He was wearing rhinestones, blue eye shadow, and platform shoes.
Backup singer Ava Cherry, who lived with the Bowies, said they were sexually obsessed with each other and sometimes watched them have sex together.
Everyone knew what was going on between them. It wasn't something either one of them was trying to hide, Cherry said.
Their relationship caught attention from the public as well as Bowie's then-wife Angie, who reportedly walked in on Bowie and Jagger naked in bed once. Anderson recounted the story for the NYDN:
Angie had been out of town for a few days when she returned home one morning and went straight to the kitchen to make some tea. The Bowies' maid, who had arrived about an hour earlier, approached the lady of the house with a peculiar look on her face. 'Someone,' she told Angie, 'is in your bed.'
Angie went upstairs to her bedroom, slowly pushed the door open, and there they were: Mick Jagger and David Bowie, naked in bed together, sleeping. Both men woke up with a start. 'Oh, hello,' said Bowie, clearly taken by surprise. 'How are you?'
'I'm fine,' Angie replied. 'Do you want some coffee?'
Mick, blinking awake, remained silent. Angie returned a few minutes later with coffee and orange juice on a tray. While it was not a case of coitus interrupts, Angie 'felt absolutely dead certain that they'd been screwing. It was so obvious, in fact, that I never even considered the possibility that they hadn't been screwing.'
And that's the moment where the song Angie by the Rolling Stones originated from, according to Angie Bowie.
Even though I cared, she said, there wasn't much I was going to do about it.
The book also describes many of the affairs Mick Jagger engaged in, along with a trip to a therapist to address his addiction to sex.
To read more, Christopher Anderson's book, Mick: The Wild Life and Mad Genius of Jagger can be purchased here on Amazon.com.
© Copyright IBTimes 2023. All rights reserved.