Mickey Mouse Mooncakes: How Disney Made Its $5.5 Billion New Shanghai Disneyland Distinctively Chinese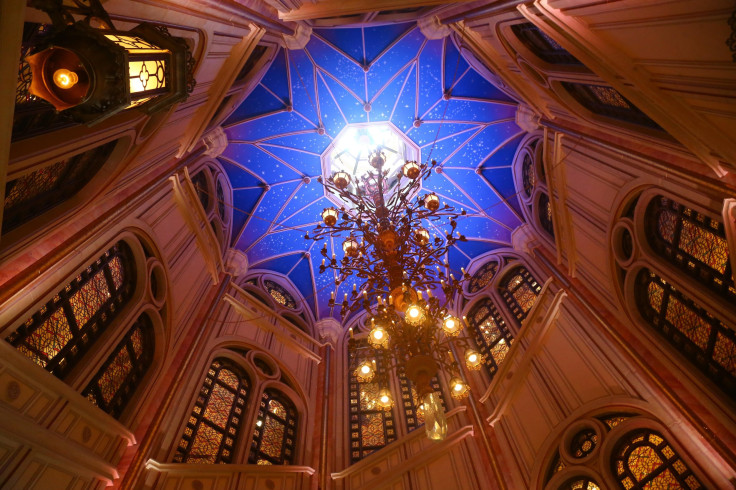 SHANGHAI — If good things come to those who wait, Shanghai Disneyland should be pretty darn fantastic. After 20 years of negotiation with Chinese officials and five years of construction, the $5.5 billion park, Disney's sixth worldwide, officially opened to great fanfare Thursday morning local time.
Disney has spared no expense in ensuring the experience is both "authentically Disney and distinctly Chinese." As Disney CEO Bob Iger put it in Shanghai this week, "It's a privilege for us to be here, so we need to show great respect for the people and the culture." Such an attitude, he said, was "infused in everything we've created."
And with relations between China and the U.S. overshadowed by political and trade tensions, Disney is clearly keen to show that it is taking the Chinese people — and their pride in their country's economic growth — seriously.
"We want the people who visit here to feel welcome and comfortable, to have a sense that this is their park … imagined, designed and created just for them," Iger said. Being distinctly Chinese, he said, was therefore very important, "whether it's in the language or the iconography ... the food menus ... the entertainment that we provide."
Examples of this include the show "Tarzan – Call of the Jungle," a dance and musical version of the Tarzan story directed by Chinese choreographer Li Xining, and featuring a troupe of Chinese acrobats from the central city of Wuhan. There's also a "Pirates of the Caribbean"-themed "stunt spectacular" starring Chinese martial arts performers.
And the Walt Disney Grand Theater in the Disneytown resort outside the park's gates is staging a nightly performance of the Broadway musical version of Disney's "The Lion King," translated entirely into Chinese and incorporating an extra monkey character from the Peking opera tradition. Iger said the story had been reimagined to create "a phenomenal new experience for the Chinese audience while staying true to the heart and spirit" of the original.
Disney has also ensured that the teams of designers who have worked on the park's six theme lands over the last several years have included many Chinese people, whose input has helped to design rides to suit Chinese tastes. Main Street USA, the traditional way into Disney parks, is known in Shanghai as Mickey Avenue, for example. There is also an area known as the Garden of the Twelve Friends, with Disney characters representing the various animals of the Chinese zodiac, which Disney says will be a popular place for Chinese guests to take photographs. A Wandering Moon Teahouse, inspired by Chinese "wandering poets" and traditional Chinese architecture, and a Fantasia Carousel designed by Chinese artists also give the park a distinctly Chinese flavor.
The food served at the park also caters to Chinese palates, with some 70 percent of dishes Chinese, 20 percent Asian or fusion and only 10 percent Western, according to Disney staff. Dishes include Mickey Mouse mooncakes, Mickey Braised Pork Knuckle, Minnie Mouse Red Bean Buns and Mickey Mouse shaped Peking duck pizza.
Disney emphasized its local credentials by inviting avant-garde Chinese composer Tan Dun, famous for the score of Ang Lee's "Crouching Tiger, Hidden Dragon," to compose a special symphony for the resort's opening gala, showcasing Tibetan-inspired singing as well as Western musical influences. Flamboyant classical pianist Lang Lang also participated, performing the song "Let It Go" from the movie "Frozen," while several Chinese pop stars sang other Disney tunes.
So far it seems to have satisfied China's leaders: President Xi Jinping said in a message of congratulations that the park "maintained Disney style" while adding "notable Chinese elements." And Shanghai Mayor Yang Xiong described it as a combination of "classic Disney and brilliant China."
But Disney has also emphasized that showing respect for Chinese customers means bringing the latest technology, too, in a country where young people in particular are captivated by all things hi-tech.
"This is by far the most creatively ambitious and technically advanced destination that we have ever built," said Iger, pointing to the ultra-fast TRON Lightcycle ride, which he said "redefines what a rollercoaster can be." He also pointed to hi-tech attractions such as "Soaring over the Horizon" and the immersive ride "Pirates of the Caribbean – Battle for the Sunken Treasure," both of which feature giant screens and stunning high resolution video, and in the latter case, animatronics and other special effects.
Disney says the sheer scale of the park is also a sign of respect for China: At 963 acres it's some three times the size of Hong Kong Disneyland, and its Enchanted Storybook Castle is the largest in the world.
"This is the largest market in the world. Shanghai is the most populous city in the most populous country in the world … and whatever we built here had to be significant enough to have a real impact," Iger said. He added that even after construction began in 2011, the company "paused to really recognize the growth in Chinese tourism" and expanded the park beyond its original plan, investing more and adding extra attractions.
Some say the park will need to keep expanding and innovating, as Chinese audiences tend to follow the latest trends. It also faces a range of other challengers, including at least 15 theme parks opened by China's Wanda group. Wanda Chairman Wang Jianlin, China's richest man, says he is more in touch with Chinese audiences and has predicted Disney will struggle to make profits.
Despite Wang's criticisms, it's the authentically American aspects of the park that remain the biggest attraction for many visitors.
"I've always loved Disney — everything from 'Mickey Mouse' to 'Iron Man 3,'" a young man in his early 20s, wearing Mickey Mouse ears, told International Business Times. The visitor, who gave his English name as "Tony Stark," the main character from "Iron Man 3," had flown in from the central Chinese city of Xi'an for the opening day.
Conservative nationalists may have called for Chinese people to shun an attraction that remains deeply based on American culture. But with Disney, Pixar and Marvel movies highly popular in China, experts say it is precisely Disney's original American content and long history that give it the upper hand over Chinese attractions.
"With [its] original famous characters, Disney has a very strong [draw,]" said James Roy, principal of Shanghai-based China Market Research. "Wanda is local and may be more accessible and moderately priced — but it's a property company getting into the business, it lacks IP and know-how."
"Disney invented what they're doing," he said.
© Copyright IBTimes 2022. All rights reserved.
FOLLOW MORE IBT NEWS ON THE BELOW CHANNELS