Microsoft Surface Pro Release Date May Arrive Sooner Than Expected Due To Poor Surface RT Reception [REPORT]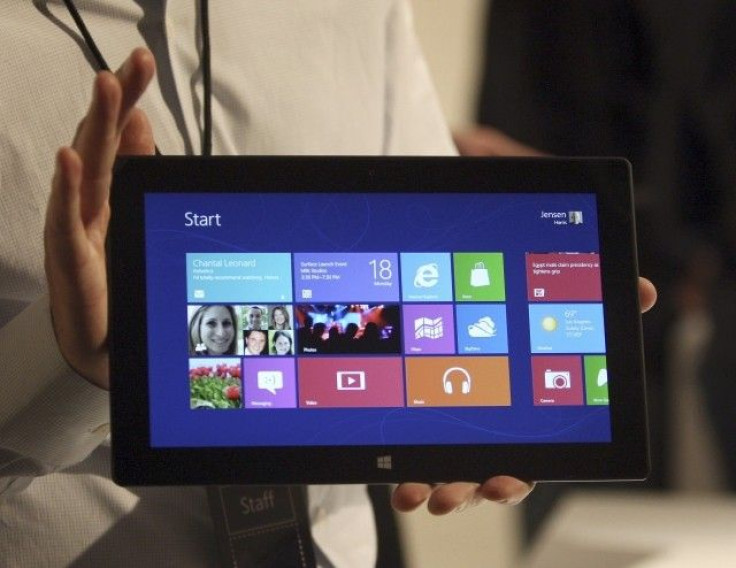 UPDATE (12:49 P.M. EST): Microsoft has officially announced that its Surface Pro will be released in January, starting at $899.99. No precise release date has been revealed, but the higher-end tablet will run a full version of Windows 8 rather than Windows RT. Specs include 1080p HD display, Intel's Core i5 processor. The Surface Pro will come with a stylus and is available in two variants: 64GB for $899.99 and the 128GB for $999.99
About one month after its release, Microsoft learned that it may not be selling as many units of its Surface RT tablet as it had originally hoped. Sources in Microsoft's upstream supply chain have reportedly said that orders of the tablet have been reduced by half, according to DigiTimes.
As a result, these sources have said that Microsoft may be prompted to release its Intel-based Surface Pro tablet earlier than expected. No release date has been officially announced for the Surface Pro, but the tablet has been expected to launch in 2013. However, the report indicates that Microsoft may consider bringing out its Surface Pro in December to accomodate for the lack of Surface RT orders.
The company may also consider slashing the price of its upcoming Surface Pro in a move to boost sales and make the device more attractive to consumers. However, as DigiTimes acknowledges, this type of decision could further dampen Microsoft's relationship with its vendors.
Pre-orders for the Surface Pro have already reportedly launched overseas in Germany, according to blog Microsoft News. Online retailer Notebook.de had begun to offer pricing information and a full spec sheet for the higher-end Surface tablet, which is said to cost about $870 for the 64GB model and $975 for the 128GB edition.
The Surface Pro will allegedly come equipped with an Intel Core i5 chip, Intel HD 4000 graphics, 4GB of RAM, a 10.6-inch full HD ClearType multitouch display with a resolution of 1920 x 1080 and SkyDrive capability among other features and specs.
However, Microsoft's Surface isn't the only Windows-themed tablet encountering trouble in the market. Other tablets running Microsoft's Windows RT operating system have also seen weak orders, DigiTimes reports. This has lead unnamed sources in the upstream supply chain to believe that Microsoft's new software may not perform as well in the market as initially expected.
Consumers are showing weak demand for these Windows RT-based tablets, which are manufactured by Microsoft partners such as Samsung, Asus and Dell. The Redmond, Wash.-based company originally planned to ship 4 million Surface RT devices by the end of 2012, but now that number has been reduced to 2 million, DigiTimes reports.
These Windows RT tablets are not expected to see better market performance in the upcoming quarter either, sources also said.
Earlier in November, Microsoft CEO Steve Ballmer was quoted in a French newspaper saying that Surface Windows RT sales are "starting modestly." He later revised his statement, saying that he intended to say that Microsoft's advertising approach for its first self-branded tablet was off to a modest start.
© Copyright IBTimes 2023. All rights reserved.