Mike Pence Net Worth: Trump's VP To Get $1.2 Million In Federal Pensions
Mike Pence's net worth is just around $1.2 million. A large part of it will come from pensions as he is a government employee.
The vice president of the U.S. doesn't appear to own a home and his savings account could have as little as $15,000, notes Forbes. Moreover, his index funds is at $65,000. This modest way of living will not add up to a million, so how does Pence's net worth reach $1 million? The answer: Pensions.
As a public servant, Mike Pence is entitled to state and federal pensions amounting to $85,000 annually. Overall, the amount is at $1.2 million minus the VP's outstanding student loans.
Pence started his political career in 1988 but was unsuccessful. In 1990 he was involved in a controversy after it was revealed that he used campaign donations for personal use such as grocery and credit card bills. He walked away scot-free because the move was not banned at that time. Since then, he moved on to hosting radio programs which proved to be popular to the audience. This success helped him win a seat in Congress in 2010 after three tries.
When compared to other vice presidents that came before him, Pence seems to have the least -- Joe Biden has $9 million, Al Gore has $200 million and Dick Cheney has $40 million. Pence is not unfazed with the discrepancy, however.
The vice president is not shying away from reports that he lives frugally. Pence is paid $230,700 as VP, the rate which has been the same since 2010. A Congress bill aims to change this, and once signed by President Donald Trump, VP Pence and other top officials will get to enjoy a 1.9 percent increase in salary, per USA Today.
The president, on the other hand, is receiving $400,000 in salary and is not affected by frozen pay. The initiative was implemented under the administration of former president Barack Obama which froze pay of top officials due to the recession in 2011.
The 60-year-old vice president likes to keep it low key and his views border on conservative on national issues such as same-sex marriage and abortion, states a report from Biography. "This administration will work with Congress to end taxpayer funding of abortion and abortion providers," Pence once noted.
Mike Pence's net worth might not be as big as his predecessors but seems like the U.S. Vice President is content with what he has.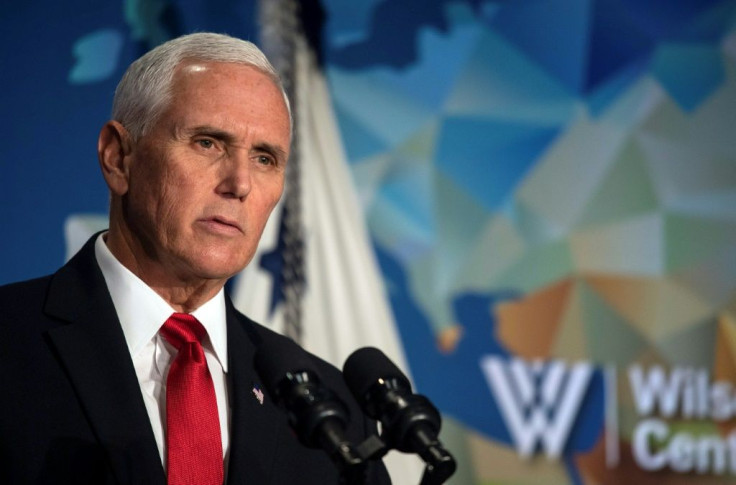 © Copyright IBTimes 2023. All rights reserved.
FOLLOW MORE IBT NEWS ON THE BELOW CHANNELS