Miley Cyrus Jokes About 'Hiring Spies' Due To Liam Hemsworth's Female Co-Stars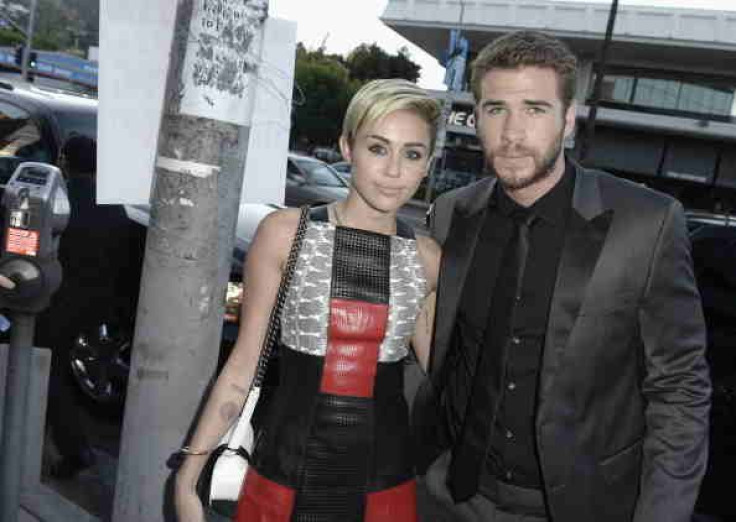 Miley Cyrus and Liam Hemsworth are in a much better place relationship-wise at the moment, but this does not mean that the "Wrecking Ball" singer can relax.
During her interview with Howard Stern on Wednesday, the "Voice" coach joked about hiring her "little spies" to track down Hemsworth's whereabouts. Cyrus clarifies that she trusts her fiancé 100 percent, but she gets butterflies in her stomach whenever Hemsworth works with stunning actresses.
The very candid "Malibu" singer also talked about her whirlwind romance with Hemsworth, whom she had a relationship with for three years before they split in 2013. Last year, the couple officially got back together and moved into the same house, according to US Weekly.
Following their initial split, Hemsworth bought Cyrus' former home in Malibu, where she recorded her first album, "Meet Miley Cyrus." The owner tried removing all of Cyrus' mementos before Hemsworth moved in. The "Younger Now" singer told Stern that she felt like she just couldn't get away from her ex-fiancé at the time. But Cyrus and Hemsworth eventually moved into her former Malibu pad when they got back together. This is also where the singer recorded her song, "Malibu."
Meanwhile, Cyrus recently purchased a $5.8 million property in Nashville because she wants to be closer to her family. A source told US Weekly in August that the singer and Hemsworth will be living in the five-bedroom property once it's finished.
But if fans think buying a house means the couple will tie the knot soon, they are wrong. The source said that Cyrus and Hemsworth have decided to push their wedding back for another year or two. "Miley said that she has no wedding date set. They are in the opposite of a rush to get married," the source said.
In other news, Cyrus and Hemsworth's decision to get back together has helped the "Party In The U.S.A." singer on a more personal level. While speaking with Billboard, Cyrus confirmed that she has stopped doing drugs and has also stopped drinking. "I'm completely clean right now! That was just something that I wanted to do," she said.
© Copyright IBTimes 2023. All rights reserved.