Miley Cyrus-Nicki Minaj Feud Update: Taylor Swift Supports 'Anaconda' Singer; Meek Mill's Girlfriend Upset Drake's On 'Team Miley'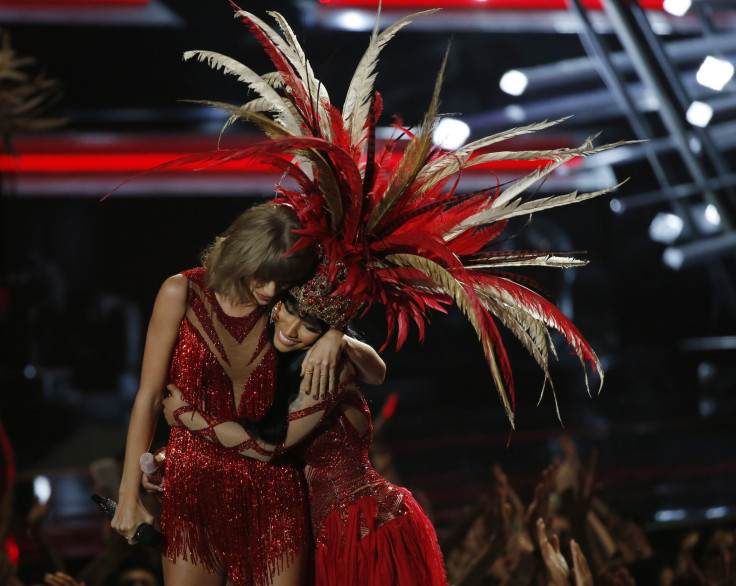 Taylor Swift voiced support for Nicki Minaj in the latter's ongoing feud with Miley Cyrus at the 2015 MTV Video Music Awards on Sunday, Hollywood Life reported Thursday. The news comes amid reports that rapper Drake has joined "team Miley" despite his affection for the "Anaconda" singer.
"Taylor doesn't want to pick sides, but she does support Nicki 100 percent," a source told Hollywood Life. "She doesn't think Nicki was bullying Miley. The whole incident in Taylor's opinion has been blown out of proportion. She thinks Nicki has a big heart and is often misunderstood." The source also said that Swift thinks Miley is "a tough cookie and can fend for herself."
Last month, Minaj had got into a tiff with Swift on Twitter about the VMA nominations for Video of the Year. However, the two patched things up during the award show by performing together hand-in-hand.
The feud between Cyrus and Minaj sparked after the "Wrecking Ball" singer slammed Meek Mill's girlfriend over her feud with Swift, during a recent interview.
On Sunday night, while thanking her fans in her speech for Best Hip Hop Video for "Anaconda," Minaj called out Cyrus, saying, "Now back to this b---- that had a lot to say about me the other day in the press. Miley, what's good?"
Cyrus, who was hosting the show, responded by saying that her comments in the New York Times interview were taken out of context. "Hey we're all in this industry. We all do interviews and we all know how they manipulate s---. Nicki, congratu-f-------lations."
Meanwhile, Drake, who has been in an ongoing public feud with Minaj's boyfriend took Cyrus' side after the VMAs and also expressed his wish to record a duet diss track.
According to reports, Minaj felt betrayed after Drake chose Cyrus despite being friends with her for several years.
"[Nicki] feels utterly betrayed and is disappointed that Drake would side with the next girl knowing damn well that Miley said some foul s---," another source told Hollywood Life. "Nicki's hurt. Drake's blatant disrespect is worse than the stuff Miley said about Nicki."
"It just goes to show Nicki that everything Meek said about Drake, specifically that he doesn't have a backbone and lacks loyalty, is true," the source reportedly added. "Now wonder why he first had that many woes in the biz."
Drake and Mill sparked a war on July 21 after the "All Eyes on You" rapper took to Twitter and told people not to compare him to Drake because he doesn't write his own rap songs. Drake responded by releasing two diss songs, "Charged Up" and "Back to Back," while Mill fired back with "Wanna Know."
© Copyright IBTimes 2023. All rights reserved.