Miley Cyrus Shows Extreme Flexibility With Liam Hemsworth's Rescue Dog Dora Post 24th Birthday Party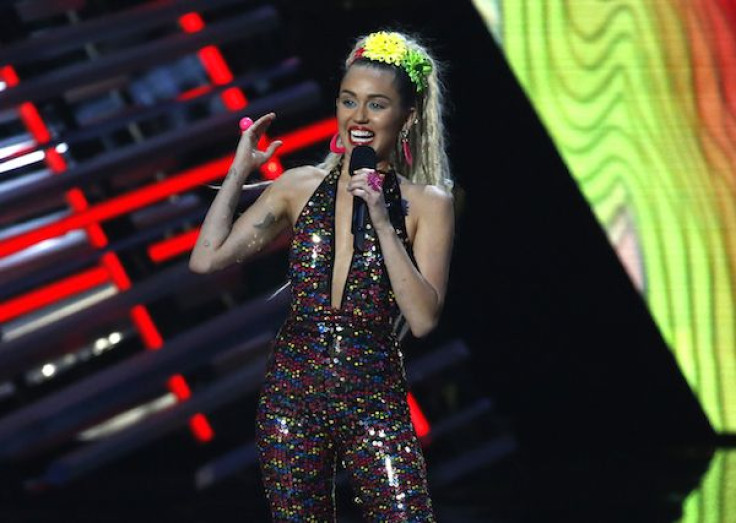 Miley Cyrus just turned 24, and it's not surprising that the "We Can't Stop" hitmaker shared photos of the memorable moments during her big day with her millions of fans via social media. However, it appears that Liam Hemsworth's girlfriend outdid herself this year by stunning her fans with what she can do with her body.
On Wednesday, Cyrus took to Instagram to share an odd but quite entertaining snap of herself in a challenging yoga position. In the photo, the singer-songwriter arches her body upwards, her legs over her neck, knees parallel to her head, while her shoulders and stretched-out hands are against the rubber mat and facing the opposite direction. Also featured in the picture is Hemsworth's dog, Dora.
While many left greetings for her birthday, some fans were shocked at Cyrus' flexibility. One fan wrote: "How do you do that?" Another fan commented: "How does she do it? My god!"
Earlier, Cyrus also took to Instagram to share pictures of her beau's gifts to her. In one post, the "Wrecking Ball" singer flaunts a huge ring that has different types and colors of stones. Cyrus is so pleased with the ring. She even captioned the photo with, "'grubby little kid fingers' SHINE!!!" The "The Voice" coach also showed off the ring's packaging, which had so many colorful design elements reminiscent of Miley's eclectic jewelry line.
Hemsworth may have chosen this new ring meticulously, since his girlfriend admitted to Ellen DeGeneres last month that she's not that pleased with the Neil Lane sparkler the "Hunger Games" actor gave her for their engagement. "This is really weird because this is like real jewelry and most of my jewelry is made out of gummy bears and cotton candy and they don't look that good together because they kind of mix up," Cyrus was quoted as saying by Us Weekly at the time. "So sometimes I replace it with an actual unicorn or a Looney Tune [character]."
In a different post, Cyrus showed how she happily started the day after waking up to star-shaped smiley balloons and a huge bouquet of flowers from her Hemsworth. To share with her fans how happy she was at the time, Cyrus captioned the snap: "Best bday evaaaaaa!!!!!!!!"
Cyrus and Hemsworth got engaged in 2012 and called it off a year later. Opening up to GQ Australia about what caused the breakup, Hemsworth said, "Of course it was hard, man. But at the time we were going in different directions and it's just what needed to happen. We were both super young and it was a good decision at the time — we both needed that."
Early this year, Cyrus and Hemsworth got back together and rumors of getting engaged once again are swirling. However, both actors have yet to officially confirm the rumors.
© Copyright IBTimes 2023. All rights reserved.