Milo Yiannopoulos-Leslie Jones Update: Journalist Might Buy 4chan After Twitter Ban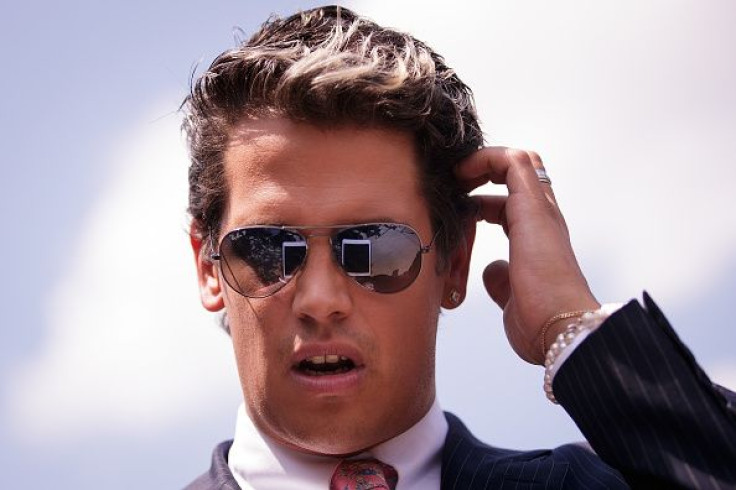 Milo Yiannopoulos may be coming back to social media in a big way. The British journalist who was banned from Twitter in July is planning on making an offer on social media site 4chan, The Hollywood Reporter reported Saturday. The site that allows users to post anonymously was first launched in 2003 and initially started as a place to post Japanese-inspired art, but has since escalated to more controversial content that has resulted in allegations of cyber bullying.
Yiannopoulos is expected to make his bid on the site this week thanks to the help of "a wealthy backer." "4chan is a simple image-based bulletin board where anyone can post comments and share images. There are boards dedicated to a variety of topics, from Japanese animation and culture to video games, music, and photography," the site states.
Yiannopoulos is an editor of the conservative news website Breitbart. He was permanently banned from Twitter after trolling Leslie Jones with sexist and racist slurs while the actress was on a press tour for her summer film "Ghostbusters." The star eventually announced that she was quitting Twitter due to the virtual attacks, resulting in a wave of support and the trending hashtag #LoveforLeslie.
Jones reported Yiannopoulos to Twitter and the company permanently suspended his account. The social media site stated, "no one deserves to be subjected to targeted abuse online ... We will continue to take action against accounts that are reported to us and which clearly violate our rules."
On Saturday, the writer officially confirmed his plan to approach the owner of 4chan, Japanese entrepreneur Hiroyuki Nishimura. "I spoke to my lawyer this morning about purchasing the business," Yiannopoulos said. "I intend to approach the current owners in the next few days with an offer. My philosophy as owner would be very simple: free-speech central, no ifs, no buts," he added.
© Copyright IBTimes 2023. All rights reserved.