Mindy Kaling Shares A Dirty Hollywood Secret: Actors Lie About Enjoying Sex Scenes With Co-Stars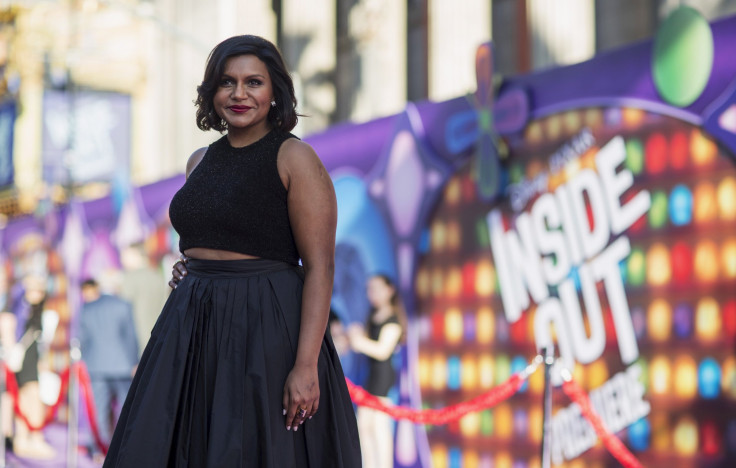 "The Mindy Project" star Mindy Kaling wants to let everyone in on a little secret: Filming sex scenes with co-stars is awesome. The 35-year-old comedian and writer said that actors are lying when they call the process awkward and uncomfortable.
"I am here to tell you they're all lying," Kaling writes in a preview of her upcoming book "Why Not Me?" as reported by the Washington Post Wednesday. The actress even devoted an entire chapter to the subject, calling it "I Love Sex Scenes!"
In one passage Kaling reportedly quotes actress Mila Kunis, who once called the process "just wrong," and Justin Timberlake, who echoed Kunis' sentiments, saying, "The whole thing is just annoying." But Kaling says their opinions don't accurately represent most Hollywood actors.
"Obviously onscreen sex is not actual penetrative sex, but, as any religious high schooler will tell you, simulating sex can be pretty damn enjoyable as well," Kaling writes. She adds that it's not so bad to "crawl around in a bed" with a friend or co-star, and that doing so can actually help people bond quicker. She also says that being watched by the film crew doesn't make her uncomfortable.
"I say: the more, the merrier! Most of those people are artists whose job it is to make sure your physical imperfections are cloaked in mysterious shadows. By the end of the shooting day, you'll wish there were more people there," she says.
The actress claims that the reason that many actors lie about enjoying sex scenes is to protect their significant others. "If you are the unlucky spouse of an actor, the last thing you want to hear is that, in addition to him getting to fake-cheat on you by virtue of the most unfair loophole of all time, he also really enjoyed it," she writes.
Kaling starred in "The Office" as Kelly Kapoor from 2004-2012, then returned for the series finale in 2013. She created "The Mindy Project" in 2012, which was canceled by Fox on May 6, but picked up by online streaming site Hulu for a fourth season on May 15, according to Variety. Kaling most recently lent her voice to the Disney Pixar animated film "Inside Out," which hits theaters Friday.
"Why Not Me?" will reach bookshelves on Sept. 15. This is Kaling's fourth book, the most recent was 2013's "Questions I Ask When I Want to Talk About Myself: 50 Questions to Share With Friends."
© Copyright IBTimes 2023. All rights reserved.