Minnesota Wild Vs. Chicago Blackhawks Game 1: TV Channel, Live Stream Info, Prediction And Betting Odds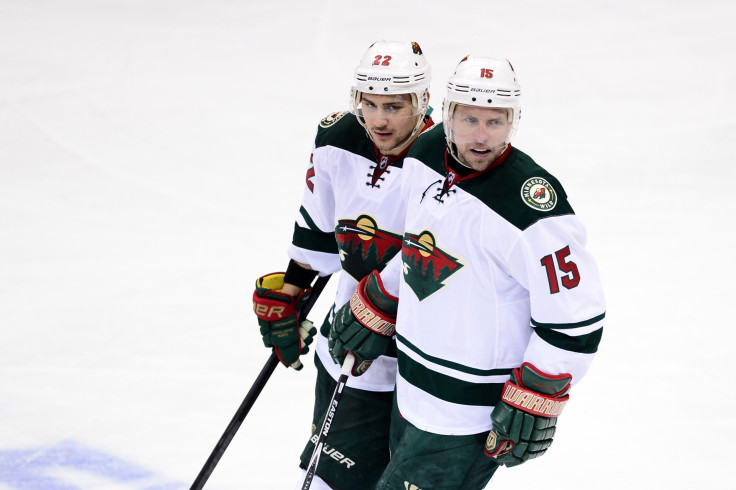 After a hard-fought first-round victory over the Colorado Avalanche which went seven games, the Minnesota Wild travel to Chicago to face the defending champion Blackhawks at United Center on Friday night in Game One of the Western Conference Semifinals.
The two teams met in the postseason in 2013, when Chicago needed just five games to eliminate the Wild.
Minnesota will face a Chicago squad that hasn't played since April 27, and finished off the St. Louis Blues with four-straight victories. However, the Wild won three of the five games in this year's regular season series with the Blackhawks.
Which team has the momentum? The Wild because they won a thriller in Game Seven over the Avalanche, or the Blackhawks because they are rested, at home, and won four-straight?
"It could work either way," said Blackhawks left wing Patrick Sharp. "You've seen teams come and then really ride that momentum from the previous series and you've seen the opposite happen."
Goalie Corey Crawford has been hot for Chicago. The 29-year-old shut out the Blues in Game Three, and then stopped 35 shots and allowed just one goal in Game Six.
While the Blackhawks should feel comfortable with their netminder, the Wild enter the game with a question at goalie. According to Michael Russo of the Minneapolis Star-Tribune, Darcy Kuemper did not make the trip to Chicago due to an upper-body injury, which means Ilya Bryzgalov will start. The Russian made 12 starts during the regular season.
Goalie injuries are nothing new for Minnesota. They lost No. 1 goalie Niklas Backstrom to an abdominal injury, and No. 2 Josh Harding is suffering from a complication with multiple sclerosis. John Curry will serve as Bryzgalov's backup should Kuemper miss the series.
"I don't know how many goalies we've had this year, but I think we're used to it," Wild captain Mikko Koivu said.
Meanwhile, Blackhawks captain Jonathan Toews took part in Friday's morning skate after missing Thursday's practice due to illness.
Start Time: 9:30 p.m. EST
TV Channel: NBC Sports Network
Live Stream Info: A live online stream can be watched NBC Live Extra
Betting Odds: Chicago -1.5
Over/Under: 5 goals
PREDICTION: Blackhawks over Wild, 3-1
© Copyright IBTimes 2023. All rights reserved.