Mississippians Outraged As Tate Reeves Receives Fresh-Water Truck Amid Water Crisis
KEY POINTS
Jackson, Mississippi, residents are out of safe drinking water indefinitely
The National Guard was activated Tuesday to provide non potable and bottled drinking water to residents
A video seemingly shows a water truck parked outside Gov. Tate Reeves home, sparking outrage
Updated at 21: 15 ET with response from Governor Tate Reeves' team.
Heavy rains that sparked flash floods in Mississippi since last week came to a head after Jackson's inefficient and understaffed main water treatment facility, OB Curtis Water Treatment Plant, began to fail Monday, and residents didn't have water to drink, clean, or flush their toilets.
The state's National Guard was activated Tuesday, said governor Tate Reeves, in a bid to help distribute water to thousands of Jackson residents who are now without safe drinking water indefinitely. However, Twitter is buzzing with outrage against Reeves after video seemingly shows the water crisis hasn't hit him.
Meanwhile, the Mississippi Emergency Management Agency will provide nearly 30 water trucks to help mitigate the crisis. "I have been assured by MEMA that they will supplement those locations with about 28 tanker trucks distributed at various points across the city," Jackson's mayor, Chowke Antar Lumumba, told CNN.
Tankers carrying non-potable water helped provide water at various sites across the city, along with bottled water for drinking purposes, reported Reuters. 10 tractor-trailers of water came into the city Tuesday, and another 108 trucks are expected in the coming days, said state emergency management director Stephen McCraney.
Schools were cleared out, and businesses were shut in the city, as water shortage wreaked havoc. In the midst of it all, a video circulating on social media seemingly showed a water truck parked outside Reeves' home, sparking massive outrage.
"Saw a photo earlier today of a giant water truck parked right outside Tate Reeves governor's mansion. Republican mantra Water for me but not for thee!! @tatereeves @GOPLeader," read a tweet.
"Hey Mississippi @tatereeves has an enormous water truck outside his governors mansion that is your tax payer money. Go tell him to share that water," tweeted another.
"Mississippi ya'll Mississippi's Black communities do NOT have water & will be IGNORED by Tate Reeves! N🚫water 2 cook/bathe/drink #Mississippi Yet Gov Mansion is fully equipped w/water in semi truck 4 Gov," a third tweet read.
"Mississippi Governor Tate Reeves is sitting back on his racist a-- with a semi truck fully equipped with water that's parked right outside The Governor's Mansion! Meanwhile Black communities do NOT have water to cook, bathe, or drink. #jxnwater #jxnwatercrisis" another irate tweet read.
"Climate change denier @tatereeves has a tanker truck of clean water outside the governor's mansion while his constituents wait for their water in lines like Russians did for bread in the '80s. Good work @gop" read another tweet.
"There is currently no running water in Jackson, Mississippi. The heat index is over 100 degrees. Schools are closed. People can't cook, clean, drink, or bathe. But at least @tatereeves has a giant water truck providing him with clean water at the governor's mansion," read another tweet.
The governor's communication manager has refuted these claims saying, "The Governor's mansion gets its water from the Jackson water system. Many businesses have also brought in their own tankers. The tanker is not supporting the Governor's Mansion or any other state asserts."
Meanwhile, White House Press Secretary Karine Jean-Pierre told reporters that they've been monitoring the flood situation, and are in close contact with mayor Lumumba and the Mississippi Department of Health. Jackson is using over $20 million from the state allocated $450 million in American Rescue Plan funding for water infrastructure.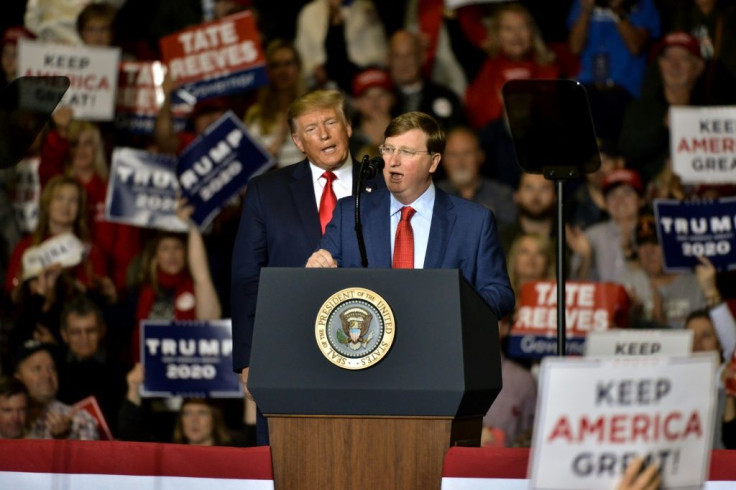 © Copyright IBTimes 2023. All rights reserved.