Mitt Romney Was Actually Funny On Leno's 'Tonight Show'
Analysis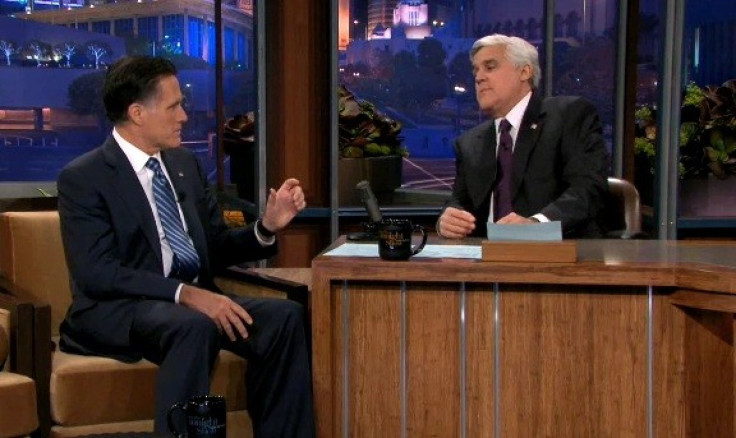 Mitt Romney was surprisingly hilarious on The Tonight Show with Jay Leno Tuesday night.
In a game of word association with the NBC host, the Republican presidential front-runner made a condescending quip at his GOP rival, Rick Santorum.
Here's what he had to say*:
Chris Christie: Indomitable ... he's a man of strong will.
Marco Rubio: American Dream
Paul Ryan: Creative
Nikki Haley: Energetic
Donald Trump: Huge
Rick Santorum: Press Secretary
Romney isn't known for his knee-slapping humor on the campaign trail. If anything, it has gotten him in trouble and further propelled the image he doesn't understand the lives and struggles of middle class Americans.
For one, there was time he joked about how he's also unemployed while listening to the pleas of jobless Floridians. Once, he casually said he'd place a $10,000 bet with Texas Gov. Rick Perry at a primary debate to prove a point.
And then there are the times critics have laughed at Romney rather than with him, like when he told a crowd in Michigan he liked the height of the state's trees.
This one wasn't so bad, Mitt.
*And here's a little refresher: New Jersey Gov. Chris Christie endorsed Romney for president after putting an end to speculation and calls by Republicans to run for the White House himself. Freshman Florida Sen. Marco Rubio is a rising Republican star who's popular among the Tea Party and is garnering buzz for potentially being on Romney's running mate short list. Paul Ryan, R-Wisconsin, recently made headlines for another controversial budget proposal; South Carolina Gov. Nikki Haley is also rumored to be a potential vice president pick; and real estate magnate Donald Trump is another Romney surrogate.
--
© Copyright IBTimes 2023. All rights reserved.