Mobile Porn In 2013: Smartphones Most Popular Device For Watching Internet Pornography In US
Pornhub, one of the largest pornography websites on the Internet, boasted that it received 14.7 billion visitors in 2013 and that those users watched 63.2 billion porn videos. That's a pretty large sample size, and Pornhub published a study of that data that revealed some interesting facts about the world's adult video viewing habits.
One of the most interesting things Pornhub found was that in the U.S., mobile phones are now the preferred way to watch porn online. About 52 percent of the site's traffic came from mobile phones, with another 10 percent from tablets.
That's up from 47 percent in 2012, indicating that the adult entertainment industry is on the same trend as more family-friendly programming.
The U.S. was also leading the way in mobile porn viewership. Only about 40 percent of Pornhub's worldwide audience accessed the site through their phone, and only about 9 percent used a tablet. Still, that's a major increase from the 2012 data, and Pornhub noticed an increase in mobile porn viewing in every country it tracked.
Pornhub noticed trends such as large drops in traffic on holidays like Christmas Day and New Year's Eve, and that Monday was the most popular day to watch porn in nearly every country except Japan. People in Japan preferred to visit Pornhub on Saturdays, and traffic from Japan actually increased on Christmas Day.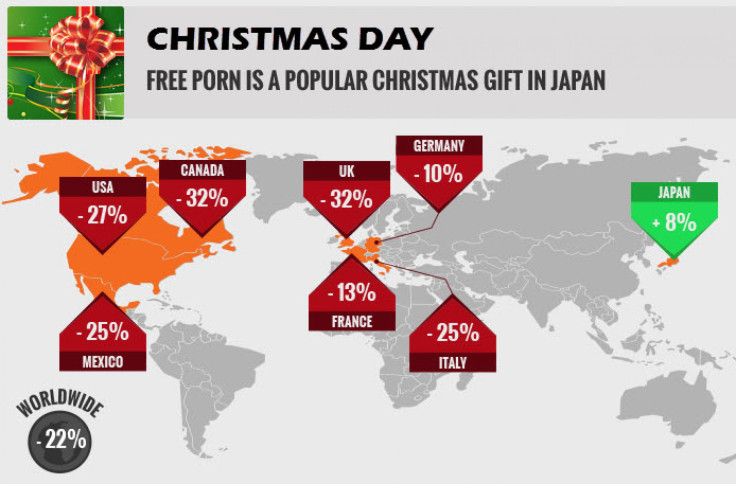 You can see all of the findings here. Though be warned, they may be NSFW depending on your office.
© Copyright IBTimes 2023. All rights reserved.
FOLLOW MORE IBT NEWS ON THE BELOW CHANNELS