'Monkeys' And 'Half-Breeds': San Francisco Asks State To Open Civil Rights Query Over 'Racist And Homophobic' Texts From Local Police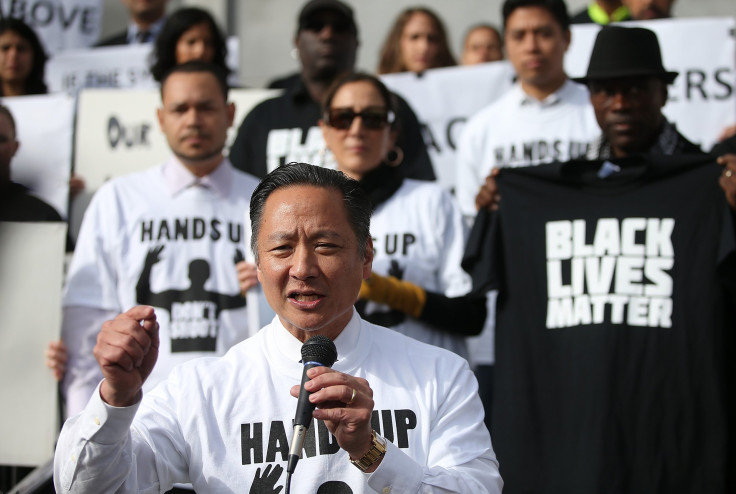 A week after San Francisco District Attorney George Gascón went public with racist and anti-gay slurs involving several local police officers, the local public defender's office is asking the state attorney general to get involved. Public Defender Jeff Adachi has asked the office of Attorney General Kamala Harris to investigate the San Francisco Police Department for alleged civil rights violations.
"An investigation would help settle the pressing question of whether the racism evidenced in these incidents is endemic of a culture within the department which allows these type of incidents to occur," Adachi said in his letter dated Monday.
The request comes amid a series of accusations that authorities have for years been engaged in systematic racial biases, including the shooting deaths of three young men of color since March 2014. In April 2015, federal public defenders filed papers in U.S. District Court alleging that local drug stings targeted African-Americans while police declined opportunities to arrest non-black suspects in similar circumstances.
The offensive text messages emerged during an investigation into a police officer fighting charges of sexual assault allegedly committed while he was off duty. Dozens of messages contained the "n-word" and slurs against the LGBT community. The texts also ridicule a separate investigation into an earlier texting scandal involving 14 police officers in 2011 and 2012.
The earlier text messages called African-Americans "monkeys," and encouraged the murder of "half-breeds" while invoking white supremacy language amid epithets regarding gays, Mexicans and Filipinos.
The texts were uncovered during a federal investigation that led to the conviction of five police officers on corruption and civil rights charges, including illegal seizure of cash during searches of suspects' homes. The texts were revealed when federal prosecutors last year filed documents last year in an effort to keep one of the five officers in custody.
The local District Attorney's office contends that the San Francisco Police Department had been aware of the offensive texts since September, but failed to inform local prosecutors until last week.
© Copyright IBTimes 2023. All rights reserved.