Morgan Freeman Criticized For World Cup Appearance: 'Choreographed Sentiments Mean Nothing'
Morgan Freeman received flak for appearing in the opening ceremony of the FIFA World Cup 2022 in Qatar on Sunday.
In the wake of several celebrities voicing their protest over this year's host country's "questionable" human rights record, the Academy Award-winning actor appeared at the event and narrated the opening segment titled "The Calling" at Al Bayt Stadium in Doha. Freeman walked through a dimly-lit stage and in his signature deep voice, talked about inclusion, love and acceptance and a call to celebration.
"I heard something beautiful - not just music, but also this call to celebration," the 85-year-old actor said.
He told a cheering crowd: "We gather here as one big tribe and Earth is the tent we all live in. Football spans the world, unites nations in their love of the beautiful game. What brings together nations also brings together communities. We all have a story on football and how it brought us together and this land has a story of its very own."
Freeman shared the stage with 20-year-old Qatari influencer Ghanim al Muftah, a FIFA World Cup ambassador who was born with Caudal Regression Syndrome – a disease that affects the development of the lower half of the body.
"We sent out the call because; because everyone is welcome. This is an invitation to the whole world," Muftah said. Freeman added, "Instead of hearing the call, we dismissed it and demanded our own way. And now, the world feels even more distant and divided."
"So we gather here as one tribe and Earth is the tent we all live in," the actor ended his speech.
Despite the cinematic and lavish opening production number, not everyone was impressed.
"Choreographed sentiments mean nothing when over 6000 migrant workers lost their lives building the Qatar World Cup," one observer tweeted.
Another commented, "For a man who played Nelson Mandela – who knew better than anyone the impact & importance of isolation on a country & its success on the ground to change that nation's policy – it is so disappointing to see #MorganFreeman take the money & support an oppressive regime."
"Shameful, i will never again respect Morgan as a human being, he took the bloody money," another tweeted alongside a sketch of dead people buried underneath a group of businessmen and soccer players.
In February 2021, a report from The Guardian revealed that over 6,500 migrant workers have died since 2010 when Qatar started building new stadiums, a new airport, roads, hotels, public transport systems, and a new city in preparation for the World Cup tournament this year.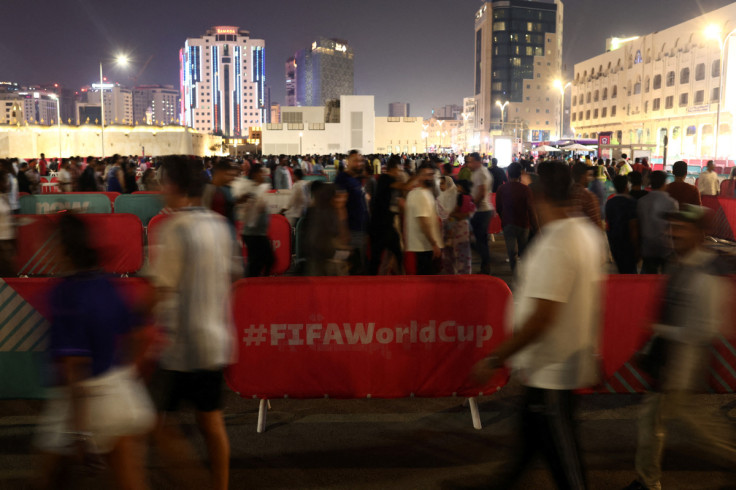 © Copyright IBTimes 2023. All rights reserved.