Mother Teresa Inspirational Quotes, Facts And Pictures Of Soon-To-Be Catholic Saint On Her 106th Birthday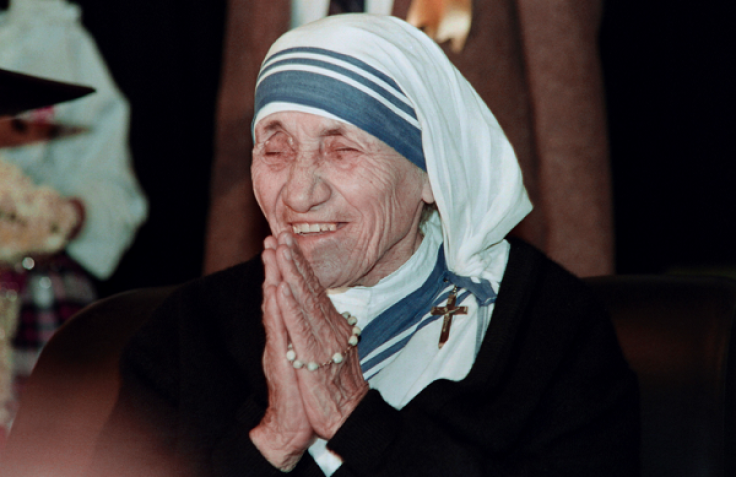 It's Mother Teresa's 106th birthday, and although she is no longer here to celebrate, people all over the world are taking a moment to honor her legacy. Commemorate one of the most significant Catholic figures in history on her birthday, and check out a few interesting facts and inspirational quotes about the Blessed Teresa of Calcutta below:
1. Born Agnes Gonxha Bojaxhu on Aug. 26, 1910, in Macedonia, Mother Teresa recognized her calling to missionary work at an early age and decided to commit herself to a religious vocation. She was 18 years old when she left her home to become a nun and joined the Sisters of Loreto in Dublin, Ireland where she took the name Sister Mary Teresa after Saint Thérèse of Lisieux. After learning English, she transferred to the Sisters of Loreto convent in Darjeeling, India.
2. In May 1931, Mother Teresa made her First Profession of Vows and was sent to Calcutta, where she taught geography and history at Saint Mary's High school for Girl, a school dedicated to teaching girls from the poorest Bangali families. She took up the title of "Mother" in 1937 after taking her Final Profession of Vows to a life of poverty, chastity and obedience, and in 1944 she became the school's principal.
3. Although Mother Teresa's initial calling was to help young girls living in poverty receive an education, in 1946 she was led to a second calling during a train ride from Calcutta to the Himalayan foothills when she heard a message from Christ instructing her to give up her teaching position and work in the most poverty-stricken areas of Calcutta. It took nearly a year and a half before Mother Teresa was approved to leave the Loreto convent, and in August 1948 – with only six months medical training – she finally made her way out into the slums of Calcutta where she said later in interviews that her only goal was to help the "unwanted, the unloved, the uncared for."
4. It was during her time in the slums when Mother Teresa started to catch global attention due to her amazing works and outpour of love and generosity towards the poor. She began an open-air school and managed to convince the city government to donate her a dilapidate building, which she used to start a home for dying poor people. In 1950, she won canonical recognition for the Missionaries of Charity, a group she founded with a few former staff members from the St. Mary's School. Throughout the 1950s and 1960s, she opened a leper colony, an orphanage, nursing home, family clinic and a few mobile health clinics, and in 1971 she opened her first American-based house of charity in New York City. She launched her second American charity group home in 1985 called Gift of Love, which was created to help those suffering from HIV/AIDS.
5. Despite her courageous humanitarian efforts, Mother Teresa, who was recognized with a slew of awards including a Nobel Peace Prize in 1979, still faced a few controversies in her life. After publically opposing contraception and abortion during the height of the pro-choice movement, Mother Teresa found herself at the epicenter of criticism and backlash. Just two years before her death she voted "no" in the Irish referendum to end the country's constitutional ban on divorce and remarriage, which also brought her some flak from critics. There were some who even argued that Mother Teresa's great works for the poor were all in vain, most specifically author Christopher Hitchens, who blasted Mother Teresa for preserving the institutions that sustained widespread poverty for her own glorification in his book, "The Missionary Position: Mother Teresa in Theory and Practice."
6. Mother Teresa died on Sept. 5, 1997. She was beatified in October 2003, and in Sept. 2016 she will be canonized a saint.
© Copyright IBTimes 2023. All rights reserved.