Who is the Movo PC-M6 Podcasting Microphone For?
The Movo PC-M6 podcasting microphone is perfect for someone who wants to start creating a podcast without spending too much money
The PC-M6 is ideal for those who don't own any other fancy recording equipment, just a computer or tablet
This microphone can be purchased alone or as part of a Movo podcasting bundle
Podcasts. Everyone listens to them, and it seems like almost everyone has one of their own. But how do you start your own podcast? The first step is to get the basic equipment needed before diving in.
Movo currently offers a bundle that serves as a one-stop-shop to get everything you need to start your podcasting adventure, and this week we'll be diving into the bundle to get a good look at all its components. First up is probably the most important part of any recording setup, the microphone. Specifically, we're looking at the Movo PC-M6 podcasting microphone.
Later this week we will be looking at other aspects of the Movo podcasting kit, including a microphone stand, pop screen, and an audio interface that allows you to use the microphone with a cell phone or tablet.
A Lot To Love
Whether buying the PC-M6 microphone by itself or as part of the podcasting bundle, the microphone package comes with the actual microphone itself, a handful of cables, a USB dongle (more on that later), a shock mount, and a windscreen. That's a surprising amount of stuff to come bundled with a microphone.
Getting the microphone all hooked up and plugged in was a straightforward process. Once the microphone was nestled into its shock mount, it was pretty much ready to go. All that's required after getting it set up is to plug it in and go. There are no batteries to put in or settings to tune.
However, plugging it in is a little odd. If you just get the PC-M6 microphone and not the podcasting kit, you are left with a USB dongle to power the microphone. The dongle has two ports, one for the microphone and one of a pair of headphones. I found that once the dongle was in, all audio went to the headphone jack, forcing me to use a pair of headphones instead of my computer's audio.
If you aren't as experienced with recording tools, this may require you to play around with settings and permissions on your computer to get everything set up just right.
Gaining And Gaining
While the PC-M6 is technically plug and play in that I didn't have to download any drivers or install any software to use it, you're still going to want to tinker around with your recording software's settings to get the best sound possible out of the PC-M6.
The big issue, especially if you are just plugging the microphone directly into a computer, is that audio levels are very quiet. That means you'll be boosting your gain to get audio to a normal playback volume. Of course, all that gain boosting comes with a drawback, namely noise.
Good Noise And Bad Noise
When talking about "noise" in terms of audio recording, the term doesn't refer to the intentional sounds that are captured. Instead, noise refers to all the sound heard outside of the intentional sound. In other words, noise is the sound of the hissing, buzzing, fuzzy background audio a microphone simultaneously picks up from the air around it.
The amount of noise captured by the PC-M6 is a little high, and is emphasized by boosting gain, especially if boosting gain in the post-production editing phase via software. Recordings made using the PC-M6 aren't unlistenable, but the noise is certainly noticeable when playing back audio.
The thing about noise, however, is that every microphone picks up on it in some way or another. The crazy expensive microphones are at a high enough quality where the amount of noise is greatly reduced, but it's still there. This noise issue isn't something exclusive to the PC-M6, but it is a bit more noticeable than other microphones. Some audio editing software also feature noise reduction tools that can help mitigate the air sounds in the recordings.
Mic Check, One Two, One Two
Outside of gain issues and noise, the PC-M6 is a very capable microphone. It records audio fairly cleanly, and can be used with a number of programs. Additionally, the microphone can be used to chat with people via Zoom, Discord, or other applications. When talking to a friend on Discord, he was pleasantly surprised with the audio quality he was hearing.
I will say that the PC-M6 doesn't pick up on quiet audio sources all that well, but unless you want to create ASMR content, this shouldn't be an issue. Everything else came through loud and clear.
A Knockout Price
Having a professional audio engineer as a friend made this review much easier, as he knew exactly what to look for and how to test the PC-M6. However, I intentionally didn't tell him any prices before he formed his opinions on the hardware. Once I revealed that the PC-M6, along with the included USB dongle, wind screen, shock mount, and other extras is only around $40, he was very much surprised.
According to my friend, he says that the Movo PC-M6 is a bit of an entry level powerhouse at that price point. Adding in all the extras you can get from the Movo beginner podcast bundle, and the PC-M6 is practically a steal.
Final Thoughts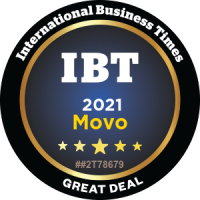 If you want to start a podcast, and you have no idea where to begin, start with Movo. The PC-M6 offers higher quality audio recording than the price would lead you to believe. Add in the other gear from the podcast bundle, and you have everything you need to get yourself up and running.
However, if you are already established and are looking to upgrade your gear, you might want to check out other microphone options from Movo or elsewhere. The PC-M6 is great for entry-level projects or quick chatting in video calls, but isn't ideal if you are trying to record high-quality instruments or vocal performances.
As a special offer to IBTimes readers, Movo is offering an additional 10% off the purchase of a PC-M6 microphone by using the code MOVOMIC10 when checking out at Amazon. This discount is available until Feb. 5.
International Business Times offers links to items to help our readers find interesting products. When you buy through links on our site, we may earn an affiliate commission. Here are our
T&C
. For licensing please
click here
.