'Mr. Mercedes' Season 1 Spoilers: Episode 4 Synopsis, Trailer Released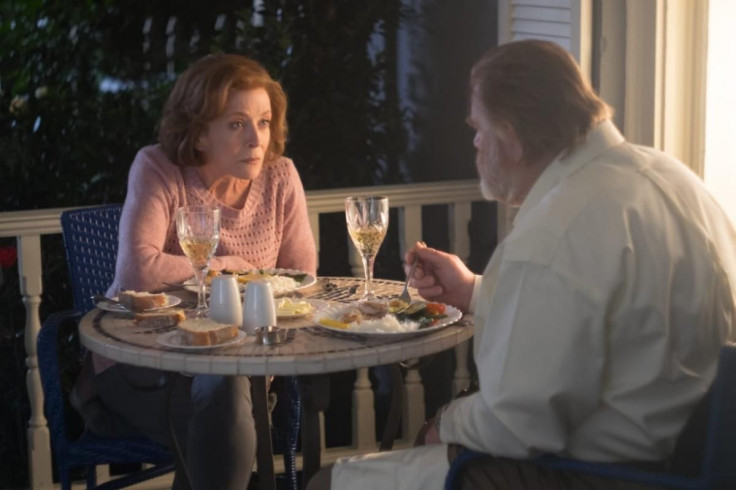 Ida is going to learn about Hodges' budding romance with Janey in Season 1, episode 4 of "Mr. Mercedes."
According to the synopsis for the next episode of the Audience Network series, Hodges (Brendan Gleeson) and Janey's (Mary-Louise Parker) relationship intensifies, leaving Ida (Holland Taylor) hurt.
Hodges and Janey's relationship started out as strictly professional, but things between them turned romantic when she suddenly showed interest in his personal life. In Season 1, episode 3, Janey asked Hodges if he loves anybody. The retired detective tried to sidetrack the conversation, but Janey continued to ask him personal questions, including why he left Ireland, the reason behind his split with his ex-wife and his daughter's whereabouts. Hodges got a little bit emotional when Janey asked about his daughter, so in an attempt to comfort his lonely heart, Janey invited Hodges for a dance.
As Hodges and Janey grow closer, the two continue to figure out a way to catch Mr. Mercedes (Harry Treadaway). In the trailer for episode 4, Janey questions Hodges' decision to upset the killer.
"Is it really wise pissing off a lunatic?" Janey asks.
"People make mistake when they're angry," Hodges says.
"People make corpses when they're angry too," Janey points out.
Last episode, Hodges decided to mess with the killer's head by lying to him via chat that the actual Mr. Mercedes had already been taken into custody. Hodges told Mr. Mercedes that a man named Donald Davis confessed to committing the jobs fair massacre, noting that he had details that only the actual killer could have had. Before ending his message, Hodges called Mr. Mercedes "a fraud," "a pretender" and "a nothing." Hodges also asked the killer to allow him to go about with his quiet retirement and not to bother him anymore.
The message made Brady, the real Mr. Mercedes, furious. And it looks like he's going to release his anger by killing more innocent people. In the trailer for the next episode, Brady causes a very serious road accident after he hacks into the traffic lights using the special remote control he invented.
Elsewhere in the episode, Lou (Breeda Wool) is disturbed by an interaction with a customer, while Deborah (Kelly Lynch) takes Brady to the cemetery and the two reflect on their difficult past.
"Mr. Mercedes" Season 1, episode 4, titled "Gods Who Fall," airs on Wednesday, Aug. 30 at 8 p.m. EDT on Audience Network.
© Copyright IBTimes 2023. All rights reserved.