'Mr. Robot' Cast Talks Season 2, Robin Williams And Gummy Bears At New York Comic Con 2015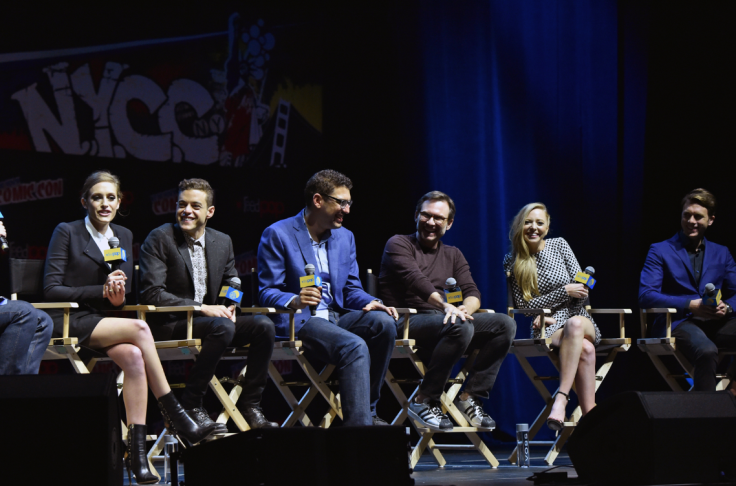 Who is Mr. Robot? That question may have been answered by the end of Season 1 of USA's computer hacking drama, "Mr. Robot," but fans had plenty more questions for the show's creator and cast at New York Comic Con Friday. Creator Sam Esmail and cast members Rami Malek, who plays Elliot; Christian Slater, who plays Mr. Robot; Portia Doubleday, who plays Angela; Martin Wallström, who plays Tyrell; and Carly Chaikin, who plays Darlene; were all on hand for the show's panel event at the Hammerstein Ballroom, moderated by Grantland's Andy Greenwald.
Here are the nine most memorable moments from the "Mr. Robot" panel at New York Comic Con 2015:
1. Season 2 will be even darker.
Sam Esmail was not willing to give away much information about Season 2. In fact, even the cast complained that they too were in the dark. However, the creator and executive producer did say the new episodes would be heavier and even more intense than the first run, noting that the material would be especially challenging for series star Rami Malek.
"Sam told me it's going to be tough. It's going to be even harder to play next season," said Malek.
"Yes," replied Esmail, "and it will be."
For good measure, Esmail later added, "It's going to be very f------ dark."
After a rather bleak first season, fans can only imagine how Esmail plans on dialing up the drama.
2. Season 2 will explore the beginnings of fsociety.
Esmail let leak that Season 2 will further explore the backstories of its main characters, including Elliot and Darlene's relationship, Darlene's relationship with her father, and Tyrell's marriage. However, the backstory viewers will be most excited to see is that of fsociety's formation. Now that fans know that Elliot himself founded the "hacktivist"organization, they are dying to know how -- let alone how he later forgot that he had in the first place. Esmail hopes exploring that mythology will be just as interesting to the audience as the finale's cliff-hangers.
"I don't want you just to want to know what happens next," said Esmail. "I want you to want to know what came before."
3. Sam Esmail on Hollywood hacking
Many have praised "Mr. Robot" for its realistic yet exciting depiction of computer hacking, as opposed to the job done by other films and television shows. Esmail says there is a reason.
"What Hollywood tends to get wrong when it makes a movie or a TV show about hacking is they think [hacking is] what the story should be about and then use see these cheesy CGI graphics going inside the cables or the status bar of death and, it's like, no, it's fine to just show a guy actually on a keyboard! That's fine, just make us care for the character. Make us feel for the character and then everything else just falls by the wayside," said Esmail. "For me, ['Mr. Robot'] has always been about Elliot and these characters and their journeys."
4. Rami Malek remembers Robin Williams.
Malek got to work extensively with the late Robin Williams while playing Egyptian pharaoh Ahkmenrah in the "Night at the Museum" film franchise -- Williams played President Teddy Roosevelt. During the panel Friday, one fan asked Malek about his experience working with the comedic icon.
"There is no more of a gentleman I've ever met than he is," said Malek. "He couldn't be more kind to everyone on set and that's what I take from him. He doesn't go there just to do his thing and be a movie star. He sees it as everybody collaborating to make something special together and everyone counts and he learns everyone's name on set. And when he's called to set he was the first guy there. He's the consummate professional on every level and more so he was a fine, fine human being. I'm very sad to not have him around, but I've picked up a lot from him."
5. Darlene loves gummy bears.
Apparently, Rami Malek is nothing like Elliot in real life. In fact, he is a bit of a practical joker.
"Rami covered my trailer in gummy bears one day," confessed Carly Chaikin.
"On the day of the reveal of our characters' relationship, it was a heavy scene and I wanted her to be comfortable and for us to have a light moment before," recounted Malek. "So, I asked her what Darlene's favorite candy was and she said, 'Gummy bears. Duh!' "
Malek described visiting a candy shop in Coney Island near the set.
"I went in and they had every gummy bear imaginable. I bought the store; big ones, small ones, I filled up her whole trailer. It was epic!"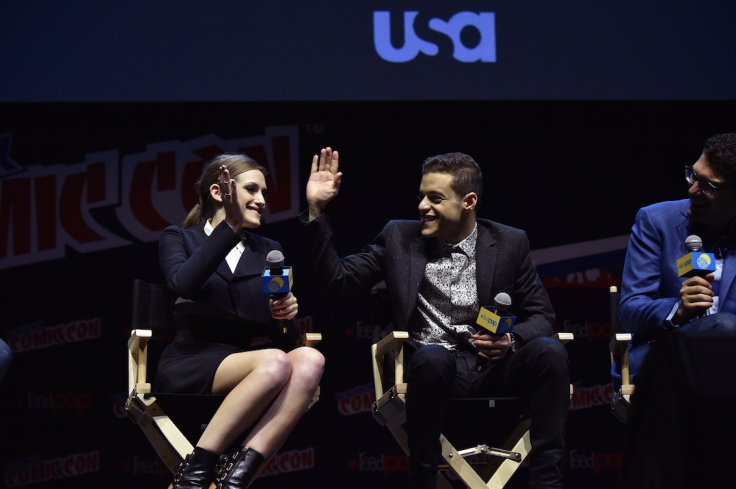 6. Typing tutor
Remember how Esmail said all you need to show hacking on film or television is a guy at a computer keyboard (see above)? Well, it does help if the actor can actually type. Rami Malek could not, at least not well enough. The show had to hire a tutor to help him up his typing speed for the intense fsociety hack scenes.
7. Voice over verification
"Mr. Robot" is a voice-over heavy series, often using narration to explain Elliot's thought processes. Esmail adamantly defended the choice.
"Every screenwriting class you take says that voice-over is a crutch," said Esmail. "I think that's bulls---."
However, the ultra-prevalent voice-over in the show meant that the actors on set often had to take long, awkward pauses during filming to allow for the time the voice-over would be playing in the final cut. During those pauses, Rami Malek had a recording of Elliot's voice-over, inner monologues playing in his ear so he could act accordingly with appropriate facial gestures and reactions. It was not Malek's voice in his ear, though, but that of a production assistant. Esmail did say, however, he had hired the production assistant as a writer for Season 2, so he will need a new voice for Elliot's on-set voice-overs in the new episodes. Aspiring writers and actors take note!
8. Season 2 predictions
For the last question for the panel, Andy Greenwald had the cast all give their biggest wish for Season 2. That prompted some interesting responses. Rami Malek -- in addition to say he wanted to "eat something and change his clothes" -- called for some Shayla (Frankie Shaw) flashbacks, Christian Slater wanted to know what happened to Tyrell, and Carly Chaikin wanted to explore Darlene's relationship with her father. However, Martin Wallström's response stole the show.
"I would love Tyrell to kiss Elliot," said Wallström.
9. We are fsociety.
After the panel, the cast joined the crowd, who had all been given replicas of the iconic fsociety masks from the series, and posed for group picture. It was pretty great!
Watch the trailer for "Mr Robot" below. Season 1 is currently available online on USA and On Demand.
© Copyright IBTimes 2023. All rights reserved.