'Mushoku Tensei: Jobless Reincarnation' Part 2, Episode 21 Spoilers: Back To Asura
KEY POINTS
Rudeus, Eris and Ruijerd embark on a new journey
"Mushoku Tensei: Jobless Reincarnation" Episode 21 is airing Sunday
The episode will stream on Funimation and Hulu
After bidding farewell to Lilia and Aisha, Rudeus and his comrades, Eris and Ruijerd, are heading toward Asura in "Mushoku Tensei: Jobless Reincarnation" Episode 21. The new episode is titled "Turning Point 2."
Rudeus and his friends are heading back to his homeland. "Mushoku Tensei: Jobless Reincarnation" Episode 21 is expected to show their journey as they meet new interesting characters like Orsted.
In Episode 20 of the anime, Rudeus was locked in a room where no one can use magic. He tried hard but could not escape and wished if his friends could come and rescue him.
Later, a man named Zanoba Shirone, who introduced himself as the third prince of Shirone, appeared before Rudeus.
He showed him a Ruijerd figurine and asked him how he acquired it. He also showed him a figurine of Roxy that was spotted in the market of Shirone four years ago.
He told Rudeus his brother purchased it from a traveling merchant. Roxy was a court mage in Shirone but fled due to ill-treatment and sexual harassment by Zanoba's brother.
Zanoba then went on to praise Roxy's figurine and said the maker did a great job. Rudeus was glad that all his practice making figures were worthwhile in this world.
Elsewhere, Ruijerd and Eris found out that Prince Pax has taken the families of the garrisons as hostages.
They had been living in frustration as they could not go against the prince. The garrisons requested Ruijerd and Eris to help them.
"Rudeus is in desperate straits, imprisoned in a magic-proof dungeon by a despotic prince. But just when all seems hopeless, an unexpected visitor appears with a strange request. Will Rudeus be able to talk his way out of this one?" read the official synopsis of Episode 20, according to Hulu.
The cast of "Mushoku Tensei: Jobless Reincarnation" anime includes Yumi Uchiyama as Rudeus Greyrat, Ai Kayano as Eris Boreas Greyrat, Toshiyuki Morikawa as Paul Greyrat, Lynn as Lillia Greyrat, Daisuke Namikawa as Ruijerd Superdia, Konomi Kohara as Roxy Migurdia, Ai Kakuma as Eris Boreas Greyrat, Ai Kayano as Sylphiette, Hisako Kanemoto as Zenith Greyrat, Kengo Kawanishi as Almanfi, Kenjiro Tsuda as Orsted, Kujira as Man-God, Megumi Toyoguchi as Ghislaine Dedoldia, Rikiya Koyama as Perugius Dola, Yuka Iguchi as Kishirika Kishirisu and Binbin Takaoka as Sauros Boreas Greyrat.
"Mushoku Tensei: Jobless Reincarnation" Episode 21 is scheduled to air this Sunday. The episode will be out on Hulu and Funimation.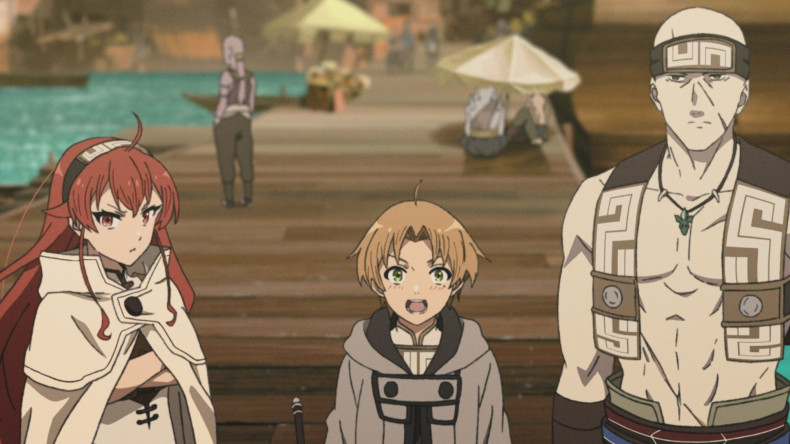 © Copyright IBTimes 2022. All rights reserved.