Musician defend Christina Aguilera after Super Bowl gaffe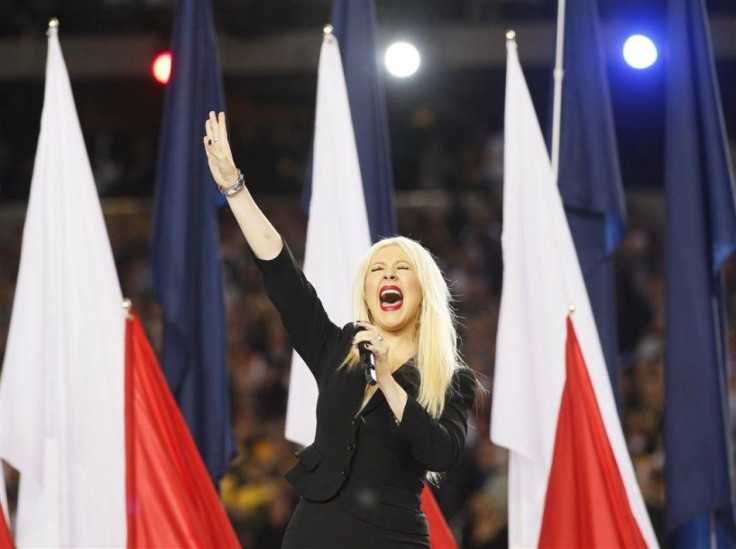 Christina Aguilera has the support of fellow musicians after her much buzzed-about Super Bowl fumble.
Fellow Super Bowl performer, Fergie of the Black Eyed Peas, spoke with Dan Patrick on his Sports Illustrated radio show and said, I completely understand. She's one of the best singers of our time. Nobody can take that away from her. But you get nervous at these things. We're human.
Aguilera slipped up in fourth line of the song, belting: What so proudly we watched at the twilight's last reaming. The lyrics should have been: O'er the ramparts we watch'd, were so gallantly streaming.
Aguilera is no stranger to the National Anthem as she sang at last year's NBA Game 7.
The songstress defended her mistake to the Wall Street Journal's Speakeasy blog.
I got so caught up in the moment of the song that I lost my place, she said. I can only hope that everyone could feel my love for this country and that the true spirit of its anthem still came through.
The Fergalicious singer, who performed at the half-time show with her bandmates, blamed nerves for Aguilera's gaffe.
It's a huge venue, your nerves take a hold of you, she said. Some of my notes were pitchy to me. But it was so exhilarating. The whole thing. It was so big. That's a once-in-a-lifetime thing.
Fellow anthem singer and former American Idol winner Jordin Sparks also came to Aguilera's defense.
The test of a true artist is continuing even when things go a little left and not letting people know it did during the performance. I love Xtina.
© Copyright IBTimes 2023. All rights reserved.