Muslim American Women Ditching Hijabs? Fear Causing Them To Remove Religious Headscarf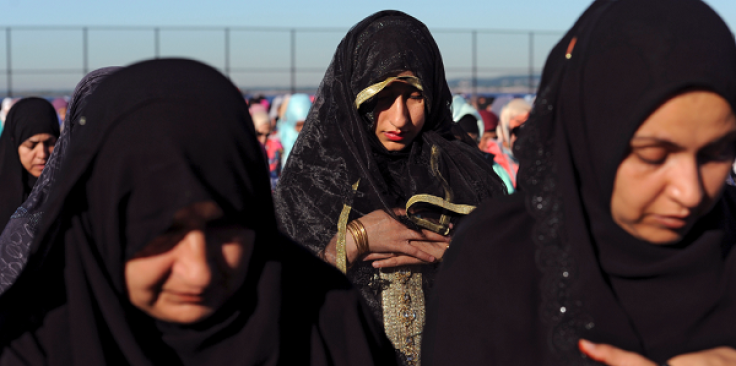 A growing number of American Muslim women have given up their hijabs out of fear after a surplus of hate crimes against Muslims across the U.S.
The headscarf is a religious expression of the Muslim faith's requirements for public modesty, and the radical temperament against Muslims that appears to be sweeping the nation has led to many acts of violence and discrimination against Islamic followers, particularly women wearing their hijabs in public.
Many women have blamed fears of being targeted in hate crimes as the number one reason for removing the hijabs, including Boston surgeon Nassrene Elmadhun, who recalled various instances of people associating her with the Tsarnaev brothers – the men responsible for the 2013 Boston Marathon explosions – and other Muslim extremists simply based on her appearance, Christian Science Monitor reported Tuesday.
"Over the last several years, there's been this growing unease, feeling uncomfortable in my own skin," Elmadhun said. "And that is something that's new.... I was feeling less and less welcome in my own community, and more and more like there was a target on my back."
Elmadhun decided to take off her hijab this year out of fears for her safety, something Mariana Aguilera, a Muslim woman who runs the Brooklyn-based fashion website The Demureist, told CSM she could relate to. Aguilera decided not to remove her hajib, although she said she has been the target of verbal threats in various instances in December.
"You feel fear, it's human nature," Aguilera said. "But this is more than about our fear. There's a reason why we have this religious freedom in our country, and if we don't do something – this climate is destroying our values, and that's dangerous."
In a recent FBI report, the department said that hate crimes were on the rise in the U.S. Although crimes against Jews were the highest in 2015 – the group faced 664 attacks in 2015 – the FBI found crimes against Muslims increased by 67 percent, from 154 incidents in 2014 to 257 in 2015.
In November, a Muslim woman in New York was attacked by a man who pulled her hijab. Michail Isakharov, 40, was reportedly charged with aggravated harassment as a hate crime and criminal mischief after he made an anti-Muslim remark towards the 22-year-old victim, threw her phone and then snatched her hijab off of her head.
© Copyright IBTimes 2023. All rights reserved.