Muslim Hate Crimes: Armed Militia Calls Mosque Islamic State Training Ground, Threatens Violence In Georgia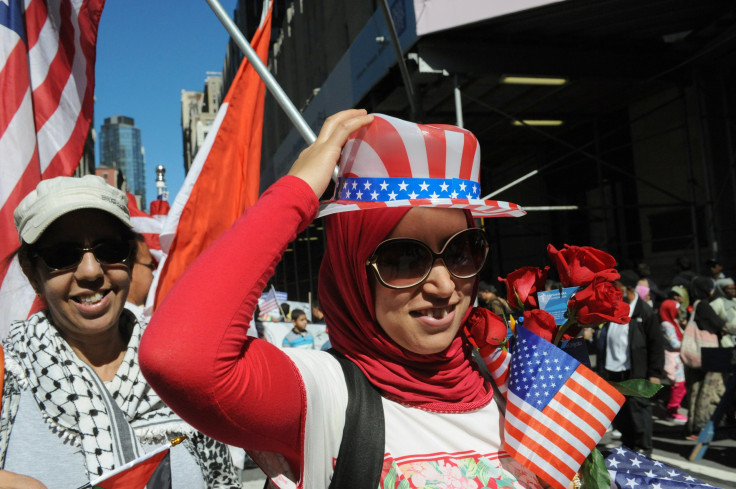 An armed militia is targeting a Muslim congregation in central Georgia, calling its plans to build a new mosque an effort to build a training ground for the Islamic State group. The Islamophobic attacks from the militant group known as the Georgia Security Force III% have raised concerns of "uncivil threats" from the local county government, the Guardian reported Thursday.
The Al Maad Al Islami congregation sought approval from county commissioners in August to build its new mosque in Covington, a suburb of Atlanta. They had been meeting for years at the home of imam Mohammad Islam for evening prayer and had grown large enough to require a building to house their events. The 200-member congregation purchased 135 acres about 40 miles south of Atlanta in rural Newton County for $675,000 and planned to use it to construct a park, school, cemetery and mosque.
Many residents in the largely Republican area were immediately suspicious of the mosque's plans. "Would building those things make us a prime area for the federal government to resettle refugees from the Middle East?" County Commissioner John Douglas said in August.
One resident, Joy Toms, put her suspicions this way: "As a United States citizen we don't need people that don't want to go by our laws. What are they actually going to be doing there at the mosque?"
Residents launched a Facebook page called Stop the Mosque that included videos of masked men setting off bombs in the woods. Eventually, Newton County's commissioners voted to pass a temporary ban on building any places of worship, which was challenged by the civil rights group the Council on American-Islamic Relations.
"This wouldn't have happened if this was a Protestant church," Edward Ahmed Mitchell, executive director of the Georgia chapter of the Council on American-Islamic Relations, told CNN. "This won't stand up in the court of public opinion, much less a public court."
Among the critics was the the Georgia Security Force III%, which is part of a network of national so-called patriot groups known as the Three Percenters that claim 3 percent of the American colonies' population helped fight in the American revolution against Britain.
The Georgia Security Force III% is also pro-Confederate flag. The group's creator, former Marine Chris Hill, 42, has vowed violence against the proposed mosque.
"I was just shooting from the hip is what I was doing, and saying, 'Right over there, this is going to be a future ISIS training group. This is where you're going to see terrorism taking hold in Newton County.' It's tied to terrorism, everything from 9/11 to Boston bombings to the Fort Hood shooting, to the coup in Turkey. It's all connected," Hill, a paralegal living in McDonough, Georgia, told NBC News.
Islam issued a statement urging the community to follow the example of the prophets, who he said "exercised patience and treated their neighbors well."
"As Muslims, we believe that God has commanded us to follow the teachings of the prophets Adam, Noah, Abraham, Moses, Jesus and Muhammad, who exercised patience and treated their neighbors well, even in the face of injustice," Islam said in a written statement. "For that reason, we consider building bridges with our neighbors far more important than immediately building a new cemetery and house of worship."
© Copyright IBTimes 2023. All rights reserved.