Muslim In Trump's America: This Fashion Designer Is Standing Up To Hate -- And Tariffs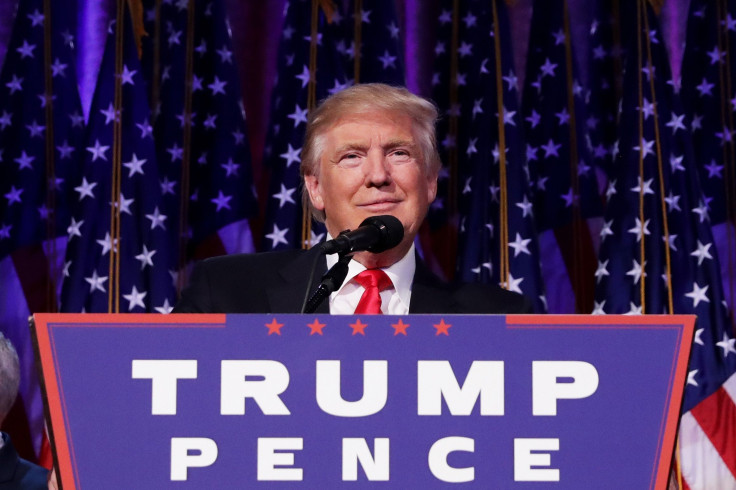 Melanie Elturk, like many Americans, went to bed on Election Day expecting the weight of expert opinion to be borne out and for business to continue as usual. After all, her New York City apartment, which also doubles as a base for the Muslim fashion brand Haute Hijab she co-founded with her husband in 2010, overlooked the scene of Hillary Clinton's expected victory party.
As she headed to bed early at 9.30 p.m., crowds had begun to grow outside the Jacob K. Javits Convention Center, with the increasingly raucous cheers accompanying early Clinton victories making their way up several midtown-Manhattan blocks and through Elturk's 15th-floor apartment windows. She expected a long night of heavily disrupted sleep.
But then there was silence.
"Subconsciously as I was sleeping, I could feel that I wasn't getting woken up by the cheering anymore," Elturk recalled to International Business Times. "And that's why, in my sleep, I said 'something is going on. Why haven't I been woken up yet?' I kind of jerked myself out of bed and I checked my phone and that's when I saw it. I immediately went to watch the news coverage to confirm that this was real, at which point I started crying."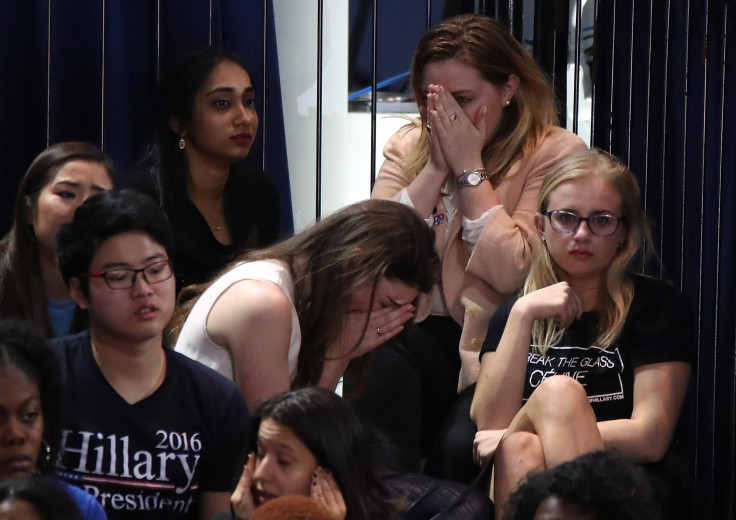 Fast forward two months and Elturk is again in her apartment, sitting across the table from her husband, Ahmed Zedan, as they prepare for the imminent launching of their brand's new website. A smile comes across Elturk's face, a far from unusual occurrence but one that prompts an inquiry from her husband.
"Why are you smiling?"
It is a question that many a casual observer might be wondering.
It is, after all, a frigid day in New York City, the snow still covering the less-traveled paths on the edge of the Hudson River. More importantly, it is just days before the inauguration of a man who explicitly and near exclusively discussed Muslims in terms of their threat to the U.S.
Yet the effervescent Elturk, a former attorney and now CEO and face of Haute Hijab, is in a good mood, even as she struggles to send her brand's latest Instagram post out to its more than 140,000 followers. Indeed, Donald Trump's election as the country's 45th president has, if anything, only strengthened her resolute defiance about a positive future for Haute Hijab and American Muslims.
Elturk's business is literally wrapped up in the identity of Muslims in America, but Trump's social policies and his anti-Muslim rhetoric are not her greatest concern. Instead, like many other small business owners across the country, she is watching for any signs of how his White House and economic policies could shape her daily operations. And, specifically, how his tendency for unpredictability could disrupt a dream she has devoted her life to building.
"I don't worry about anything in terms of our company and it being so faith-based," Elturk said. "I worry more about things that he may implement that will impact our bottom line, like an import tax. Will it actually happen, we'll see. Who knows what he'll do, it's such a question mark."
Haute Hijab is one of 28 million small businesses in the U.S., which together account for 54 percent of all sales in the country. Small businesses also provide 55 percent of the country's jobs and have accounted for more than 60 percent of net new jobs since 1995.
As a Muslim-American, Elturk also represents another growing community. Muslims currently make up one percent of the U.S population, but that share is expected to double by 2050.
Contrary to the one-dimensional way they were discussed during the election campaign, Muslims have the second highest level of education among major religious groups in the U.S. That Elturk owns her own business also far from makes her an outlier – some 27 percent of Muslims in the U.S. do likewise.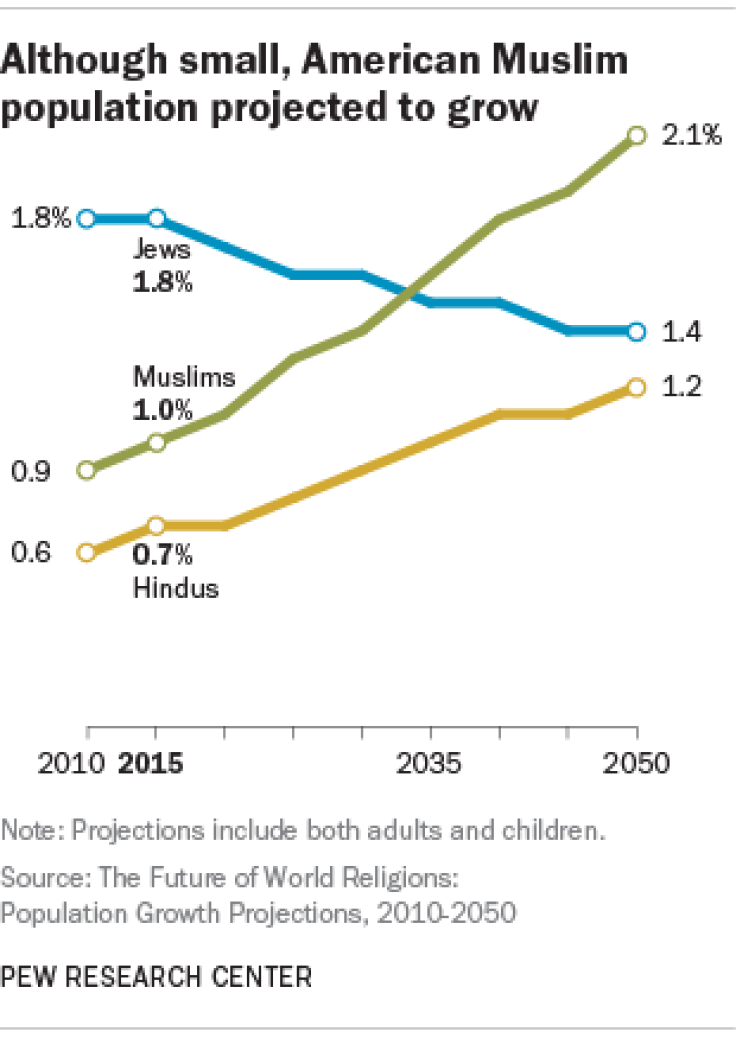 Elturk, with her husband, began Haute Hijab in Chicago seven years ago to offer stylish hijabs and hijab-friendly clothing after noticing the same lack of modern designs for the next generation of American-Muslim women that had first frustrated her as a teenager. Sourcing materials from the bottom rung of the production line, it was very much a do-it-yourself enterprise with Zedan coming home from his to work into the early hours of the morning alongside his wife. There was an instant demand and when Haute Hijab caught the Instagram wave in 2012 the brand's vastly expanded from what was initially a small but dedicated clientele.
The company now has seven other employees on payroll, including a fashion designer, even if, as with any startup, there are still budget constraints. Trying to arrange a photo shoot, Elturk makes clear that they don't have the finances for a studio, while the fine details of the photographer's quote need to be discussed.
But it is those experiences that also make the couple confident of being able to cope with whatever a Trump administration throws up.
"A lot of entrepreneurship is problem-solving so for us it's just going to be another thing to deal with," Zedan said.
The issue of import tariffs is particularly salient to Haute Hijab. Two years after starting the company in Chicago, a job offer for Zedan meant a four-year relocation to Dubai. Such a move might have derailed or even spelled the end for the infant company. Instead, it provided Elturk with the discovery of a garment industry she calls the "holy grail of hijab."
Despite moving back to the U.S. earlier this year, Elturk still gets all her prints from Dubai. Given Trump's "America First" rhetoric and talk of 10 percent import tariffs, that production plan could present a complication. It also, according to Zedan, goes against the trend in business.
"I think from a business perspective national boundaries are becoming less and less relevant," he said.
The couple already has a plan in motion to make the company less vulnerable to any economic policy on imports under a Trump administration. Although not a direct response to the election of Trump, Haute Hijab will soon begin manufacturing a line of more expensive products in the U.S.
The company is in some ways insulated from other potential changes to the economy under Trump. A stimulus to the economy promised by the billionaire businessman has led many to predict that interest rates will rise during the next presidency. However, Islamic, or Shariah, law prohibits Muslims from entering into interest-bearing loans.
Instead, Haute Hijab is now seeking investment through its first venture round. It was the interest of investors that last April prompted a move to New York City and Zedan to give up his job as a marketing executive to focus on the business full-time.
"In the business world at the end of the day, it comes down to the bottom line – dollars and cents," Elturk said. "And so in all these conversations we're having with investors, our advisors, nothing's changed. We're still profitable, we're growing, we're doing really well. Sales are up. So it's great."
Already the No. 1 hijab brand in the United States, Elturk's ambitions stretch far higher – namely to become the biggest in the world.
"The Nike of hijabs doesn't exist and we want to be that brand," Elturk said.
Trump's election could even end up being a boost to business. There has been plenty to encourage Elturk since the election, including, most surprisingly, an unexpected growing demand for her products from non-Muslims.
"The uptick directly after the election I thought was really weird, but in a beautiful way," Elturk said.
As a Muslim in America, there has, of course, been much to deal with of late. Anti-Muslim hate crimes rose 67 percent in 2015, according to FBI data, while there was another spike in incidents following the election, many targeting women wearing a hijab.
Elturk, who last summer began a college tour speaking to young Muslims and also regularly counsels them through the heavy community element of Haute Hijab, admits that she has been contacted by young Muslim women over their fears of continuing to wear a hijab in Trump's America.
Yet there have also been plenty who have been saying that now, more than ever, they are buying into the same core message of Haute Hijab, taking ownership of the hijab as a symbol of empowerment. Sales are continuing to rise and there is evidence to suggest they will continue to do so in the coming years. After the decision by several French towns decided to ban burkinis last summer, sales went up by 200 percent.
Hijabs are becoming more visible in the U.S., too. A recent CoverGirl commercial included a woman wearing one of Haute Hijab's hijabs. And during the height of last year's election cycle, New York Fashion Week featured a model walking the runway in a hijab for the first time as part of a collection by Muslim designer Anniesa Hasibuan.
"I got really emotional that night because a lot was going on in the country," Elturk said. "It was such a win."
Organizations like the Council on American-Islamic Relations, where Elturk used to work as a staff attorney, may well be set for four years of entrenched defense. But Elturk said Haute Hijab has given her a platform to move forward the narrative of Muslims in America.
"My clientele is all Muslims," she said. "I love the fact that I'm doing this work right now because it's all offense, it's all positive, it's all me pumping out amazing women, amazing stories, things to further the narrative, rather than being held back and putting out fires."
And, ultimately, she is convinced that the events of that silent election night will not come close to inflicting a fatal blow on her business.
"Muslim women are still going to wear hijab, Muslim women are still going to need hijabs and that's never going to change, regardless of who's president," she said.
© Copyright IBTimes 2022. All rights reserved.
FOLLOW MORE IBT NEWS ON THE BELOW CHANNELS