'My Best Friend's Bouquet' Hallmark Channel Movie Premiere: Cast, Trailer, Synopsis
All things Autumn continues on Hallmark Channel this weekend with the premiere of their newest Fall Harvest film "My Best Friend's Bouquet," starring Chaley Rose and Nathan Witte.
Fans could very easily recognize the film's two stars, both of whom are actually newer faces to the Hallmark family but have appeared in recent projects for the network. Rose portrayed Averie in the 2019 holiday film "A Christmas Duet," on Hallmark Channel, but might also be recognizable to "Nashville" fans for her role on that show as Zoey Dalton. Meanwhile, Witte starred as Barry in the 2019 Hallmark Movies and Mysteries holiday film "A Christmas Miracle," and also had a role in Lifetime's 2018 film "Every Day is Christmas."
So, what will happen when these two team up for their first Fall Harvest flick? Certainly, some romance, but also plenty of intrigue as a woman who believes in fate pointing her in the right direction learns a very valuable lesson.
"Josie Hughes (Rose) is a hopeless romantic who believes in the perfect meet-cute and is looking for a grand gesture to sweep her off her feet, just like she sees in the old black-and-white movies she loves," a synopsis reads. "She also believes the wedding bouquet finds its way to the person next to wed when the bride tosses it, as proven by her aunt's getting married unexpectedly weeks after catching it at a family wedding 20 years before."
Now, with her friend Emma (Luisa d'Oliveira) about to marry Ted (Thomas Cadrot), Josie is more convinced than ever that the magic of the bouquet will work again—for their other friend Athena (Rebecca Olson), who has been dating Brian (Casey Manderson) for two years. Meanwhile, the grand gesture she is dreaming of for her own life is something she's still waiting for, unaware that friend Alex (Witte) is secretly carrying a torch for her and has been secretly working on one.
However, as the wedding day approaches, Alex's plans to finally share how he feels are thwarted when Josie literally bumps into Will (Jaime M. Callica)--and another unexpected moment strikes as well which gives Josie reason to believe that fate has once again intervened.
"But when Emma lets her flowers fly, the unthinkable happens-it bounces from one pair of outstretched hands to the next until it lands with Josie, much to her and Athena's dismay," the synopsis reads. "Despite the bungled bouquet toss, Athena soon becomes engage. But when the planning doesn't go as Athena anticipated and a series of mishaps ensues, Josie's convinced the blame lies with the bouquet ending up in her hands instead of Athena, the intended."
Meanwhile, her newly formed relationship with Will is something she is beginning to question as well, even though she caught the bouquet, meaning she could be with the right person. However, when she starts to also feel jealous that Alex begins dating someone else, she starts to realize that the person she was meant to be with was right there all along—but now it may be too late.
Will Josie get her movie moment and happily ever after ending after all? Or will she be led astray by the bouquet?
"My Best Friend's Bouquet" premieres Saturday, Oct. 10 at 9 p.m. EDT on Hallmark Channel.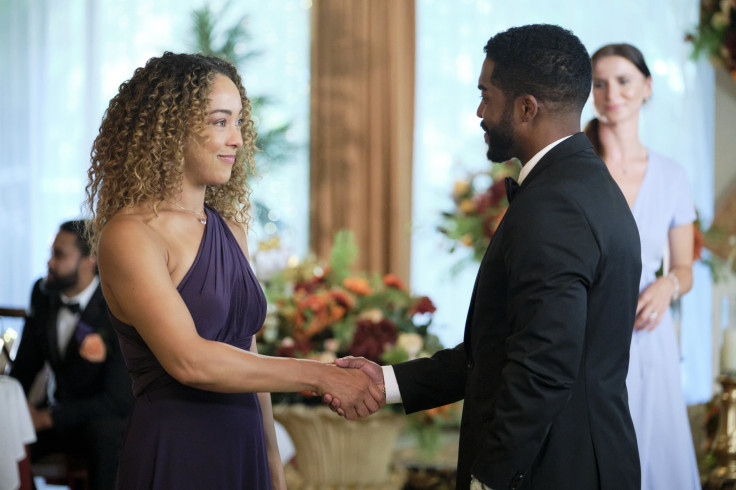 © Copyright IBTimes 2023. All rights reserved.