Naked-Image Body Scanners Removed From All US Airports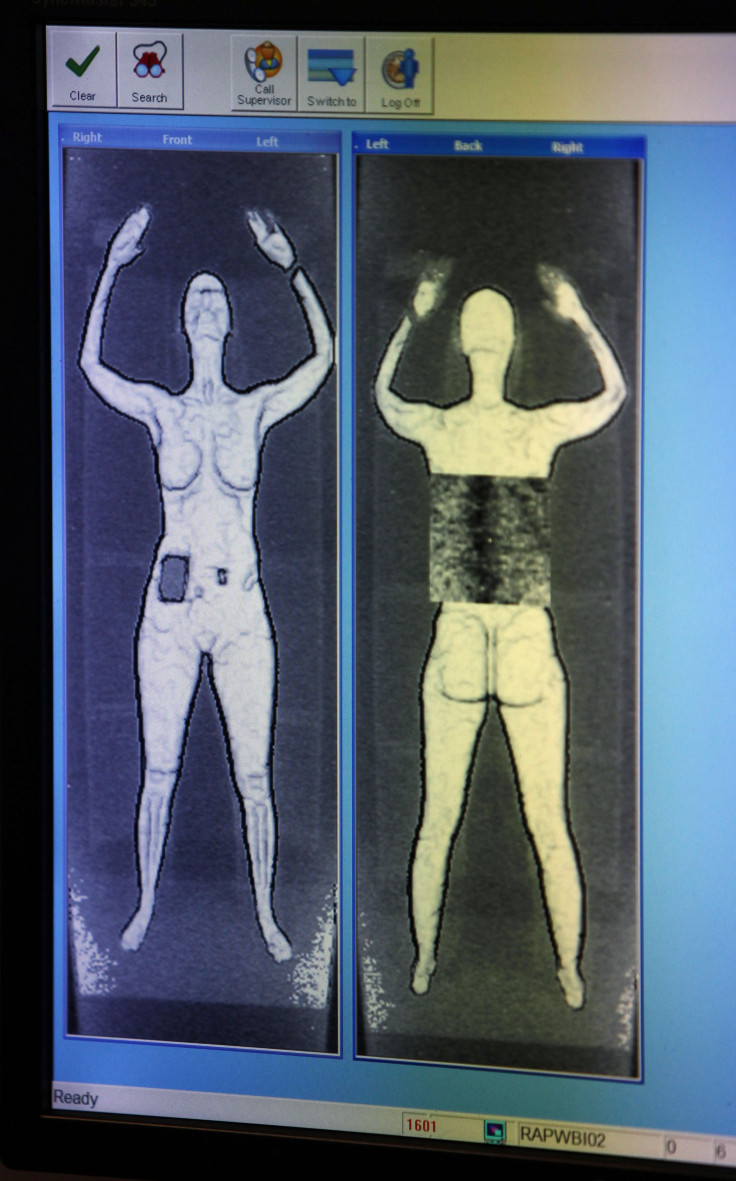 The short reign of "naked-image" body scanners at U.S. airports came to a modest end this week. In a letter released to the public Thursday, Transportation Security Administration officials confirmed to members of the House Homeland Security Committee that the backscatter technology -- the most hotly contested anti-terrorism weapon in the TSA arsenal -- had been removed from all U.S. airports by May 16.
Designed to detect hidden weapons at screening checks across the nation, the backscatter body scanners produced penetrating images of passengers that many found humiliating. The newer millimeter-wave body scanners, meanwhile, show a generic cartoon-like figure, and colored boxes pop up on the screen to denote the location of any potential prohibited items.
TSA rolled out the backscatter machines in October 2010 and subsequently authorized enhanced patdowns, which could include the touching of breasts, buttocks and genitals, for passengers unwilling to submit to those scanners. Many expressed concerns that the scanners produced revealing images that could potentially be kept in a database, and that the only alternative was an invasive search.
Moreover, critics complained that the backscatters exposed passengers to a small dose of ionizing radiation, which at higher levels has been linked to cancer. Indeed, the European Commission banned the technology "in order not to risk jeopardizing citizens' health and safety" in 2011. Some of the last backscatter machines were removed from the U.K.'s Manchester Airport in September.
The much-maligned x-ray body scanners quietly disappeared from several major U.S. airports in October, though the agency claimed at the time that it was just shuffling the machines around. "In an effort to ensure the most efficient and effective use of security technology, TSA is strategically reallocating backscatter advance imaging technology units in order to allow for expanded use of advance imaging technology units at other airports," TSA Director of External Communications David Castelveter told International Business Times.
By the start of the new year, however, it was clear that TSA had given up on defending the technology. The agency announced in January that it had ended its contract with Rapiscan, a unit of OIS Systems Inc., because of the company's "inability to deploy nonimaging Automated Target Recognition software by the congressionally-mandated June 2013 deadline." Rapiscan's full-body scanners were at one point active in about half of all U.S. airports.
Congress ordered TSA to add privacy filters to its x-ray scanners in the funding bill passed for the Federal Aviation Administration in 2012, and many lawmakers commended Thursday's announcement. "I applaud TSA for becoming compliant with the law mandating that all AIT machines used by TSA are equipped with up-to-date privacy filters," Rep. Bennie Thompson, D-Miss., said in a statement. "Because of this action and congressional oversight, TSA will never again use machines to screen passengers that do not obscure their imagines while maintaining security."
TSA has installed its millimeter-wave technology machines with a greater frequency over the past year. The millimeter-wave technology uses low-energy radio waves similar to those in cell phones and has no known health risks -- though various tests (none sponsored by the TSA) show that its false alarm rate is between 23 and 54 percent, compared to the backscatter's 5 percent. There are now about 700 of these body scanners at about 165 airports nationwide.
FOLLOW MORE IBT NEWS ON THE BELOW CHANNELS